Not too long ago I was approached by thinkThin® to see if I'd be interested in sampling a few of their bars and doing a giveaway. Perfect timing because I had read about them on a blog and a few weeks earlier and went to Whole Foods seeking them out! You can buy them in boxes or in singles. I grabbed the Dark Chocolate and Brownie Crunch Protein Bars. The bars are about 230 calories each, which is a little high for me, but they have 20 grams of protein per bar! So it's a tradeoff I'm happy to make. Plus you can sub one of these for a meal on the go. I was driving to my mom's one afternoon and didn't have time to sit and eat lunch, so I grabbed a bar to eat in the car. Perfect! I really enjoyed both flavors. They're very chocolatey (bonus!) and the high protein left me pretty satisfied. thinkThin® sent me three boxes of their bars to sample and I was pretty excited to try new flavors and the Crunch variety.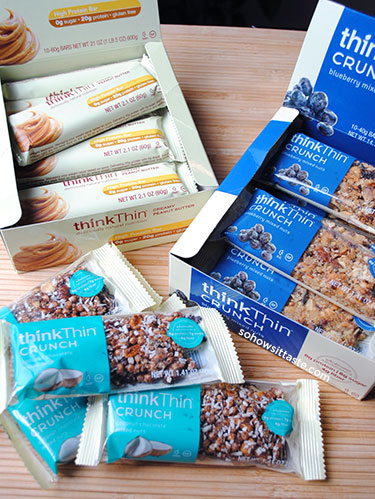 So, how's it taste?
I received a box of their Creamy Peanut Butter Protein Bars. These are in the same line of the two I had tried before. This one was peanut buttery, but I wouldn't call it creamy. It still has the texture of a protein bar. I didn't love this flavor as much as I had enjoyed the other two. It does taste like peanut butter, but it also has a vitamin-y background to it. It is a protein bar after all! Not my personal favorite, but not bad. When I'm looking for a snack to keep me full until lunch or dinner, I cut these bars in half for a quick pick-me-up. It's surprising how filling one little bar is!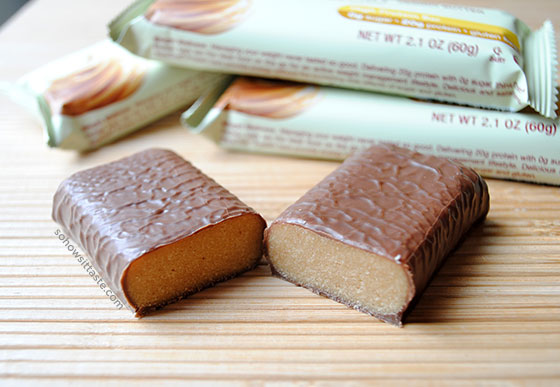 Next I tried a bar in their Crunch line, the Blueberry Mixed Nuts. Not quite as many calories at 180 and I loved how crunchy they were. The blueberry was really good and a nice balance to the nutty flavor.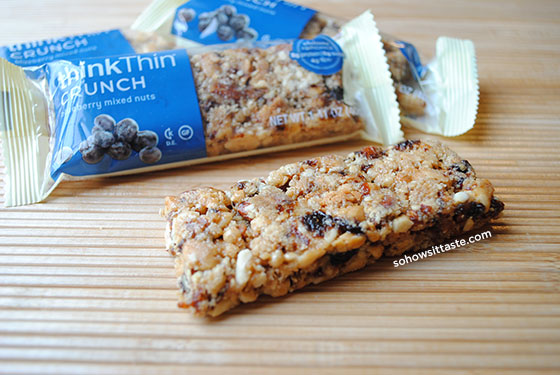 The best I saved for last. Another in the Crunch line, Coconut Chocolate Mixed Nuts, rocked my world! I have to hold myself back from eating the entire box. I love coconut and chocolate and this one tasted just like a candy bar. I'm a big fan!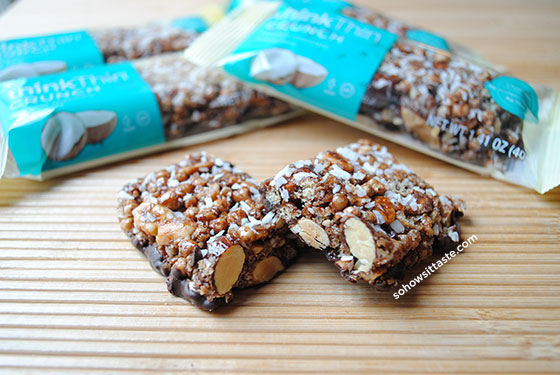 So all in all I really like their products. The best part? They're non-GMO, gluten free, and natural! Even thought their name is thinkThin®, I would be interested in these even without being interested in weight loss or weight management. They're perfect to keep in your desk drawer at work or anywhere you need a quick snack or a meal on-the-go.
The nice folks at thinkThin® want you to enjoy their bars, too! I'm giving away a Wellness Box to one lucky reader! The Wellness Box includes: one 10 bar box of thinkThin® high protein bars (with 0g sugar), one 10 bar box of thinkThin® Crunch (with 10g protein and 70% less sugar than leading fruit and nut bars), and three boxes of thinkThin® Bites. How's that for a sampler pack?!
Mandatory: Leave a comment telling me why you'd like to try thinkThin® or if you already have tried them, tell me your favorite! (Giveaway open to contiguous U.S. residents only.)
Optional entry: For one additional entry, tweet the following: "Win a @ThinkProducts Wellness Box from @SoHowsItTaste! Enter here: http://bit.ly/18u0nsh" and leave a separate comment that you tweeted.
Contest ends on Sunday, June 2, at noon central. Please make sure you enter a valid email address as an alternate winner will be chosen if I don't hear from you within 48 hours. Good luck!
Congrats to Jordan on comment #18!
You've won the Wellness Box from thinkThin® !
Winner chosen using random.org.
Disclaimer: I was sent a box each of the Creamy Peanut Butter Protein Bars, Blueberry Mixed Nuts Crunch bars, and Coconut Chocolate Mixed Nuts Crunch bars for review. I was not compensated for this post. All opinions are solely my own, as always.