This post is part of the #OXOSpringCleaning campaign. All opinions expressed here are solely my own, as always. Thank you for supporting brands that support So, How's It Taste.
I've been a big fan of OXO for a long time, even before I started blogging. Their tools have come in handy in my kitchen and I'm a proud owner of several gadgets. So when they approached me about their Spring Cleaning campaign, I kind of did a double take. How did I not know how many cool cleaning tools they offer?! I was thrilled when they sent me some of their tools for the kitchen. I'm in the process of reorganizing my condo in the hopes of putting it on the market soon, so the timing was perfect to help me out!
Check out all these items for the kitchen! This girl loves to get organized so I was dying to unwrap everything and put them to use.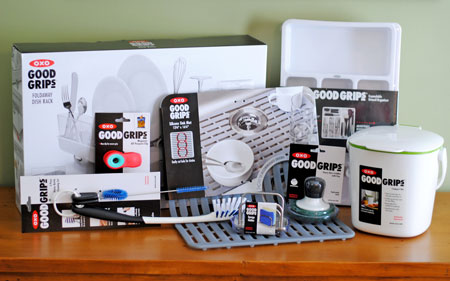 Foldaway Dish Rack, All Purpose Clips, Water Bottle Cleaning Set, Silicone Sink Mat, Sponge Holder, Heavy Duty Scrubber with Tray, Compost Bin, and Expandable Utensil Organizer
I knew the first thing I'd try…Heavy Duty Scrubber. I have some awesome cookware, but it's not non-stick, so clean up can be a real chore sometimes or it involves a lot of soaking. My pan gets a lot of use, but sauces can be a real problem. Sponges work ok, but I have to have something a bit more abrasive that isn't going to ruin my pan.
After I made this Shrimp Succotash, I used the Heavy Duty Scrubber and this pan was shining again in no time. What I like best about OXO is their Good Grips. It fit right into my hand and I could really apply some elbow grease without awkwardly holding it.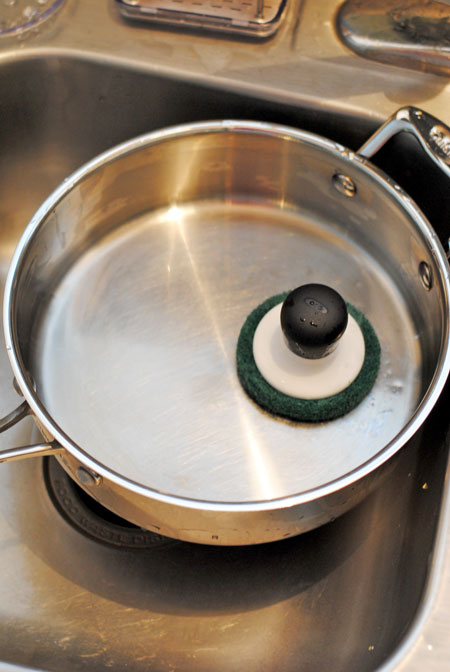 I also like that the scrubber comes with it's own tray! You can see a few rust marks around my sink where my old wet sponges would sit. Not anymore!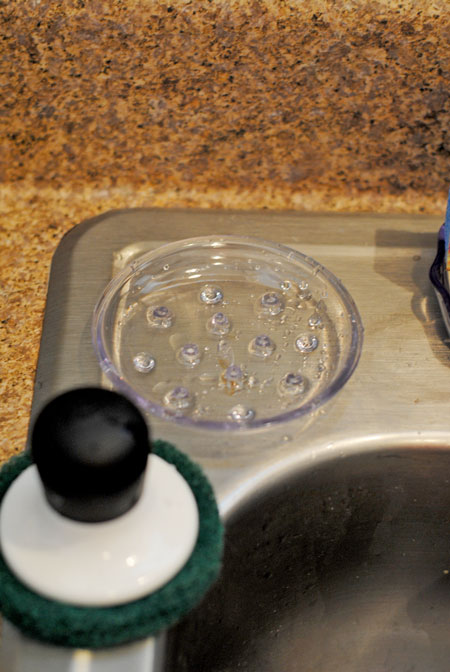 This is also why my next favorite gadget is the sponge holder. What makes this unique is that it holds two sponges, which works great for me in the kitchen because I can use one on the dishes and one on the counters without mixing the two.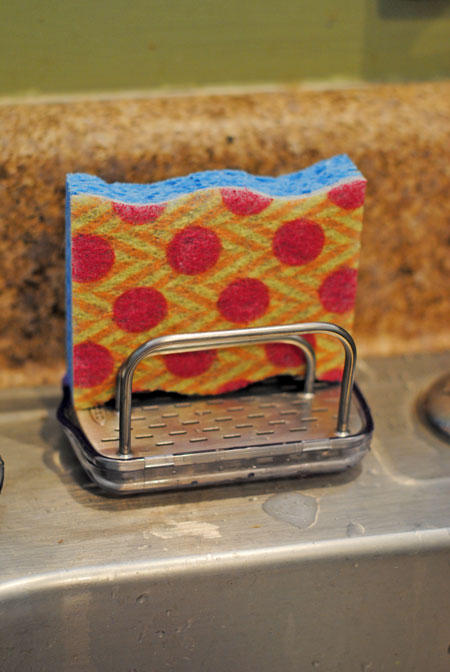 The tray on the bottom is removable for easy cleaning, too.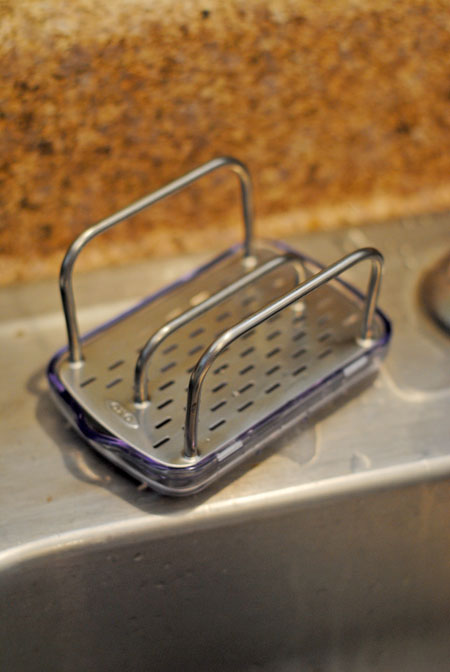 After I scrubbed my pan, I used their foldaway dish rack. I was in desperate need of this! Before I had a wire rack that sat in the sink and took up too much space. It's amazing how much I could fit in this thing. (Geez, I need to clean the bottom of my pans!)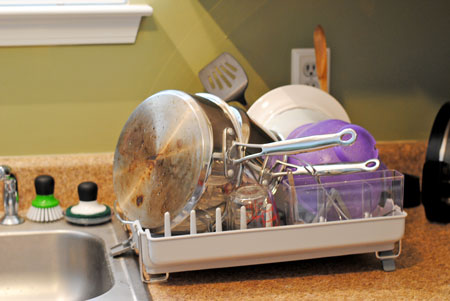 Now that I'm getting ready to show my condo, I needed a solution that I could put away quickly. No one buying a house wants to see my dishes on the counter. This dish rack folds away so I can slide it right under the sink!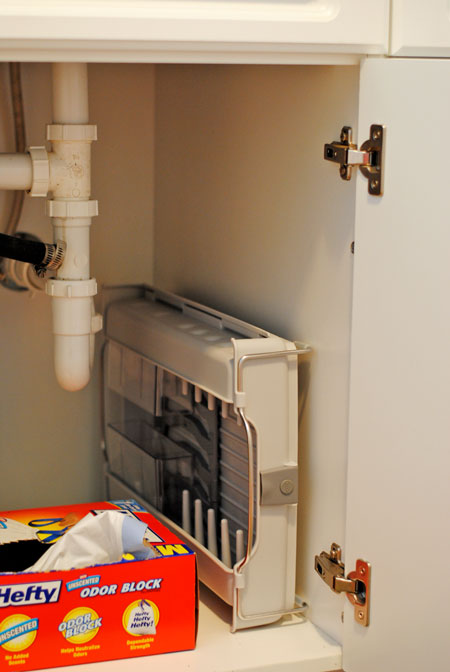 My other favorites were the All Purpose Clips. They have magnets on the back so I can easily store them on my fridge. I also loved the Compost Bin. I don't do any composting, but I've been in search of a small trash can to use near my sewing area. This one works perfectly.
Now that Spring has arrived, if you've got Spring Cleaning fever I hope you consider these awesome helpers from OXO!
Disclosure: I received an OXO kitchen spring cleaning set at no cost. All opinions expressed here are solely my own, as always.