When I was approached by Private Selection to see if I'd be interested in sampling their new finishing butters, I think it took less than a millisecond for me to say yes. Um, butter? And you have six flavors? And you want me to taste them? Yes, yes, yes! One of my favorite things on earth is a toasted piece of bread with fancy butter on top. My mom makes a concoction with butter, Parmesan, oregano, and basil and I could eat my weight in it. Not only is fancy butter great for spreading, but it can be the finishing touch on so many meals. I wanted to get creative and use one of the sweet butters for a savory dish, so Caramel Sea Salt Shrimp was born!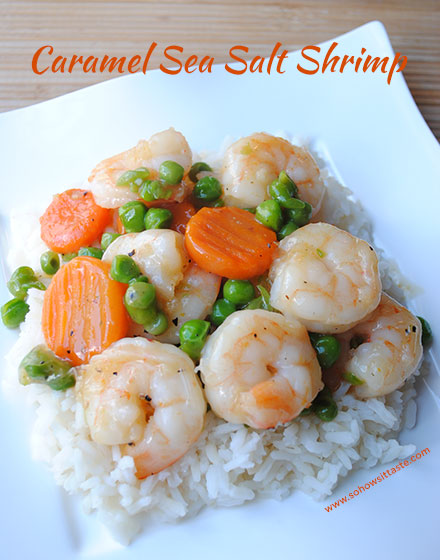 So, how's it taste?
I love shrimp for so many reasons. They're quick and easy to cook, high in protein yet low in calories, and they go so well with a variety of flavors. This dish is really simple and looks so pretty served over rice with colorful peas and carrots. The sauce is sweet from the brown sugar, but finishing it with the Caramel Sea Salt Finishing Butter gives it such a rich touch. The Caramel Sea Salt butter is a bit more maple tasting to me than caramel, but it worked perfectly in this dish. The sauce and shrimp together are pretty sweet, so when you're tasting it, you may think it's ruined. Once the rice is added, it's amazing! The sweet mellows out and it's just perfect. There's a very slight hint of salt, but you may want to add a touch more.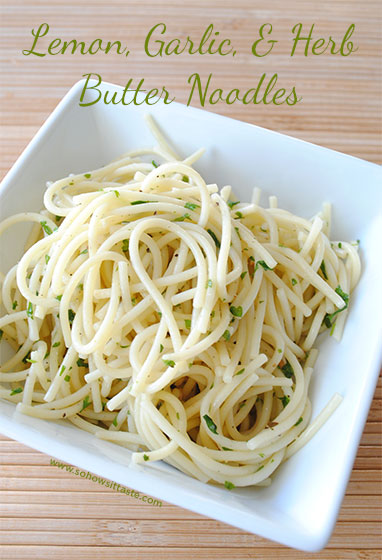 For my second dish, I wanted to tackle one of the savory butters. It was tricky thinking about what I'd like to make because I didn't want the fancy butter to get lost. Then it struck me…butter noodles! Back in college, one of my roommates used to eat noodles and butter. That's it. I thought it was so plain and boring and such a waste of good pasta. But what if that butter was filled with lemon, garlic, and herbs? Now we're talking! Here's what you do: Boil your favorite pasta according to package directions, drain. Add Lemon, Garlic, and Herb Finishing Butter until you reach your desired taste. My noodles got a little shiny when they were ready. I used about a tablespoon of finishing butter per 2-ounce serving of pasta. Finish the pasta with a sprinkling of chopped fresh parsley. A squeeze of lemon juice would be nice, too!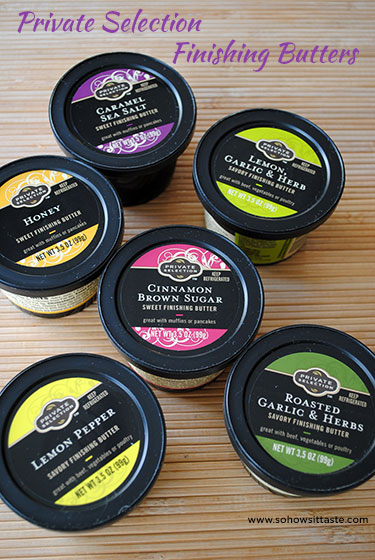 As you can see from the two recipes above, I've really been enjoying those finishing butters. Honestly, my favorite thing to do with them is schmear them on toast or a toasted bagel. I think my favorite is the Roasted Garlic & Herbs. My little tub is almost gone because I've been slathering my toast with it like it's going out of style. Delicious!
Giveaway Details – Contest Closed
Now that I've tempted you with butter, I've got good news! Private Selection wants you to have the opportunity to try their new finishing butters, too! One winner will receive a Private Selection Kit filled with a sample of their artisanal-inspired ingredients, and to be able to try the finishing butters and the recipes above, a $100 gift card to Kroger!
Mandatory: Leave a comment on this post telling me which butter you would like to try first! Giveaway open to contiguous U.S. residents only. One mandatory entry per person only. Multiple entries (except for the optional entry below) will be removed.
Optional entry: For one additional entry, tweet the following: "Win a Private Selection Kit and @Kroger $100 gift card from @SoHowsItTaste! Enter here: http://bit.ly/19Qen2d" and leave a separate comment that you tweeted.
Contest ends on Wednesday, January 15, at 5 p.m. central. Please make sure you enter a valid email address as an alternate winner will be chosen if I don't hear from you within 48 hours. Good luck!
Congrats to Lillian Rosillo, comment #22!
You've won the $100 Kroger Gift Card Giveaway!
Winner chosen using random.org.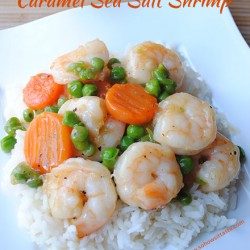 Caramel Sea Salt Shrimp
Ingredients:
1 tbsp. water
2 tsp. cornstarch
1 tbsp. olive oil
1 lb. large shrimp, peeled & deveined (I also remove tails)
1 cup frozen peas
1 cup frozen cut carrots
1 garlic clove, minced
1/4 tsp. freshly ground black pepper
1/8 tsp. salt
1/2 cup low-sodium, fat free chicken broth
2 tbsp. brown sugar
2 tsp. fish sauce
1 tbsp. Caramel Sea Salt Private Selection Finishing Butter
2 cups rice, cooked
Directions:
1. Combine water and cornstarch in a small bowl, stirring with a whisk; set aside. Heat a large skillet over medium-high heat. Add oil to pan; swirl to coat. Add shrimp; sauté 2 minutes or until shrimp begin to turn pink. Add peas, carrots, garlic, pepper, and salt; cook 1 minute. Remove from heat.
2. Combine broth, sugar, and fish sauce in a small saucepan over high heat. Bring to a boil; stir in cornstarch mixture. Cook 30 seconds or until mixture thickens, stirring constantly.
3. Pour sugar mixture over shrimp. Return shrimp mixture to medium-high heat and add Caramel Sea Salt finishing butter; cook 2 minutes or until thoroughly heated and finishing butter has melted. Serve over cooked rice.
Disclosure: Private Selection provided me with six finishing butters at no cost and a $100 gift card to Kroger. I was not compensated for this post. All opinions expressed here are solely my own, as always.