Hi! Welcome to So, How's It Taste! You may have found this post through Pinterest, so thanks for stopping by! If you're interested in more breakfast dishes, please check out my Breakfast category or if you love blueberries as much as I do, check out my Blueberry Pecan Crisp or my Two-Berry Crisp with Pecan Streusel Topping. Hope to see you back soon!
I am not a fan of instant oatmeal. Those nasty little packets of instant grossness with bits of dried fruit…I'd rather eat wallpaper paste. Loved the stuff as a kid, but I'd have to force it down now. Unless oatmeal is in a cookie, I won't eat it. That is until I saw Baked Oatmeal with Fruit. It looks like dessert! Almost like a crisp oozing with blueberries. No way was this oatmeal. No way was this good for you. Wrong! Happily I have changed my tune about oatmeal and it's once again on my breakfast menu.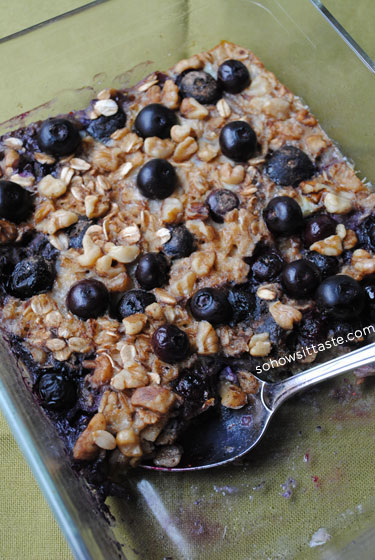 So, how's it taste?
A million times better than instant. I couldn't believe I was eating oatmeal after all these years. I couldn't make up my mind which fruit to try first, so I split the recipe in half and did one with blueberries and one with raspberries. I can't say which was my favorite because I enjoyed them both so much. This kind of oatmeal is more my style because of the texture. It's not slop, but big chunks of yummy, healthy things. The old-fashioned oats are heartier than instant and they soak up all the milk, syrup (I used sugar free to cut some calories – Smuckers brand is awesome), and vanilla. Bursts of blueberries or raspberries add a bit of tartness to counteract the sweet, although the dish isn't that sweet at all. It gets its sweetness from the teeny bit of syrup and those beautiful bananas underneath. Don't be afraid of the cooked bananas. They don't turn to mush, and for the most part keep their shape. Let's not forget the nuts. I used walnuts for these, but pecans would work wonderfully, too. There's so much going on and that's a great start to any day.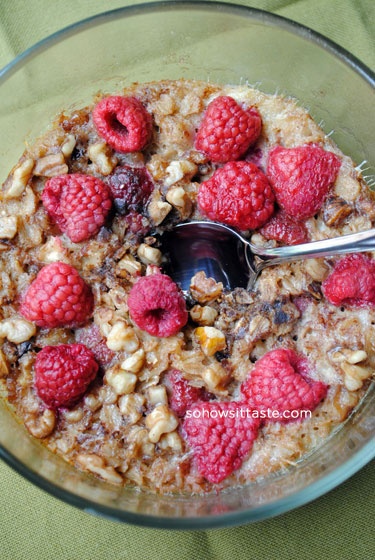 What I like about this recipe is you can make this Sunday night and have breakfast all through the week. Just reheat each serving in the microwave in the morning. You can feel good about it, too. The ingredients are healthy, it's a warm, comforting meal, and a serving is about 200 calories give or take a few depending on what fruit you use. It's like a little morning treat and who doesn't want to start their day with a treat?!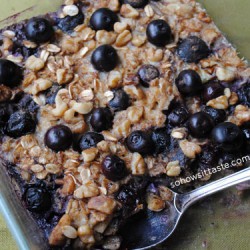 Blueberry & Raspberry Baked Oatmeal
Ingredients:
1 cup old-fashioned rolled oats
1/4 cup chopped walnuts, divided
1/2 tsp. baking powder
3/4 tsp. ground cinnamon
Pinch of salt
1/4 cup maple syrup (I used sugar free)
1 cup milk (I used skim)
1 large egg, lightly beaten
2 tbsp. unsalted butter, melted and cooled slightly
1 tsp. vanilla extract
2-3 ripe bananas, peeled and sliced
1 cup blueberries or raspberries, fresh or frozen, divided
Directions:
1. Preheat the oven to 375F.
2. Lightly grease a 2-quart baking dish. In a medium bowl, mix the oats, half of the walnuts, baking powder, cinnamon, and salt. Stir to combine. In a liquid measuring cup, combine the syrup, milk, egg, butter, and vanilla.
3. Spread the sliced bananas in a single layer over the bottom of the baking dish. Top with half of the berries. Sprinkle the dry oat mixture over the fruit in an even layer. Pour the liquid ingredients evenly over the oats.
4. Sprinkle the remaining nuts and berries over the top. Bake for 35-40 minutes, until the top is browned and the oats have set. Let cool 10 minutes before serving.
nutritional value will vary depending on the fruit and ingredients you use