Hey look, another recipe with strawberries! I wasn't kidding when I said I picked a lot of fresh strawberries this year. I've never made freezer jam before, but was excited to try White Balsamic Strawberry Freezer Jam. It seemed simple enough and none of that hardcore canning and boiling and sanitizing business. The end result didn't quite turn out like I expected, but didn't qualify for my Oops! category either, so I'm ok with it. Thank goodness, since I've got four jars of it!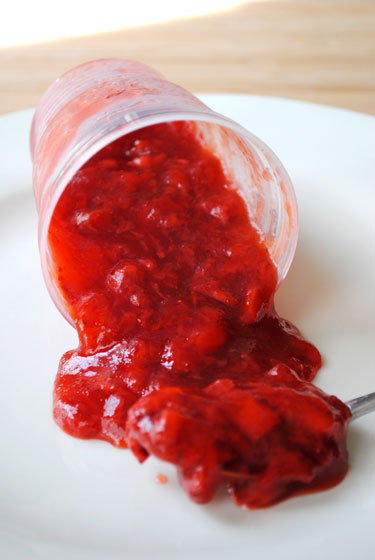 So, how's it taste?
It's quite tasty with those juicy, ripe strawberries and the vinegar adds a sharp tang. It's not the kind of jam you could spread on a piece of toast. The vinegar is way too potent for that. However, I did find it works awesomely on a turkey sandwich! I slathered my turkey sandwich with the jam and then dipped it in it. I couldn't get enough of it! Sweet strawberry chunks with a sour twist.
As good as it tasted on a sandwich, I do want to try the recipe again. The consistency wasn't as thick as I would have liked. The directions weren't clear if I needed to add the juice from crushing the strawberries, so I did. Next time, I'll strain out the extra juice. I also used a white balsamic vinegar infused with fig instead of regular balsamic vinegar. I thought the hint of fig would take this jam over the top. I couldn't really taste the fig in the final product though. I definitely want to make this again, as freezer jam is incredibly easy. I'll report on how it turns out in a future post.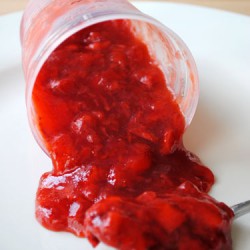 White Balsamic Vinegar Strawberry Jam
by Ball
makes about 5 (8 oz.) half pints
Ingredients:
1 cup white balsamic vinegar (I used fig infused)
4 cups crushed strawberries
1/2 cup honey
5 tbsp. instant pectin (I used Ball RealFruit)
5 plastic (8oz.) freezer jars (I used Ball)
Directions:
1. Place vinegar in a small saucepan. Cook over medium heat until reduced to 3/4 cup. Chill until cool.
2. Mix strawberries, honey, and cooled vinegar in a large mixing bowl. Let stand for 10 minutes. Add pectin. Stir for 3 minutes.
3. Ladle jam into clean jars to fill line. Twist on lids. Let stand until thickened, about 30 minutes. Refrigerate up to 3 weeks or freeze up to 1 year.