I've had this Ball Blue Book of Preserving on my shelf for several years now. Have I ever canned anything? No. Does this post include something I've canned? No. I think you have to be in a "mood" to can, and I certainly wasn't. I'll tackle it eventually, but what I really like about this book are all the spreads and dips that are also included. Easy condiments you can whip up without having to deal with the canning process (unless you're making huge batches). Spiced Honey caught my eye because it was easy, sounded really delicious, and could potentially be something to give as a gift for the holidays or just because.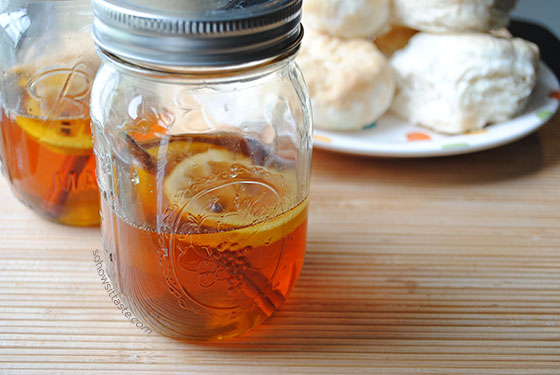 So, how's it taste?
Oh it turned out so tasty! I really, really, really wanted to bring this recipe to you and follow it up with a recipe for amazing homemade biscuits, but this Southerner cannot make them. (Sidenote: I'm taking a biscuit-making class this Sunday! Eeee!) So those gorgeous mounds of buttermilk deliciousness in the background are (gasp!) frozen, store-bought biscuits. I had to have some to spread that amazing honey on. Honey and biscuits are like dessert to me. My roommate in college turned me on to using honey instead of jam and I've never looked back.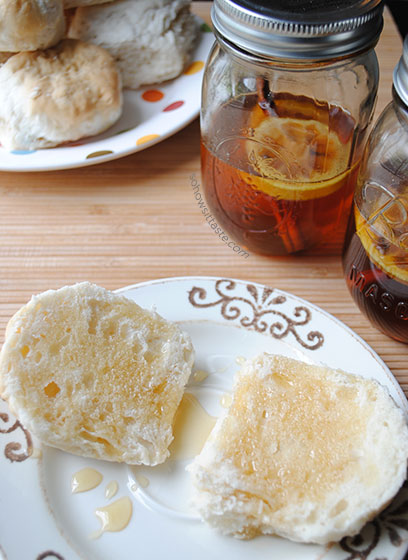 It's a really simple recipe of honey, lemon, cloves, and cinnamon. The lemon helps to balance out the already super sweet honey. I couldn't really taste it in the final product. I think oranges would work very well, too. The spice is a subtle hint, so don't feel overwhelmed by the cloves. I know some folks think cloves are really strong, but they don't overpower the honey at all. I could distinguish more of the cloves than the cinnamon, but it was perfect. I still wanted the honey to shine through and it does. It's just gussied up.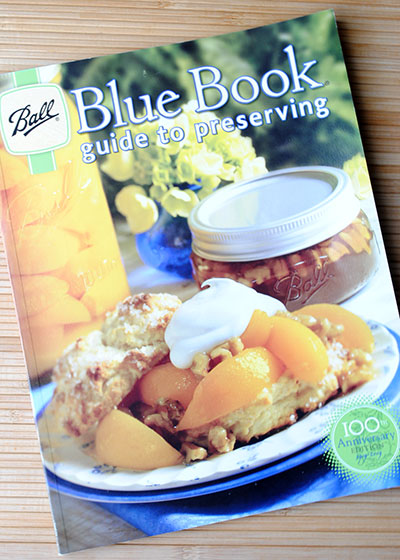 I've only eaten this honey on biscuits, but I think it's very versatile. I'd love to try it as my sweetener in tea, over fresh fruit, or in any salad calling for honey. This recipe is a keeper!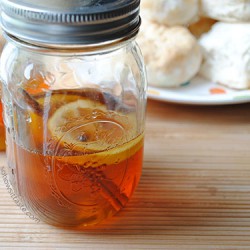 Yield: about 3 half-pints
Spiced Honey
Ingredients:
1 lemon
12 whole cloves
3 sticks cinnamon
2 2/3 cups honey
Directions:
1. Cut lemon into 6 thin slices. Place two cloves in each slice. Put lemon slices, cinnamon sticks, and honey in a saucepan. Bring to a boil over medium heat; stirring occasionally.
2. Remove from heat and place two lemon slices and one cinnamon stick in each jar. Ladle hot honey into jars, leaving 1/4-inch headspace. Adjust two-piece caps. Process 10 minutes in a boiling-water canner.
*Note: If you're going to consume the honey fairly quickly, there's no need to do the canning process.
This post contains affiliate links.