This Spring Salad with Fresh Mozzarella and House Dressing is so simple, yet so deliciously elegant. My guests licked their plates clean. A few ingredients, but jazzed up by some serious house dressing. The original salad calls for only olive oil, but I wanted a bit more flavor. After testing a few homemade dressings, I decided on a vinaigrette slightly adapted from Maggiano's Little Italy that I found on The Novice Chef blog.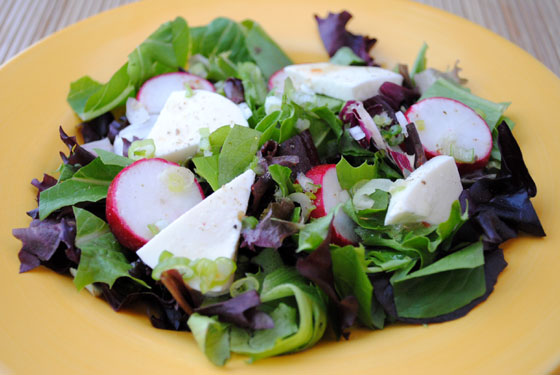 So, how's it taste?
It's fabulous. The dressing is what makes it. We all scarfed down this first course and used our rolls to sop up the leftover dressing. It's one of those so-good-I-could-drink-it creations. The salad is a simple spring mix or whatever lettuce you prefer, topped with sliced radishes for crunch, scallions for a burst of oniony heat, and tender, fresh mozzarella for a change in texture. This dressing really surprised me. It's so good I have made it four times in the last few weeks. I think that's a sign that I've changed my bottled ranch ways and need to make one ginormous batch!
The dressing has quite a few ingredients, but it's easy to whip together. You NEED to make it at least two days before your party as it tastes better the longer the ingredients are together. When I first made the dressing, I actually wrote it off. It tasted so bland, like pure oil. Lucky, thrifty me, I put it in the fridge and came back to it days later. It was amazing. Sweet, tangy, spicy, it appeals to all of your taste buds. So glad I didn't throw it out!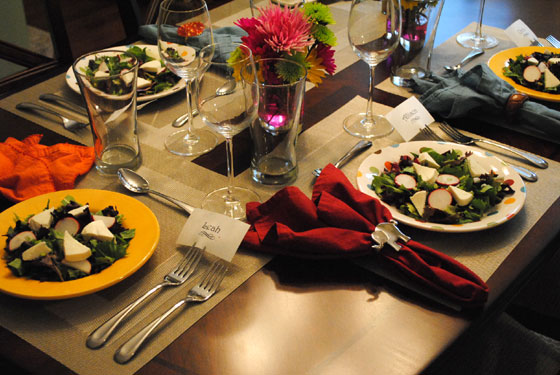 Dinner party tip: Preset your salads. About 10 minutes before my guests arrived, I preset the salads. Might seem a little hotel-ish, but it gave us more time to mingle and chat with a glass of wine before we sat down to dinner. You can slice your radishes, scallions, and mozzarella the night before and store in the fridge. I used pre-packaged Spring Mix lettuce that I chopped into smaller pieces the night before as well.
Spring Dinner Party Menu:
Spring Salad with Fresh Mozzarella and House Dressing
Bread Machine Dinner Rolls
Turkey and Pancetta Meatballs
Pasta with Mint Pesto and Fava Beans
Tiramisu Ice Cream
Wine of your choice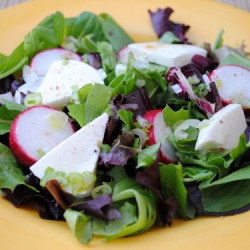 Spring Salad with Fresh Mozzarella and House Dressing
Ingredients:
Salad
1 package (5 oz.) Spring Mix lettuce (or your preferred lettuce), chopped to bite-sized pieces
1 ball (10 oz.) fresh buffalo mozzarella, sliced 1/2-inch thick crosswise, then cut into fourths
2 scallions, white and pale-green parts only, trimmed and thinly sliced
6 radishes, trimmed and sliced into rounds
Coarse salt and freshly ground pepper
Dressing
1 oz. Coleman's dry mustard
1/3 cup granulated sugar
3/4 cup water
1 garlic clove, finely chopped
1/4 cup red wine vinegar
1 cup white wine vinegar
Salt, to taste
3 cups canola oil
1 cup virgin olive oil
2 tsp. crushed red pepper
2 tsp. whole black pepper, fresh ground
1/2 tsp. dried oregano
Directions:
1. For the dressing, combine all the ingredients in a food processor* and blend. Store in a sealed container in refrigerator.
2. For the salad, place lettuce on a platter or individual plates. Arrange mozzarella and radishes on top. Sprinkle with scallions. Just before serving, season with salt and pepper, and drizzle with the dressing.**
*Don't use your blender for this dressing. It whips the dressing into a foamy, thick mixture. You want to keep it liquid like a vinaigrette.
**I put the dressing on my table and let my guests add the dressing to their liking. If you preset salads, you'll need to do this or the lettuce will begin to wilt.