From my recent posts of potatoes and sweet potatoes, I'd guess you can tell I love some carbs! Especially bread. And especially bread schmeared in butter. Better yet? Bread schmeared in Compound Herb Butter! Bring on the flavor! I had planned these awesome wheat rolls to share with you, but I had a small snafu in making them, and well, they turned out to be the ugliest (make that fugliest) rolls ever. Not blog worthy (I will conquer them in a future post). However unattractive they were, they tasted yummy, and it was partly due to this butter.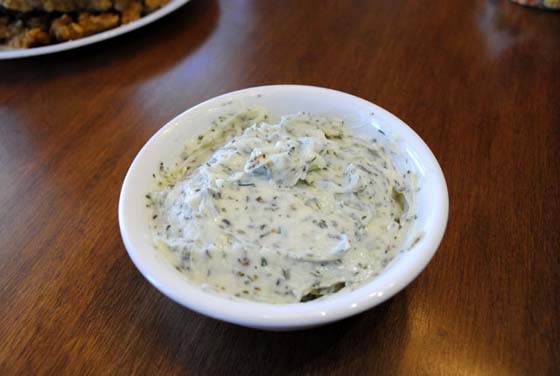 So, how's it taste?
I must've eaten at least two (maybe three?) before sitting down to dinner. The hassle of this flavored butter is waiting for it to soften to make and then waiting for it to soften when you want to snack on it. It's so very, very delicious. Basil, dill, thyme, all this flavor going on. The recipe calls for fresh, but I used dried. If you want to go that route as well, just halve the amount it calls for as fresh.
My only complaint is the garlic. While I never shy away from it, I was glad I only used one clove. The recipe calls for up to two, which is just insane, unless you're Team Jacob and purposely don't want a group of undeads near you. The one garlic clove was still too much. I would either use a tiny amount of fresh, try to substitute garlic powder, or just leave it out the next time I make it. It would be fun to experiment with other herbs as well. You can get fancy and pipe the butter into a dish, or roll it into a log, but I just wanted to eat, so plopping it into the nearest bowl is how it made it's way onto our table.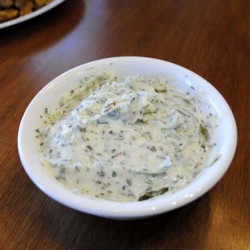 Compound Herb Butter
Ingredients:
8 tbsp. unsalted butter, at room temperature
1-2 cloves garlic, very finely minced
1 tbsp. fresh basil, finely minced
1 tsp. fresh dill, finely minced
1 tsp. fresh thyme, finely minced
1/2 - 3/4 tsp. kosher salt
Freshly ground black pepper
Directions:
1. Combine all ingredients in a small bowl. Mix well with a spoon until combined and all ingredients are evenly incorporated. To serve, pipe butter into small serving dishes with a decorative pastry tip. Alternatively, place the butter mixture onto plastic wrap, form into a log, wrap tightly and refrigerate until ready to serve. Allow to come to room temperature before serving so it is spreadable.