I wasn't kidding when I said these were fancy condiments in my Beer Bratwursts post. Sweet & Sour Onions and Bell Pepper Relish will make you forget about ketchup and that pickle stuff. Condiments aren't usually what you'll be talking about after a meal, but I guarantee you will with these two.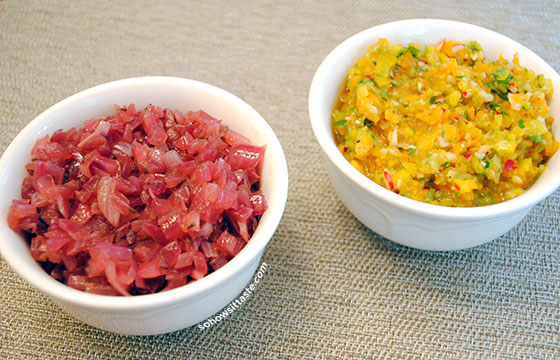 So, how's it taste?
First, let's start with the onions. Boy are they good. They soak up that red wine vinegar and get a touch of sweet from brown sugar. That's where the sweet and sour comes from. The caraway seeds add an extra oomph. This stuff is seriously good. Just don't be tempted to take a big sniff while it's cooking. Vinegar steam is not kind to the nose. 😉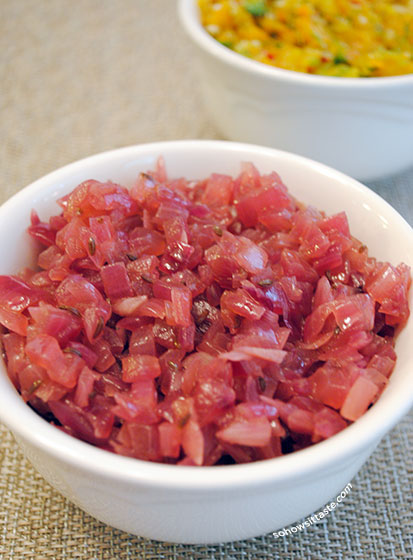 Now for the relish. It's a recent discovery that I like bell peppers. I always appreciated the smell and the flavor, but something with the texture weirded me out. Fast forward to me forcing myself to eat them. Sounds odd, but it works. I'm now obsessed with them. I eat them on salads constantly, like a huge amount. So when I saw this relish, I knew I had to make it. Wonder what we would've eaten if I was still opposed to bell peppers?! This relish is perfection. The yellow and orange bell peppers are sweet and the radish and scallions add a bit of heat. This relish also has brown sugar and vinegar, this time cider vinegar. The fresh veggies really shine in this condiment. My one complaint is it has a lot of liquid. I strained it twice and it gets runnier and runnier the longer it sits. I may skip the food processor and chop everything finely by hand next time to help prevent this.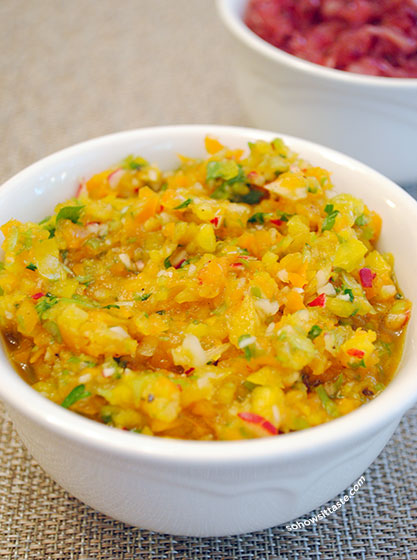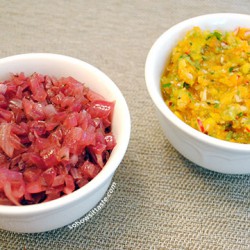 Sweet & Sour Onions and Bell Pepper Relish
Ingredients:
Sweet & Sour Onions
2 small red onions, chopped
2 tbsp. olive oil
1/2 tsp. caraway seeds
1/4 cup red wine vinegar
1 tbsp. brown sugar
1/2 tsp. kosher salt
Bell Pepper Relish
1 yellow bell pepper, chopped
1 orange bell pepper, chopped
4 radishes, chopped
4 scallions, chopped
1 garlic clove
2 tbsp. cider vinegar
2 tbsp. parsley, chopped
1 tbsp. olive oil
2 tsp. brown sugar
1/2 tsp. celery salt
1/2 tsp. kosher salt
1/2 tsp. freshly ground black pepper
Directions:
1. For the onions, cook the onions in a skillet with olive oil over medium-high heat, stirring, until golden, about 8 minutes. Add caraway seeds; cook, stirring, 30 seconds. Add vinegar, brown sugar and salt; cook, stirring until the onions are glazed, 1 minute. Let cool completely.
2. For the bell pepper relish, pulse each bell pepper, radishes, scallions, and garlic clove in a food processor until finely chopped. Whisk cider vinegar, parsley, olive oil, brown sugar, celery salt, kosher salt, and pepper to taste in a large bowl. Add the vegetable mixture; toss to coat.