I try to make new recipes as often as I can, but of course it's hard to not make the usual or my favorites. Every now and then, I spread out my cookbooks, sit in the living room floor, and just spend hours sifting through them to find some new inspiration. There's a lot of it around my house with all my cookbooks and magazines, but hey I like to cook! I found this recipe for Crunchy Corn Relish as a topping for pork steaks, but thought I'd give it a try as a side.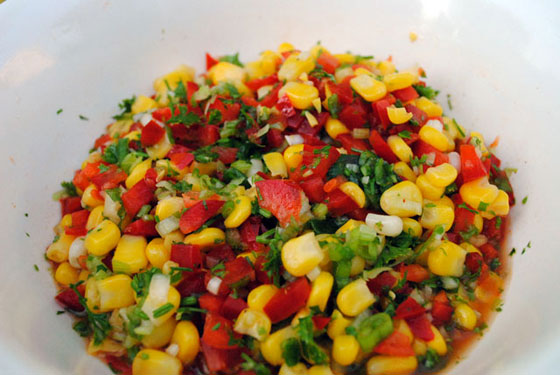 So, how's it taste?
I was surprised how good it was and I say surprised because I do not like red peppers. Something possessed me to make this recipe and add them in where I would usually skip them. It lived up to its name as crunchy with the corn, red peppers, and green onions. But what a nice contrasting flavor with the honey and vinegar. A little sweet, a little tangy. A little heat as an aftertaste with the cayenne, and oh that parsley! I'm in love with fresh parsley and this dish uses it well. It was one tasty relish and just look at those colors! I'm not sure I loved it as a side though. It was definitely more suited as a topping. Kind of reminds me of the Corn Salsa from my post in January, but with slightly different ingredients. Who knew corn was so tasty as a topping?
Believe it or not this version was absolutely delicious over…nachos! Huh? Yep, I said nachos. I had some leftover and didn't really want to eat it as a side. On a whim, I put some tortilla chips on a plate, sprinkled with cheese, dolloped with sour cream, then added the corn relish and nuked it in the microwave for a few seconds. Amazingly good. Sounds weird, but I would make this relish again just to add it to nachos.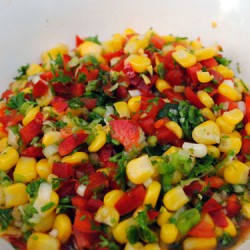 Crunchy Corn Relish
Ingredients:
1 cup frozen corn
1/2 cup red bell pepper, chopped
1/4 cup green onions, chopped
2 tbsp. fresh parsley, chopped
2 tbsp. white balsamic or white wine vinegar
1 tsp. olive oil
2 tsp. honey
1/4 tsp. salt
dash cayenne pepper
Directions:
1. Cook corn as directed on package until crisp-tender. Drain.
2. Combine corn and all remaining ingredients; mix well.