It's funny that I now have a homemade recipe for Cranberry & Citrus Sauce on my blog. You see I'm a huge fan of the canned stuff. Huge. I just love it. I smother everything on my Thanksgiving plate with it. So it never crossed my mind to make it myself. I have to confess though. I only made it to use in a cocktail!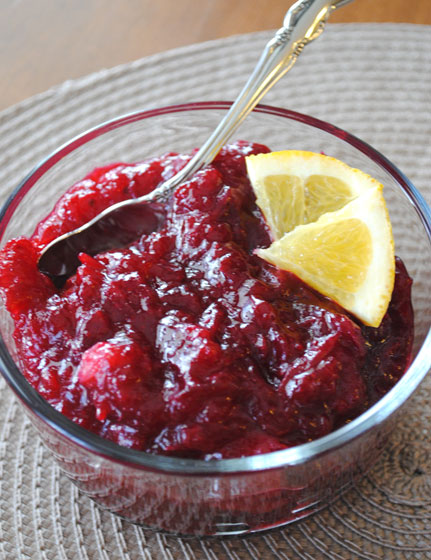 So, how's it taste?
Well, the fact I'm blogging about only the sauce should tell you that I really liked it. I may never go back to the canned stuff and that's a pretty big statement coming from me. I couldn't believe how easy it was, it practically made itself! All the ingredients, except the grapefruit segments, cook together in a saucepan until thick and delicious. It takes no time. The cranberries are perfectly tart, but I like how the orange juice and zest bring just a touch of sweet. I'm not a big fan of grapefruit as I find it a little bitter, but it works nicely in the sauce. However, the next time I make this I'll use orange segments instead. I got a few bites of bitter and I think the orange segments would have been more palate-pleasing.
This sauce was fantastic and I didn't miss the canned stuff. Have I changed my ways for good? We'll see how it goes for Christmas dinner. Read how this incredible sauce gets turned into a tasty beverage!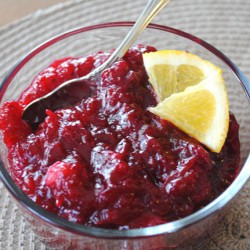 Cranberry & Citrus Sauce
Ingredients:
1 (12 oz. bag) frozen or fresh cranberries (about 3 cups)
3/4 cup granulated sugar
1/3 cup freshly squeezed orange juice
2 tsp. finely grated orange zest
1 1/2 tsp. finely grated ruby red grapefruit zest
1/2 cup ruby red grapefruit segments, medium dice
Directions:
1. Combine cranberries, sugar, orange juice, and both zests in a medium saucepan over medium heat, stirring until sugar is dissolved, about 5 minutes.
2. Bring to a boil, stirring occasionally, then reduce heat to medium low and simmer until thickened and cranberries are beginning to fall apart, about 20 to 25 minutes. Spoon into a heatproof serving bowl.
3. Drain grapefruit segments, discarding any accumulated juices, and stir into cranberry sauce. Cool to room temperature, cover, and refrigerate until ready to serve. Serve cold or at room temperature.