I feel like I should get some kind of award for actually making so much stuff I've pinned on Pinterest. I wonder how many crafty or recipe pins really get made? Probably not a high percentage. I'm happy to slowly start increasing that number with these Taco Pickles. I pinned them, I made them, and they're delicious! Success! Instead of cucumbers, its' a jar filled with carrots, radishes, and jalapenos. So, where does the taco come in? It refers to how to use them. They are perfect for topping tacos, especially fish tacos. Remember the Slow Cooker Thai-Style Peanut Pork? Yep, I put these babies on top of that and wowza. It's not just for tacos, but anything that could use some zing.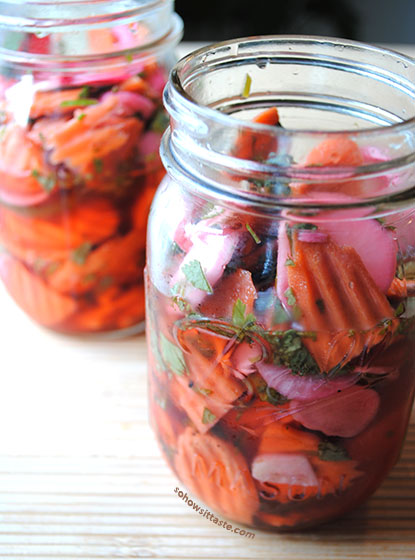 So, how's it taste?
I love these simple veggie pickles. I already had carrot chips on hand, so other than chopping radish, there wasn't much prep involved. It's mostly carrots and radish, with specks of green from the cilantro and jalapeno. I wish I'd been more generous with the jalapeno as this would really be good with heat level turned up. The colors are so pretty and they just about stay that way except for the radish turning light pink the longer it sits. I also love that this recipe isn't exact. A handful of this, a handful of that. Throw it together and it just works.
It's made with three different vinegars and some sugar, so that gives it an interesting tang. I added sliced garlic and that was a darn good decision. I can't wait to try these pickles served over grilled fish tacos. I think that would be life changing! These would work great in salads or sandwiches or straight from the jar if you ask me!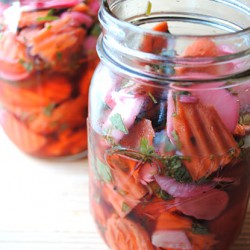 Taco Pickles
Ingredients:
handful of radish, sliced
handful of carrots, sliced
1 jalapeno (add more if you want some heat)
2 garlic cloves, sliced
handful of cilantro, chopped
salt, just a sprinkle
freshly ground black pepper, just a sprinkle
1/2 cup distilled white vinegar
1/4 cup apple cider vinegar
1/4 cup red wine vinegar
1/2 cup sugar
Directions:
1. Add all your sliced veggies and the rest of the ingredients through the black pepper in a large bowl. Stir until well combined.
2. In a small saucepan, add the three vinegars and sugar. Heat over medium until the sugar dissolves. Let the mixture cool to room temperature.
3. Fill jars with your veggie mix and pour vinegar mixture on top until it just covers the veggies. Cool in the refrigerator and shake periodically. Store in the refrigerator for several weeks.