Pastitsio is a Greek dish with pasta, meat sauce, and a custard sauce. And don't forget all that cheese! It's a bit on the time consuming side to prepare, but so worth it. It's surprising to find ground cinnamon as an ingredient in the meat sauce, but don't skip it. It's a key ingredient you don't want to miss out on.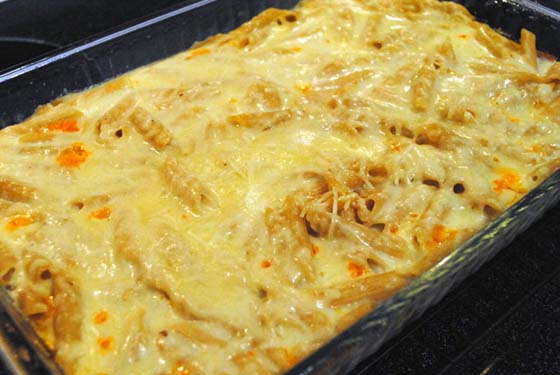 So, how's it taste?
Who wouldn't love pasta, meat, and cheese? I really enjoyed it. The cinnamon, although unusual, blended very well with the tomato and beef. It seems like a lot is going in and you can really smell it while you're cooking the meat sauce, but the flavor is not so strong in the final dish. Ooey, gooey cheese in every bite and oh that custard sauce! I think the dish gets better the next day, so get excited about the leftovers!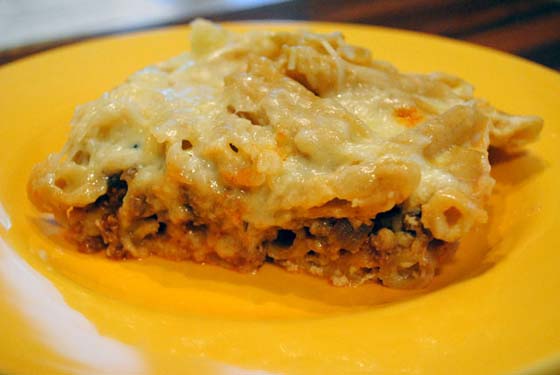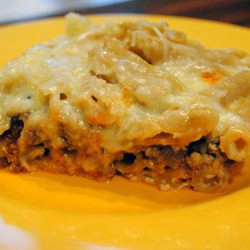 Pastitsio
Ingredients:
1 lb. lean ground beef
1 cup chopped onion
1 (8 oz.) can tomato sauce
1/4 cup dry white wine, beef broth, or water
1/8 tsp. ground cinnamon
8 oz. dried penne
3/4 cup milk
2 eggs, slightly beaten
1/4 cup butter
2 tbsp. all-purpose flour
1/4 tsp. salt
1/8 tsp. black pepper
1 1/2 cups milk
2 eggs, slightly beaten
1 cup shredded Kefalotiri, kasseri, or Romano cheese
Directions:
1. For meat sauce, cook ground beef and onion in large skillet until meat is cooked through. Drain off fat. Stir in tomato sauce, wine, and cinnamon. Bring to boiling and then reduce heat. Simmer for 30 minutes, stirring occasionally.
2. Meanwhile, cook pasta according to package directions. Drain. In a large bowl toss cooked pasta with 3/4 cup milk, 2 eggs, and half of the butter. Set mixture aside.
3. For cream sauce, in a small saucepan melt the remaining butter over medium heat. Stir in flour, salt, and pepper until smooth. Gradually add the 1 1/2 cups milk. Cook and stir until mixture is thickened and bubbly. Gradually stir hot mixture into 2 eggs. set aside.
4. Grease a 9x13 baking dish. Preheat oven to 350. Spread half the pasta mixture into dish. Top with the meat sauce. Sprinkle with 1/3 of the cheese. Top with the remaining pasta mixture. Sprinkle with another 1/3 of cheese. Pour cream sauce evenly over all. Sprinkle with the remaining cheese.
5. Bake covered for 20 minutes. Uncover and bake for 10 to 15 minutes more until a knife inserted in center comes out clean. Let stand for 15 minutes before serving.