When I was contacted not too long ago about pairing up with Lean Cuisine, it was a no-brainer saying yes. You all know how much I am an advocate for counting calories when it's time to lose a few pounds, and Lean Cuisine has played a big role in that for years. In fact, it's been about 10 years since I discovered their meals. I love to cook and it's easy to cook low calorie (check out my low calorie category), but I don't always have time to cook. That's when I turn to Lean Cuisine. They taste great, have lots of variety, and take no time to prepare.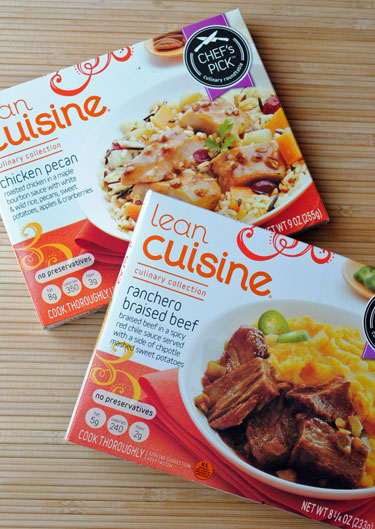 So, how's it taste?
Today Lean Cuisine has many more options than 10 years ago. In their Culinary Collection are several Chef's Pick selections where chefs have created new recipes for the product line. Before I was contacted, I had already tasted the Ranchero Braised Beef and really enjoyed it. In fact, it quickly became one of my go-to favorites. It's braised beef in a spicy red chile sauce served with a side of chipotle mashed sweet potatoes. The flavor combination is fantastic. The beef is really tender and although the sauce sounds like it would be heavy, it's not. As I've found with most Lean Cuisines, it's a bit too much sauce, but that's ok. I really liked the change from regular mashed potatoes to sweet potatoes. Plus the touch of chipotle (it's more smokey than hot) goes great with the chile sauce on the beef. I was really happy with this one.
For my next meal, I chose Chicken Pecan. Anything pecan has my attention, but I have to be honest, I usually stay away from the chicken dishes. I tend to gravitate more towards the vegetarian options or other protein. After reading the description, I had to try it! Roasted chicken in a maple bourbon sauce with white and wild rice, pecans, sweet potatoes, apples, cranberries. Hello! Maple bourbon sauce from Lean Cuisine? Yep, you read that right. This dish smelled heavenly cooking in the microwave. I really liked the sweet and savory combination. I could slightly taste the maple with the chicken, but couldn't pick up the bourbon. The sauce was sweet, but not too much so. There's so much texture going on for a frozen dinner, too. Lots of crunchy pecan pieces, rice, tender chicken, soft sweet potatoes, and the apples still had a tart, firm bite to them. The cranberries added a tang to balance the sweet. I was surprised how much I liked this one.
There's several other Chef's Picks that I can't wait to try. Spinach Artichoke Ravioli and Asparagus Ravioli are two that I've got my eye on. If you're like me and want some low calorie options when you don't have time to cook, definitely give the Chef's Pick selections from Lean Cuisine a try. Let me know which ones you enjoy!






I have partnered with Lean Cuisine through DailyBuzz Food to help promote their new line of Chef's Pick products. I have been compensated for my time commitment to work with this product. However, my opinions are entirely my own and I have not been paid to publish positive comments. Thank you Lean Cuisine!