Lately I've been all about foods that are simple to put together, require little or no cooking, and somewhat stay in the low calorie range. I'm such a sucker for unique sandwiches, too. I say unique because I like ingredients that are more than my usual turkey and cheese or ham and cheese. I love everything about these Double Decker Apricot Turkey Sandwiches. All I had to read was "cream cheese" in the ingredient list and I was sold. Even they way they're cut make lunch fun!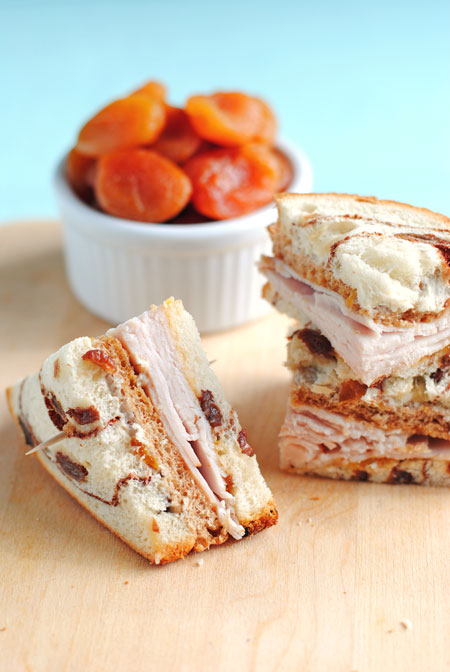 So, how's it taste?
I wish I had amped up the cream cheese layer more for the picture, but I promise it's a generous helping. Cream cheese and it stays in the low calorie range…score! It's not just any cream cheese, but honey nut with chopped dried apricots! Here's where it gives a nice texture contrast to all the creaminess. The next flavor burst comes from apricot jam mixed with Dijon mustard. Sweet and sour! I actually used mango chutney in place of the apricot jam and loved it. It made it a bit more tangier than sweet, but so good paired with that sweet cream cheese! The turkey rounds out the sandwich to make it hearty and filling. You could also use ham in place of the turkey or both!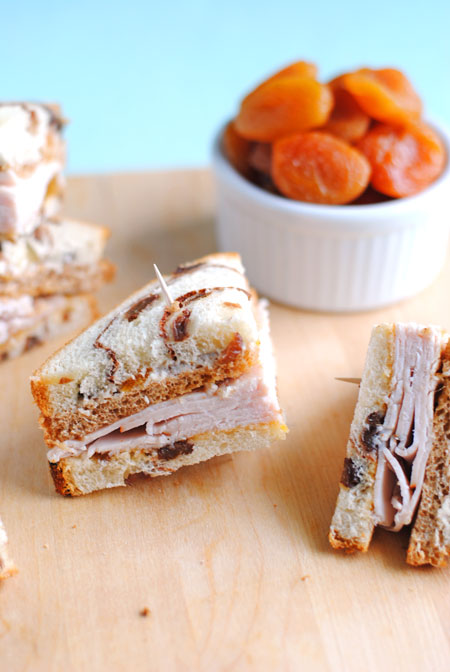 The outside slices are cinnamon raisin bread. This is another selling point of this sandwich because it reminds me of my Goat Cheese Sandwiches with Honey and Fig. That sandwich is to die for and this one has similar flavor components. The double decker slice in the middle is whole wheat. You could leave this out if you'd like. Make sure to get similar-sized bread so your sandwiches will line up. I used Pepperidge Farm brand for both breads. I served these sandwiches in quartered slices and used toothpicks to keep them together. These would be great as little snacks at a party or just to make your lunch more exciting!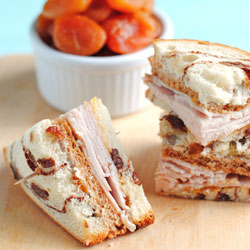 Yield: 8 sandwiches
Prep Time: 20 min
Total Time: 20 min
Double Decker Apricot Turkey Sandwiches
Ingredients:
1/3 cup apricot jam
1 tbsp. Dijon mustard
1/2 cup honey-nut soft cream cheese (from 8 oz. tub)
2 tbsp. chopped dried apricots
16 slices cinnamon raisin bread
8 slices whole wheat bread
1 lb. thinly sliced smoked turkey
Directions:
1. Mix apricot jam and mustard. Mix cream cheese and apricots.
2. Spread jam mixture on one side of 8 slices cinnamon bread and 8 slices wheat bread. Place turkey on cinnamon bread; add wheat bread with spread sides down.
3. Spread cream cheese mixture on remaining 8 slices cinnamon bread. Place cinnamon bread, cream cheese sides down, on sandwich stacks. Cut each sandwich diagonally into fourths to make 4 triangular sandwiches.
per serving: 330 calories, 8g fat, 50g carbs, 3g fiber, 18g protein