Here's a very easy recipe for a slight twist on hummus. I like to try my hand at cooking things in the kitchen, even though I may easily buy them in the grocery store. This Chickpea and Caramelized Onion Dip has a heartier texture than traditional hummus, and a few more ingredients you don't usually find. I really enjoyed it and think it would be great as a sandwich spread, too.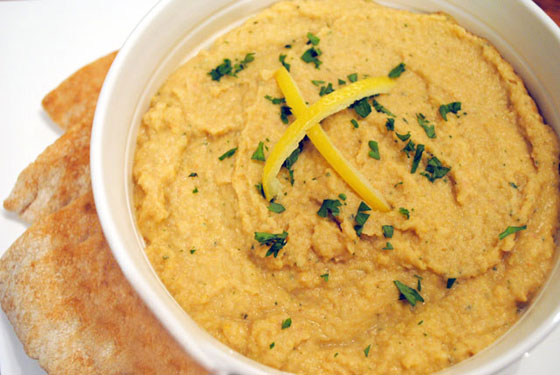 So, how's it taste?
One of the best things about cooking at home versus buying in the store is that you can control your ingredients. You know exactly what's going in your dish and none of those things you can't pronounce are in there! That's what I really like about this dip. It tastes very close to traditional hummus, but a bit chunkier. I used fresh oregano in my version (and sprinkled fresh parsley on top) and added a bit more salt. The cumin and herbs really made it special. This made a super yummy snack with toasted pita wedges.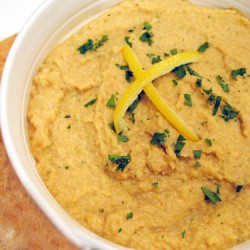 Chickpea and Caramelized Onion Dip
Ingredients:
3 tbsp. olive oil
1 medium red onion, chopped
2 garlic cloves, minced
1 1/2 tsp. cumin
1 tsp. dried Greek oregano
1 - 15.5 oz. can chickpeas, drained and rinsed
2 tbsp. water
2 tbsp. fresh lemon juice
1/4 tsp. kosher salt
1/4 tsp. cayenne pepper (optional)
Directions:
1. Heat nonstick skillet over low heat and add 1 tbsp. of the olive oil. Add onion, garlic, cumin, and oregano, and cook until the onion is lightly browned, about 20 minutes. If it dries out, add water, 1 tbsp. at a time. Cool.
2. Transfer cooled onion mixture to a food processor, add the chickpeas, and process until smooth. Add the 2 tbsp. water, the remaining 2 tbsp. olive oil, lemon juice, salt, and cayenne, and process until smooth.
3. Transfer to a serving bowl and serve immediately or cover and refrigerate for up to 2 days.