It's no secret how much I love Tavern. It's quickly become one of my favorite restaurants in Nashville. It's got a fun atmosphere, plenty of TVs, big bar area, two nice patios, and the food is excellent. Read my first post on Tavern, and you'll find out why I had to go back for brunch. They serve brunch on Saturdays and Sundays, plus another bonus is the two for one drinks (also on Wednesdays). It's tough choosing what to eat for brunch, so like their regular menu, I'll be back for more!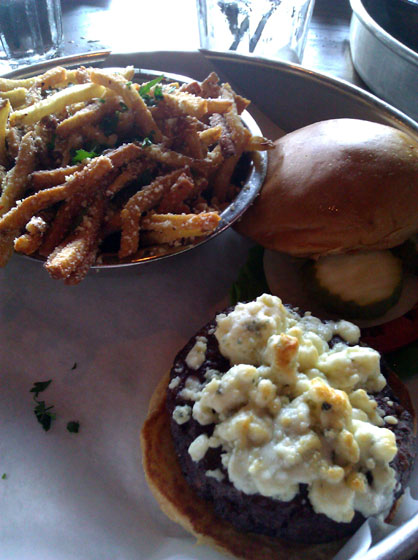 First up is the Tavern Burger. You can order this burger anytime, but thankfully it's also on the brunch menu. It is hands down the best burger in Nashville. It's a generous serving of beef ribeye and filet and cooked to perfection. I like a burger where you can really taste the beef. They describe the bun as meltaway and it's true. It's delicate, soft and doesn't get in the way or bulk up the burger. It truly melts in your mouth. I chose to add blue cheese to mine and it was awesome. You won't be disappointed if you order this!
If you want something sweet, the Pretzel Pancakes will more than satisfy. Tavern is not stingy when it comes to serving size. These pancakes are easily shared between 3-4 people and will cure any sweet tooth. The pancakes aren't as light as I expected, but still taste great. There are bits of pretzel in the batter and sprinkled on top. The crunch and salt make for a nice contrast against the thick dulce de leche and sweet white chocolate mousse.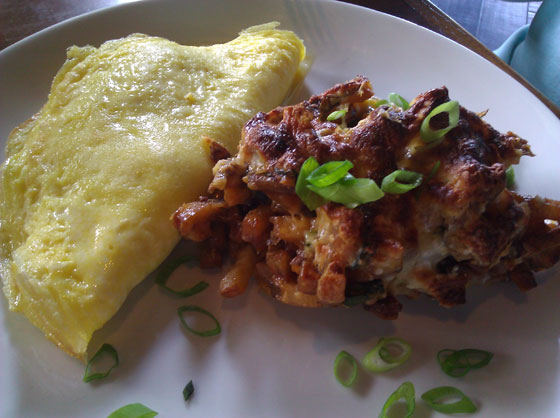 A must order on the brunch menu is anything that comes with White Trash Hash. It's a take on a hashbrown casserole that will knock your socks off. I could eat this stuff everyday and not complain. It's chunky, cheesy, gooey, and has a hint of heat with peppers. Seriously good eats. We ordered it with the Local Ham & Cheese Omelet. I used to think I wasn't a fan of omelets until this one. It's not too fluffy, cooked perfectly, and has just the right ratio of egg to toppings. In this case ham and brie. I really enjoyed the brie paired with ham instead of the usual cheddar. I'd order this one again for sure.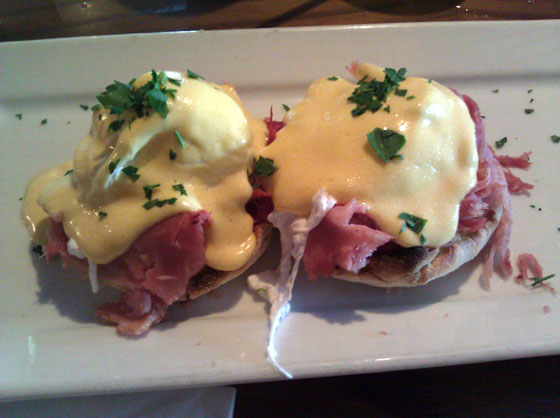 On my first visit to Tavern for brunch, I kept seeing eggs benedict go by and wish I had ordered it. They've got three versions: braised short ribs, pit ham, and smoked salmon. I went with the pit ham (Benedict Three) and it was excellent. The ham wasn't too salty, the hollandaise deliciously creamy, and as you can see, a generous portion that was very filling for brunch.
In all my visits, I haven't been disappointed and I'm looking forward to future visits and trying more of their menu. The food I've had so far has been so good, it'll be hard to not order the same thing!
Tavern
1904 Broadway
Nashville, TNÂ  37203
(615) 320-8580
Hours:
Sunday-Thursday 11am-1am
Friday-Saturday 11am-3am