Last week, my mom and I headed off to Boston for a long four-day weekend vacation. To say that it was an amazing time would be an understatement. After our trip to Philadelphia last year, I just knew I'd enjoy Boston. We like to go to places that have lots of history, good food, and where we don't have to rent a car. I'm starting to think I was a Yankee in a past life, I love it so much in the Northeast!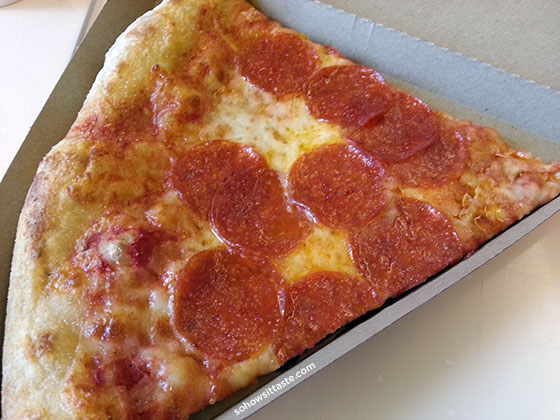 When we arrived, we headed to the Prudential Center close to our hotel. It's got shopping and restaurants, kind of like a mall. We got in around 2 p.m. and wanted to grab a quick lunch. We got a few slices of pepperoni pizza from Regina Pizzeria. It's a chain, but we had no idea it's supposed to be Boston's best brick oven pizza! We loved it. Thin, fantastic crust, just the right amount of sauce, gooey cheese. Oh it was so delicious!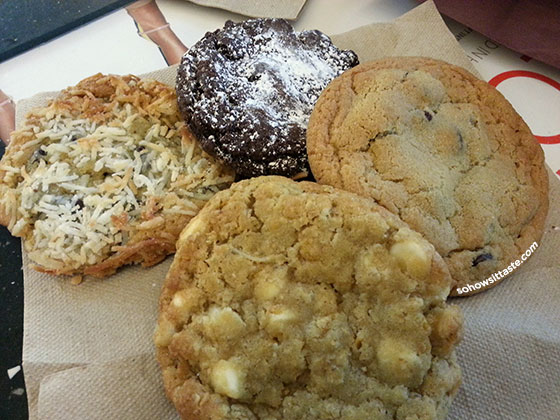 We shopped around for a bit and decided it was time for something sweet. We stopped at the Paradise Bakery & Cafe in the Prudential Center food court and got four cookies. They aren't exclusive to Boston, but new to us! We tried Coconut Chocolate Chip, Chocolate Fudge, Chocolate Chip, and White Chocolate Macadamia. We both agreed the coconut was the best. All of the cookies were chewy and insanely rich. The chocolate fudge was my second favorite.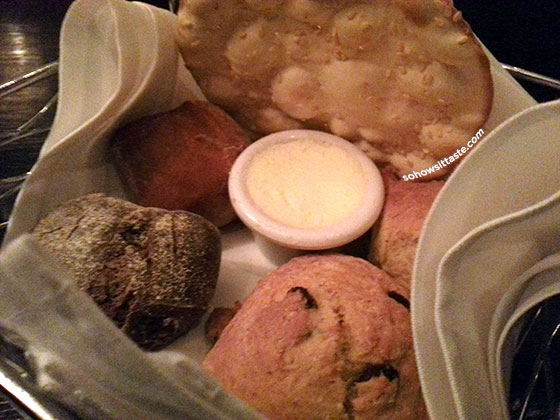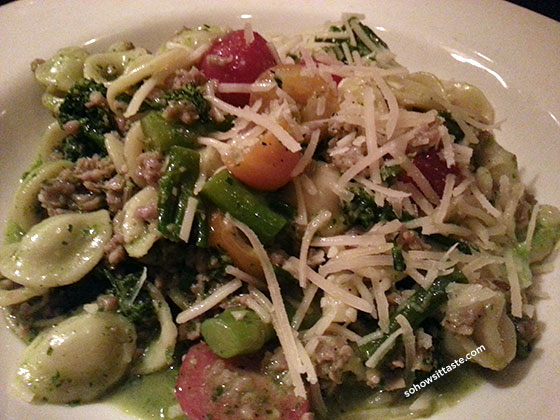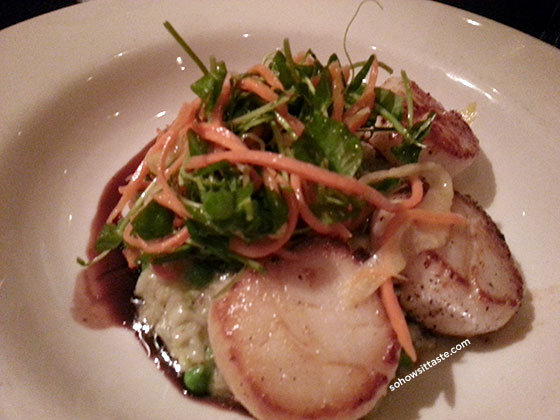 For dinner, we took a short walk from our hotel to Stephanie's on Newbury. This was the best meal the entire trip! I loved this place. I really could've been happy eating every meal here. We started off with some assorted breads. Crispy sesame flatbread, rolls, and raisin biscuits. All very good. Mom had the Sweet Italian Sausage Orecchietti. Little disks of pasta and sausage with basil and arugula pesto, charred broccolini, baby tomatoes, and mascarpone. I had a bite and it was amazing. Rich, yet not too heavy. I ordered the Jumbo Sea Scallops. Pan seared, served over sweet pea risotto, pea tendril, wilted carrot and fennel salad, tarragon carrot puree, and bacon gastrique. I. LOVED. THIS. DISH. The sea scallops were cooked perfectly and even though it sounds like a lot was going on underneath them, it was fantastic! The risotto was creamy and slightly sweet, the carrot puree was a slight texture change, but counteracted the sweet risotto with a hint of earthiness. The tendrils and fennel gave a nice crunch and oh that bacon gastrique! Everything's better with a hint of bacon!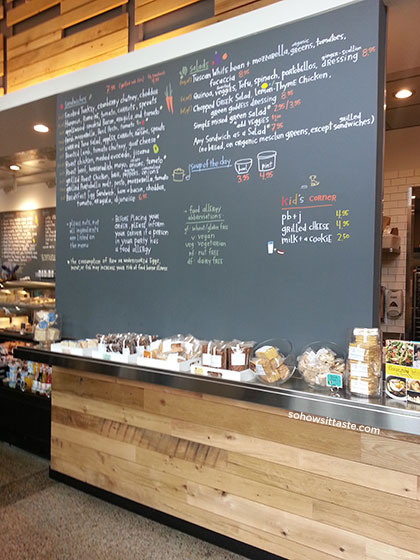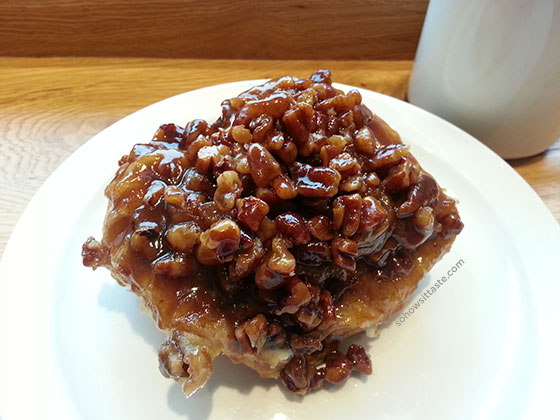 I couldn't wait for breakfast the next morning. I'd heard so much about the Sticky Buns at Flour Bakery. They have a few locations around Boston and one was just a few blocks from our hotel. It was pouring down rain and windy that morning, so by the time we arrived, we were ready for a treat. We both ordered the Sticky Bun and a cup of coffee. The coffee wasn't the best I've ever had. We both agreed it tasted like it had been sitting on the warmer too long. The Sticky Bun, however, lived up to its reputation. Huge and covered in pecans. I was in heaven. The sticky was fantastic, too. It wasn't too dark and thick like some can be, it was almost light and had a unique caramel flavor. This was a great start to our day and kept us full through lunch. You must visit Flour Bakery if you're ever in Boston!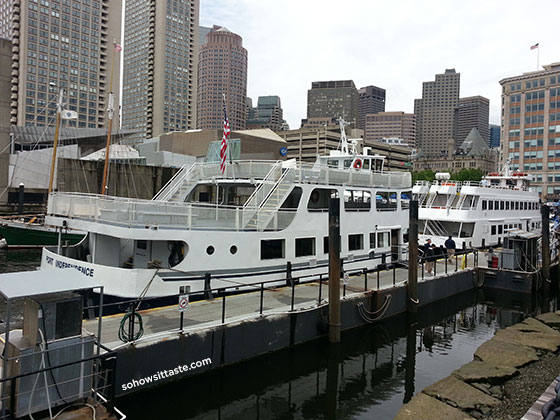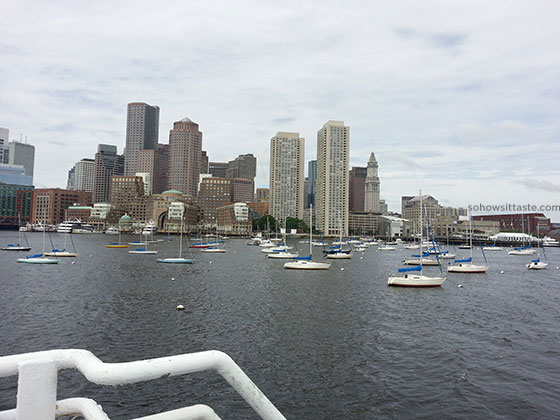 Here's a few pics from our Boston Harbor Cruise. We took the Old Town Trolley Tour and it included two days of on and off sightseeing and the harbor cruise. We really enjoyed this and you can't beat what you get for under $40 bucks!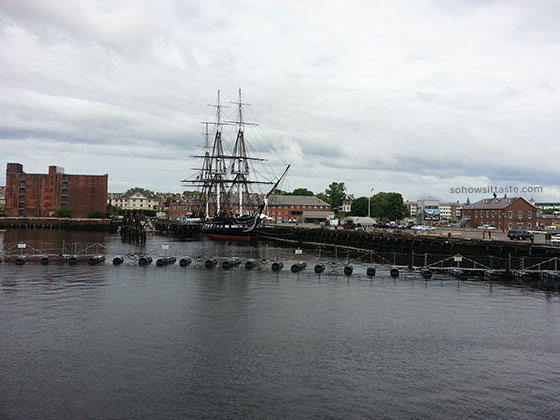 This is the USS Constitution. She's the oldest commissioned warship and quite a beauty!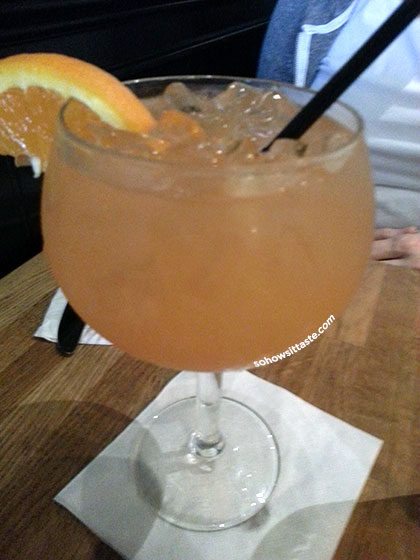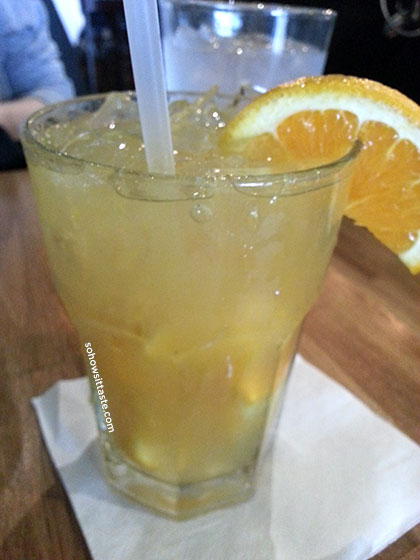 For lunch we headed to Parish Cafe & Bar. It must be pretty popular as the place was packed, but we didn't have to wait long. Seeing as we were on vacation, tasty beverages were in order! Mom got the White Sangria. Pinot Grigio mixed with peach schnapps, guava, and mango juices, served on the rocks topped with soda water and an orange slice. I got the Jen's Tea Time. Muddled oranges mixed with Absolut Wild Tea Vodka, a splash of St. Germain, shaken and served on the rocks, topped with lemonade and ginger ale. We both really enjoyed our drinks, but mom's had so much ice that it was gone in two sips. Same for mine with the ice and orange slices. We would have liked to have enjoyed more actual drink for $11 beverages.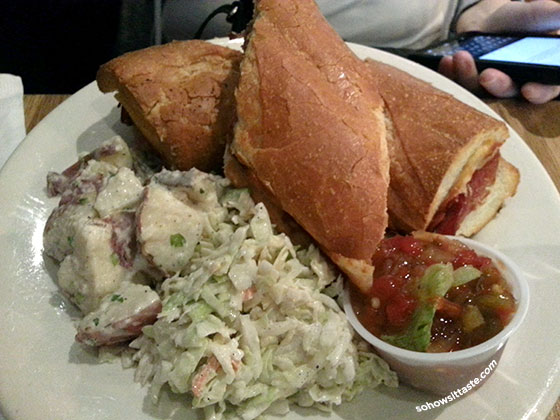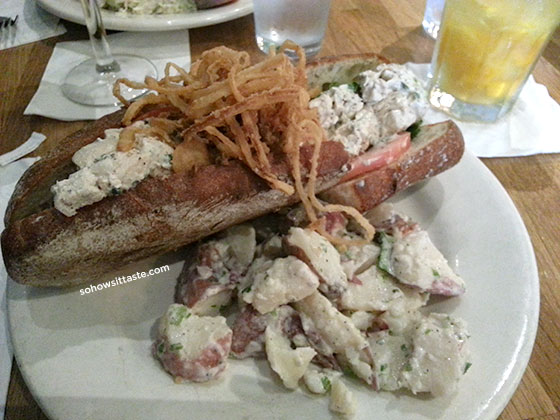 For food, mom ordered the The Burke. Thin sliced prosciutto, spicy capicola, soppressata and provolone cheese served on toasted French bread with olive oil and thinly sliced red onions. Sided with a spicy red pepper relish and homemade potato salad and cole slaw. I ordered The Bond Herb Roasted Chicken Salad. Roasted chicken breast mixed with sweet garlic aioli, roasted red onions, scallions, thyme and tarragon served on an Italian sub roll with sliced tomatoes, Romaine, and crisp fried onions, served with homemade potato salad. Both sandwiches were really good, but huge servings. I hate to waste food and wish we had shared instead. I think mom's was the best of the two. It had a ton of flavor and the pepper relish was nice and spicy. The cole slaw was tasty, but the potato salad was kind of flavorless. Even though we really enjoyed the food, the service was terrible. It took forever for us to get waited on and forever for our waiter to check back with us. So much so, that another waiter saw how impatient we were getting and took over. Combine that with the two sips of our drinks and I think I'd stick to takeout with this place.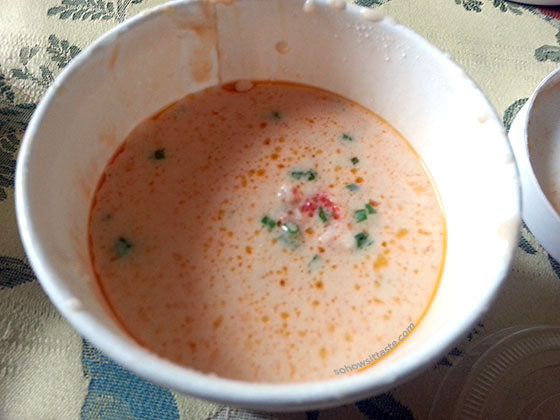 Later in the day it was snack time! We knew of two places that we wanted to try Boston Cream Pie. Our first stop was Legal Seafoods. They have several locations, but we were back in the Prudential Center. It's our tradition to get dessert and attack it back at the hotel, so excuse the bedding pics in the background, lol! I couldn't wait to try their version of Boston Cream Pie. It's served with chocolate sauce, rum caramel sauce, and toffee almond crunch! The lady that took our to go order was the nicest person. She asked where we were from and found out it was our first time in Boston. She asked if we'd like a sample of their clam chowder, but neither of us eat clams, so I politely declined. Then she offered some of the lobster bisque…hello! She hooked us up with a free to go bowl of their lobster bisque! Who says hospitality is only Southern? I loved it. It was a bit thinner than I expected, but the flavor was there. Huge chunks of delicious lobstah!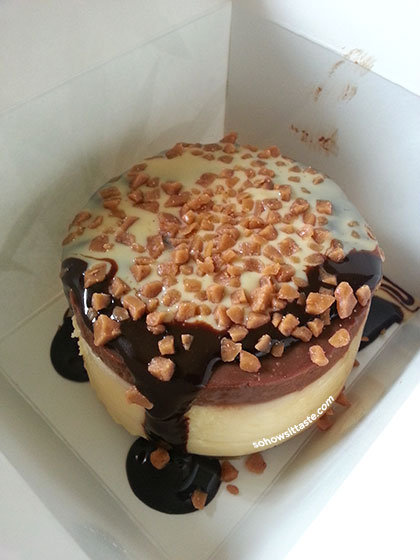 Their Boston Cream Pie was hands down our favorite of the trip. It was completely sinful. I wish we had bought two. The chocolate on the top was rich and the cake/custard bottom was so smooth and creamy. The two sauces and crunch on top sealed the deal. Highly recommend getting this dessert!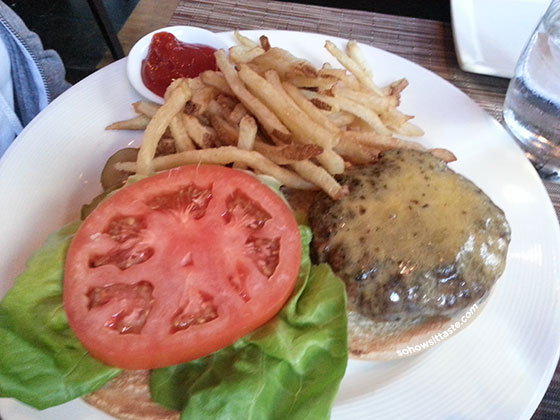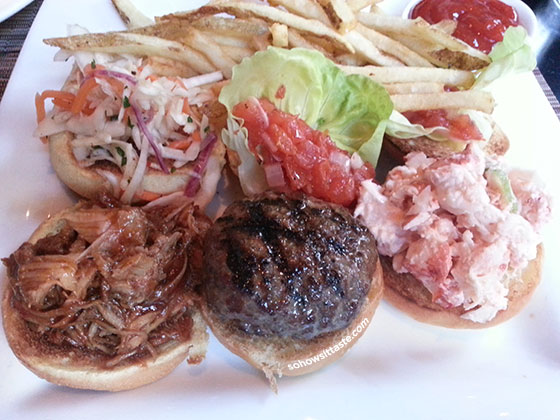 We decided to eat dinner in our hotel's restaurant, City Table. We wanted to go to the top of the Prudential building to watch the sunset, so we decided to stay close. Their menu sounded good, but it was just your average meal. I think we were ruined by Stephanie's. Mom ordered the burger and I got the trio of sliders: pork, beef, lobster. Mom enjoyed her burger, but you could get that anywhere. I liked the sliders, but the bbq pork was too sweet. I didn't have high expectations for bbq up north though, ha ha! Dinner was just ok. It's kind of dark in City Table and we felt like they were trying to be fancier than they actually were, but you can't beat the convenience of it being inside our hotel!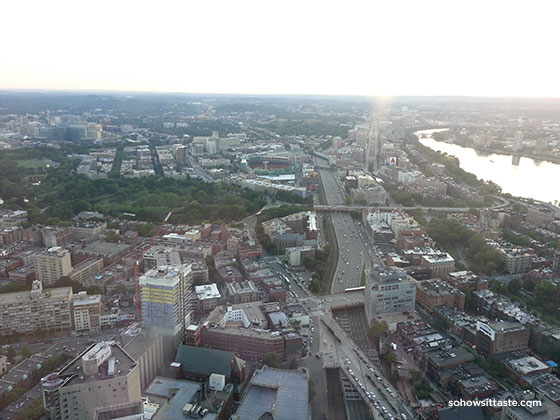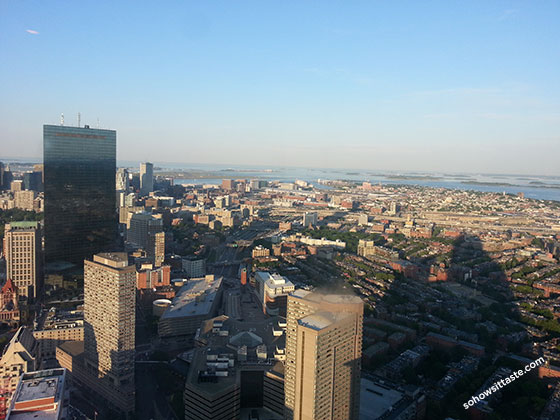 Here are a few pics from the top of the Prudential Center Skywalk Observatory. Great view for watching the sunset! Can you spot Fenway Park in the first pic?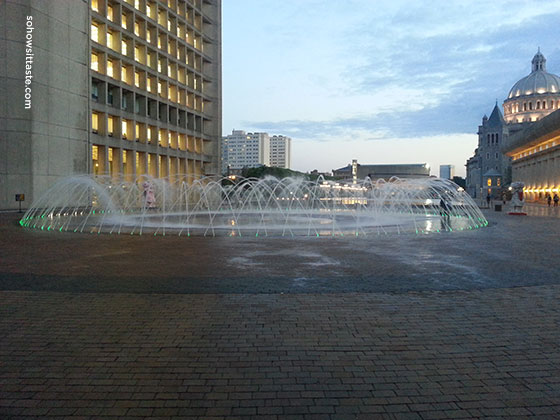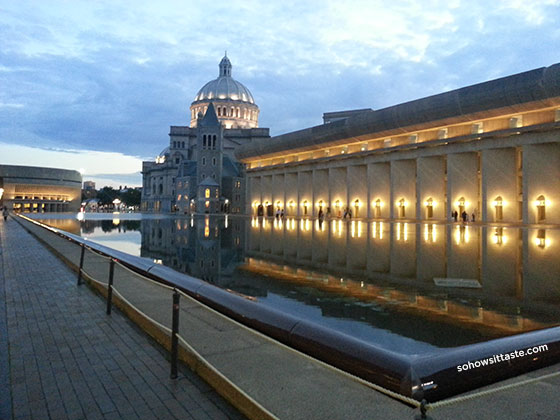 While we were at the top, I noticed the reflecting pool and fountain were lit up at the Christian Science Plaza. I absolutely had to go down and take pictures. It was such a nice night and so pretty.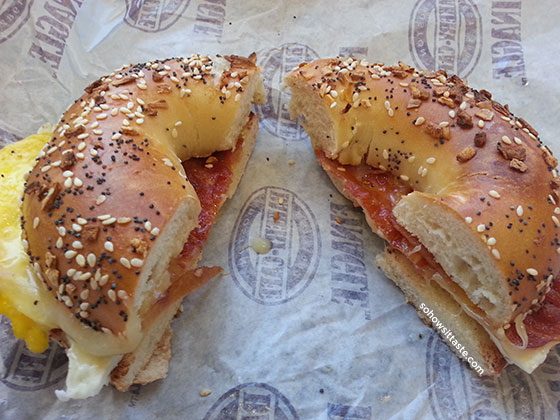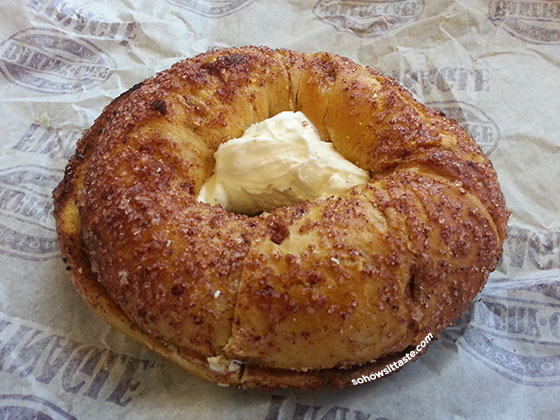 On our route back and forth from the hotel, I kept noticing Finagle a Bagel, so that was our stop for breakfast the next morning. I had the Finagle's Famous Egg Sandwich with Bacon on an Everything Bagel. Mom ordered a French Toast bagel schmeared with cream cheese. We decided to go halfsies and split the two. I really enjoyed both. Everything bagels are my favorite and it was very filling with the egg, cheese, and bacon. Mom didn't like that one because of the onions on the bagel and she thought the egg was flavorless. The French Toast bagel was really good. They're very generous with the cream cheese (even for a fanatic like me). I loved how the bagel had a crunch of sugar on the outside and it really did taste like French toast.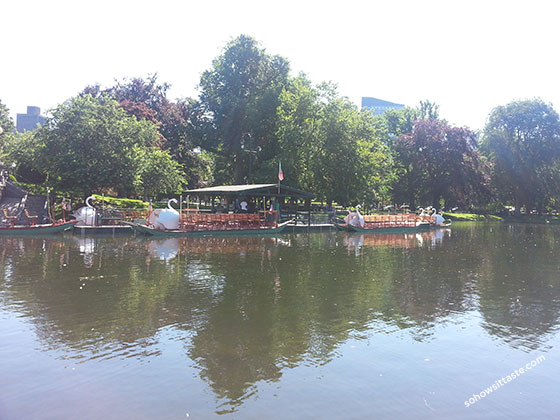 After breakfast we headed to the Swan Boats in the Boston Public Garden. It's a boat that holds about 30 or so people with a swan on the back where someone is pedaling you around. For $3 bucks you get a 15-minute ride. I so wish Centennial Park in Nashville had this.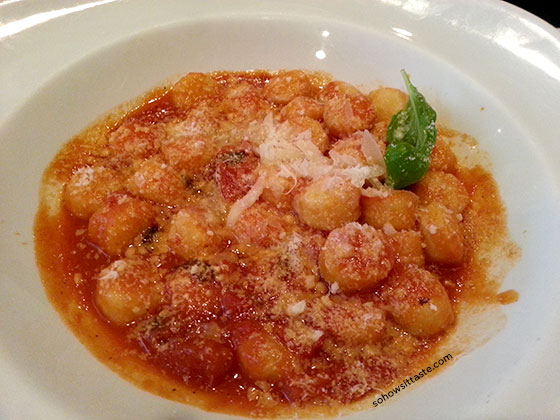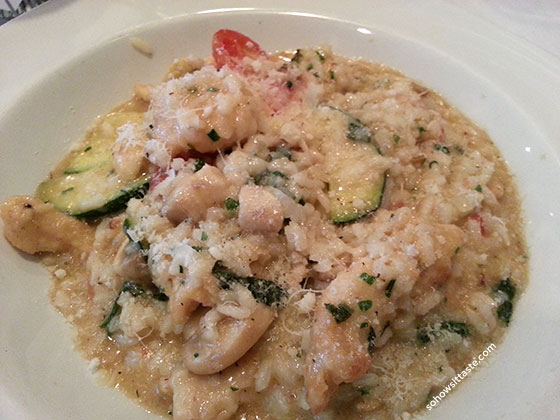 For lunch we found ourselves in an area covered with Italian restaurants. I was craving risotto big time after my fabulous dinner at Stephanie's. After reading a ton of menus, we landed at Ristorante Fiore. Mom had the Gnocchi al Pomodoro. We both agreed it was fantastic. Light and perfectly cooked with a really great tomato sauce. I ordered a risotto that was on special. It had roasted veggies and chicken. I wasn't in the mood for chicken, so I pushed it around. (Don't know why I didn't just order it without!) It had really good flavor and the veggies were perfect. It was a little runnier than risotto should be, but still very good. The service was great.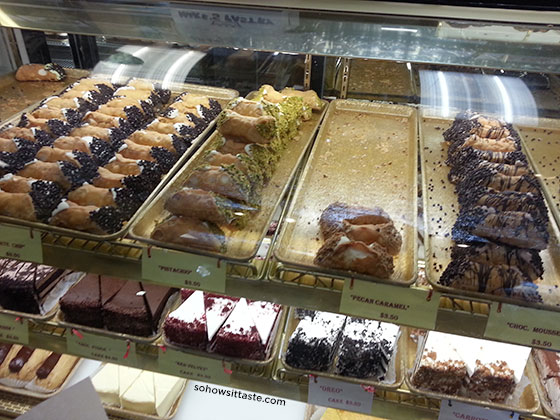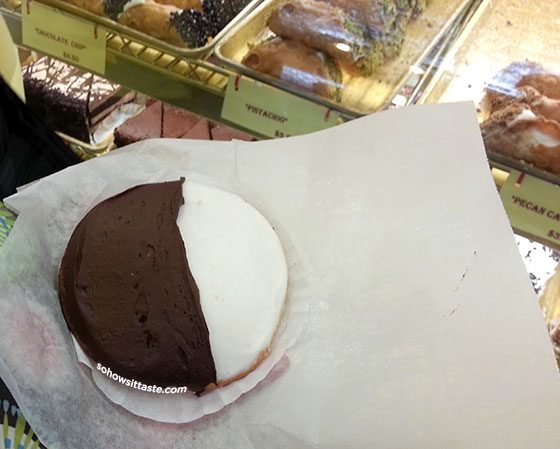 After lunch, we made a beeline to Mike's Pastry. I'd heard so much about this place and couldn't wait to go. You walk in and it's like dessert mecca. I know everyone says to get the cannoli's but I'm not a huge fan and immediately gravitated to the Black and White cookie. It was huge and rich and really good! Not as good as the one I had in Philly, but a very close second. Mom got a whoopie pie. It was super good and huge! We stuffed ourselves silly.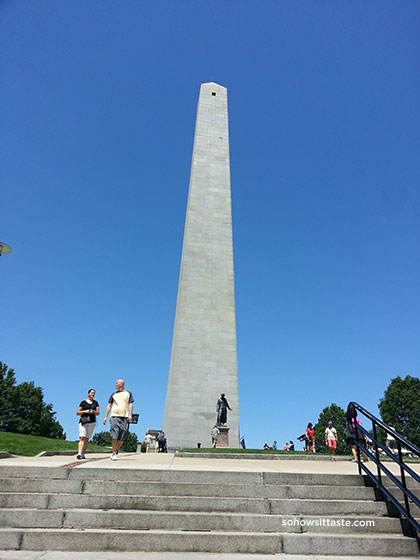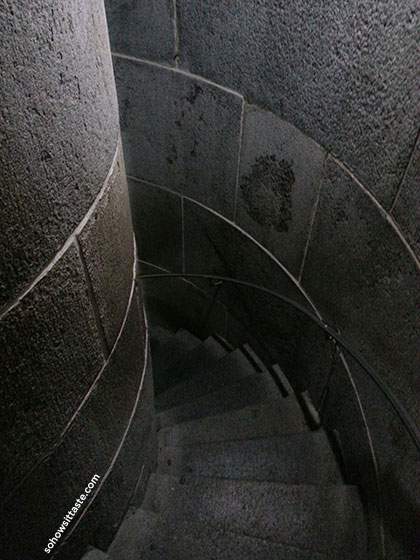 Being stuffed from sweets was a good and bad thing. Our next stop was the Bunker Hill Monument. I decided I was going to climb the 294 steps to the top…with a belly full of risotto and cookie. Not my best decision ever. It's a cement spiral staircase all the way up to the top and the steps are marked every 25 or 50. At about 100 I was huffing and puffing. I'm not in the best shape of my life, but not out of shape either, but boy was I struggling. I wheezed my way to the top and looked out the tiny windows into Boston. Great view and I was proud I'd made it to the top! Now I had to go back down those 294 steps. I thought I'd never reach the bottom. My legs were literally shaking like jello when I got to the ground. I had to sit for about 30 minutes. For the next few hours, I walked funny. My legs did not want to work. Thank goodness I did that the day before we came home because I could barely walk the next day. Here it is five days later and my calves are still incredibly sore. I wore my FitBit that Saturday and walked nearly 28,000 steps. I totally earned everything I ate that day!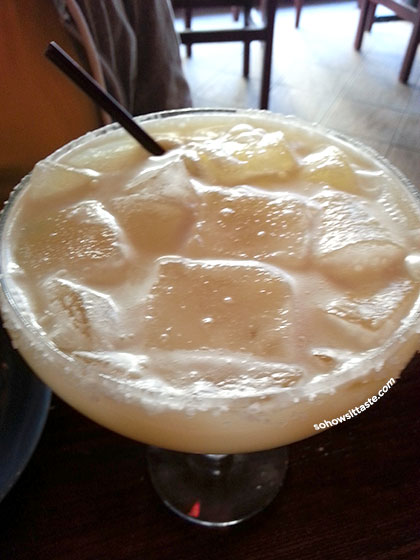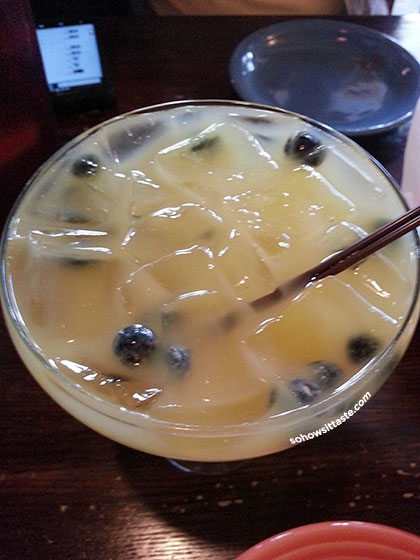 Now for as much planning as I do for where to eat, sometimes it doesn't work out and we have to wing it. We'd planned on another Italian restaurant for dinner, but found ourselves running out of time before we went on a ghost tour. Earlier we had heard about Jose McIntyre's and thought the idea of an Irish-Mexican restaurant was funny and it was very close to where we had to be for our tour later that night. It's actually more Mexican than Irish. I think we found fish and chips on the menu and that was about it for Irish. We had chips and salsa to start and margaritas! Mom ordered the Hawaiian Tropic with Coco Lopez, tequila, lime juice, triple sec, sour mix and orange juice. It was good, but a little too sweet and coconutty for my taste. I ordered the Berry Berry. Tequila with lime juice, triple sec, sour mix, berries, and orange juice. I thought it would be more berry flavor, but it was basically a regular margarita with blueberries floating in it. Very good though!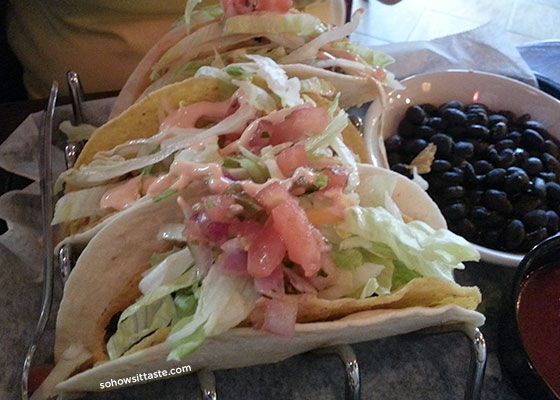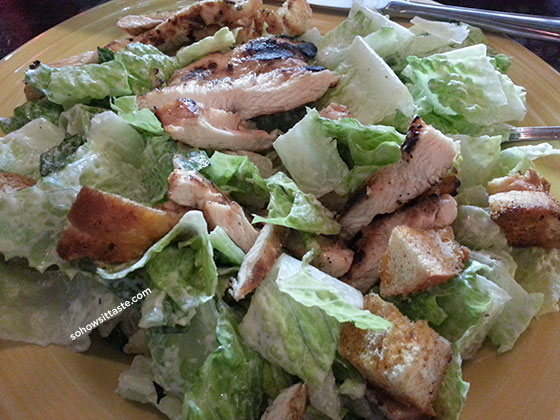 Mom ordered the Duro Suave Tacos with beef. They were really really good! It's a soft shell on the outside and a crunchy shell on the inside with cheese in the middle. The beef was awesome. I wasn't in the mood for anything heavy so I ordered the Caesar Salad with Grilled Chicken. It was good although the chicken was a little too chargrilled. I wish mom and I had just split the tacos. It was a lot of food and we were still stuffed from earlier. I might guess this place is a no-no to locals and I probably wouldn't eat there again, but it was decent. Kind of like when someone comes to Nashville and eats at Margaritaville. 😉 I'd be curious to find out.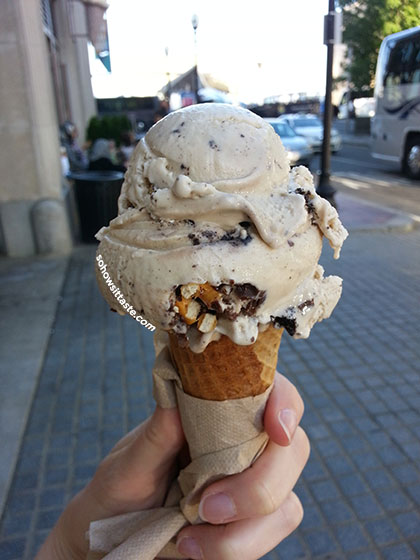 Keeping true to ourselves, we found a dessert after. Three ladies were walking around with big ice cream cones so I asked them where they got them. That lead us to Emack and Bolio's and the Chunk O'Funk! Caramel ice cream with a salted caramel swirl and chunks of chocolate-covered pretzels. Yes! There's nothing more I can say about that.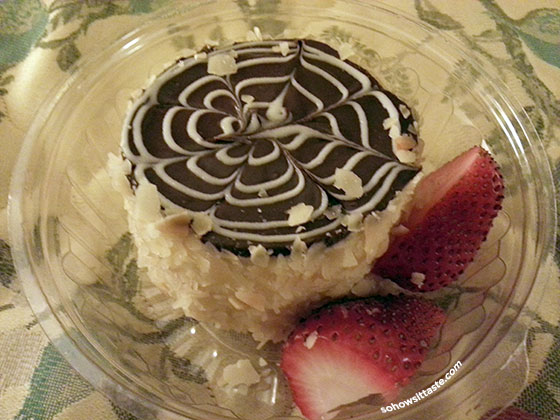 After our ghost tour, I made sure we stopped by the Omni Parker House hotel. Birthplace of the Boston Cream Pie and Parker House rolls! We skipped the rolls and went straight for the pie. I have to say it was good, but no where near as good as the one we had at Legal Seafood. So much for the original! First, it was pretty small for $10 bucks. It didn't have a lot of flavor to it and not much chocolate on top. It's coated in almonds on the side and that just didn't go with the cake in my opinion. I think we would have enjoyed it more if we had eaten this one first, but personally I'd skip this.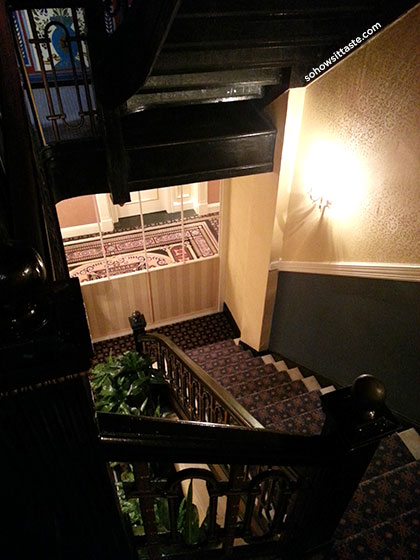 We stayed in the Lenox Hotel near Copley Square. Great location and a huge room, except the bathroom was a bit small. The hotel is really old and after the first night, I noticed our room sloped. The TV leaned, the beds leaned, and you could feel yourself walking downhill to the door. A little quirky, but we didn't mind. We had a great view and the staff was super friendly. We were on the third floor, so everyday we'd take the stairs down. They were just gorgeous. I felt like I was in an old house. I'd definitely stay here again.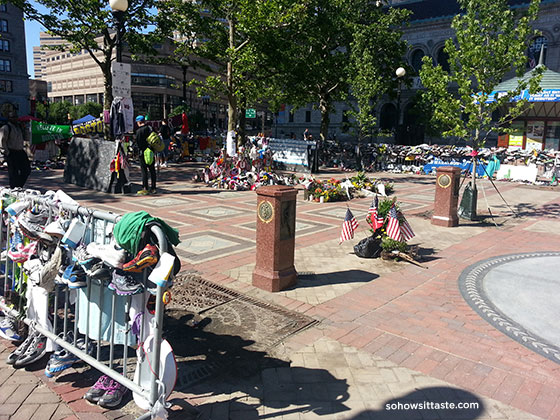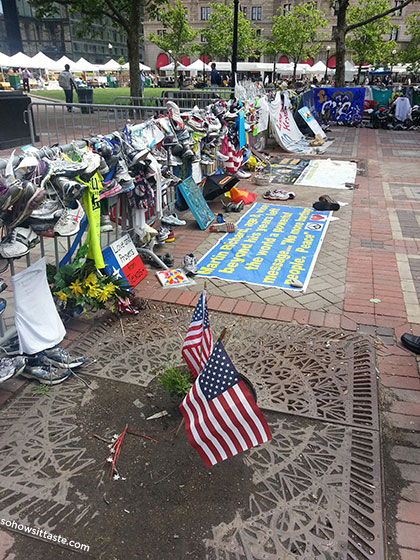 I didn't realize how close our hotel was to the Boston marathon bombing. It was right across the street. There was a little memorial where the bombing by the mailbox happened. A bit down the street was the Boston Memorial. Tons of people left their running shoes and sweet messages. It was very touching. The vibe in Boston is definitely Boston Strong. You could feel it everywhere. Everyone was so friendly and we had such a great vacation. I wish we could have stayed longer. Thanks for the hospitality and good eats, Boston! We'll be back soon!