I think I must be becoming quite the sandwich connoisseur as I've found yet another way to enjoy a turkey sandwich. It's so easy to dress up a sandwich and not have the same one twice. My latest venture is the Taco Turkey Wedge. I was looking for something different and portable, but packed with lots of flavor. This sandwich worked perfectly. The recipe calls for focaccia for the bread, so I also had an excuse to bake my own!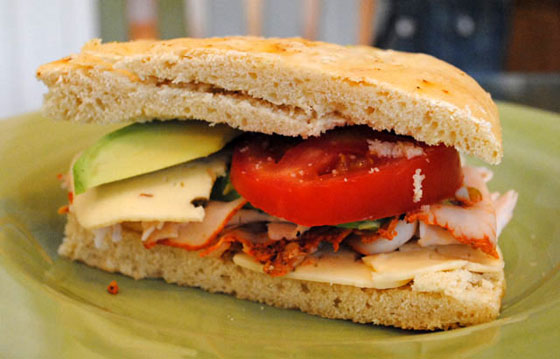 So, how's it taste?
So, so, so incredibly good! My friend and I tweaked the recipe a bit and it made it even more outstanding. The addition of avocado slices takes it to a whole new level. I had tons of the makings so I literally ate this sandwich every day for a week. It was that good! Let's start with the focaccia.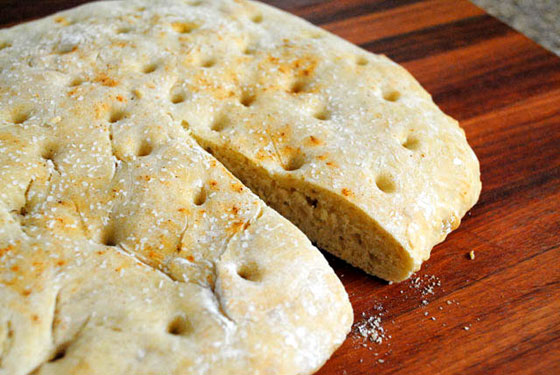 I used a simple bread machine recipe and added my own touch. The recipe below is for your basic focaccia. I omitted the rosemary and added a sprinkle of taco seasoning in the dough and on top to match the sandwich. You could make an unlimited variety of toppings for this bread. I've seen slices of tomatoes, red onion, olives, and cheeses. Have fun with it!
Bread Machine Focaccia
Ingredients:
1 cup lukewarm water
2 tbsp. olive oil
1/2 tsp. salt
2 tsp. chopped garlic
1 tbsp. chopped fresh rosemary
3 cups bread flour
1 1/2 tsp. active dry yeast
2 tbsp. olive oil
1 1/2 tsp. chopped fresh rosemary
Directions:
1. Place water, 2 tablespoons olive oil, salt, garlic, 1 tablespoon rosemary, bread flour and yeast in the pan of the bread machine in the order recommended by the manufacturer. Select Dough cycle; press Start.
2. Remove dough from bread machine when cycle is complete. Pat dough into either a 9×13 inch baking pan or 12 inch pizza pan. Use your fingers to dimple the dough every inch or so. Brush with remaining olive oil and sprinkle with remaining rosemary.
3. Preheat oven to 400 degrees F (200 degrees C). Cover foccacia with plastic wrap while oven preheats.
4. Bake in preheated oven for 20 to 25 minutes, or until golden brown. let cool for 5 minutes before serving.
Source: AllRecipes.com
Now on to the sandwich. The original recipe calls for chopped olives in the spread, but that didn't sound appealing to us, so we omitted them. Our sandwiches had the addition of avocado slices, and we substituted Jalapeno Harvarti instead of the pepper jack and cheddar. We also used salsa turkey deli meat instead of plain, cooked turkey. I cannot tell you how well all those flavors went together. You will have to try this one! When I ran out of the focaccia, I made this sandwich using a toasted onion roll. Equally tasty. You can really experiment with this one and come up with some fabulous variations.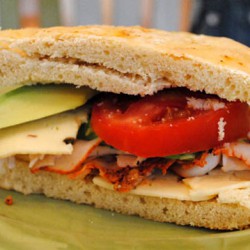 Taco Turkey Wedges
Ingredients:
1 round focaccia bread
1/2 cup chopped pitted ripe olives
2 tbsp. sour cream
2 tbsp. mayonnaise
1 tsp. taco seasoning mix
1 small tomato, sliced
4 oz. thinly sliced cooked turkey
2 oz. thinly sliced Monterey Jack cheese with jalapeno peppers
2 oz. thinly sliced Cheddar cheese
Directions:
1. Cut bread horizontally in half. Mix olives, sour cream, mayonnaise, and taco seasoning. Spread mixture evenly over cut sides of bottom and top halves of bread.
2. Layer tomato, turkey, and cheeses on bottom half. Top with top half. Secure loaf with toothpick or small skewer. Cut loaf into 8 wedges.