Last weekend I attempted King Arthur Flour's March Bakealong challenge and documented the step-by-step process through Instagram Stories. I love making bread from scratch, so I jumped at the chance to make Swiss-Stuffed Crusty Loaves! I substituted Swiss for Gruyère – similar taste, way cheaper. They were SO EASY. If you're a first-time bread baker or nervous about making it from scratch, this is the recipe for you!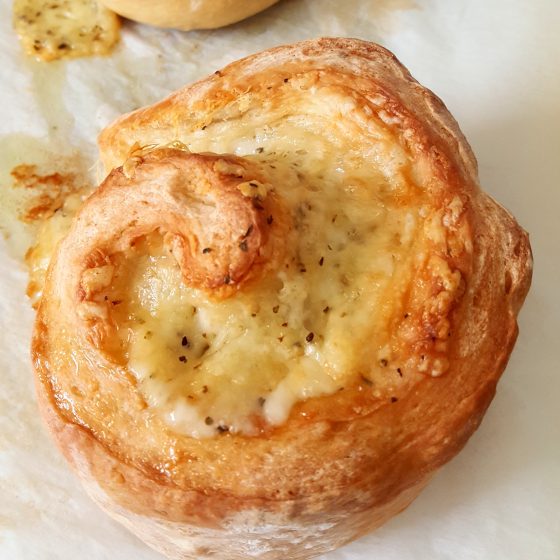 What I love about the bread loaves is that the grease from the cheese gets on the bottom of the loaves and it makes them super crispy. You've got chewy and cheesy in the middle with crispy bottoms. I ate an entire loaf for dinner and I have no regrets. I chose to make four smaller loaves, which is great because this recipe freezes beautifully! You can take it right from the freezer, wrap it in foil, and heat in the oven.
You can use the King Arthur Flour recipe for Gruyère-Stuffed Crusty Loaves, follow their step-by-step recipe with pictures, or enjoy my step-by-step process through the Instagram stories below. I was in an 80's music mood, so I hope you have as much fun baking your bread as I did!