Ever notice when you need dried fruit, it comes in ginormous amounts? I've been looking for different ways to use the box of dried apricots I have in my pantry. Knowing that I almost always have all of the ingredients for bread baking on hand, I flipped through my cookbook and found Rosemary Apricot Bread. Now that's an unusual pairing, but sounded delicious to me. Plus I'm a sucker for fresh-baked bread and wanted to try a rounded loaf shape.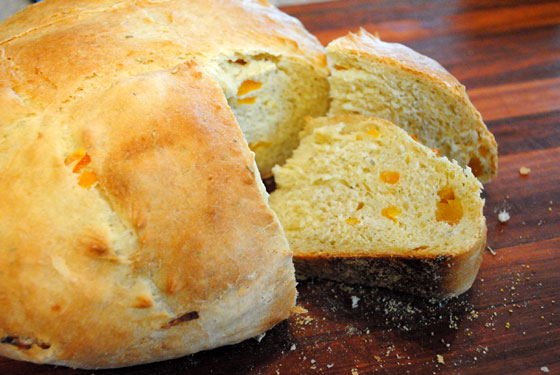 So, how's it taste?
I really enjoyed it. It's got a sweet and savory thing going on. The rosemary is savory, yet with a hint of lemon and pine that pair nicely with the sweet apricots. I find dried apricots have a sweet and tangy taste, so there's a lot of taste sensations in one bite of this bread. I cut the apricots into fourths as the recipe suggested, but they were a little too big. I'd prefer a smaller size bite of dried fruit in my next batch. You could substitute almost any dried fruit. Apples or peaches would work well with the rosemary.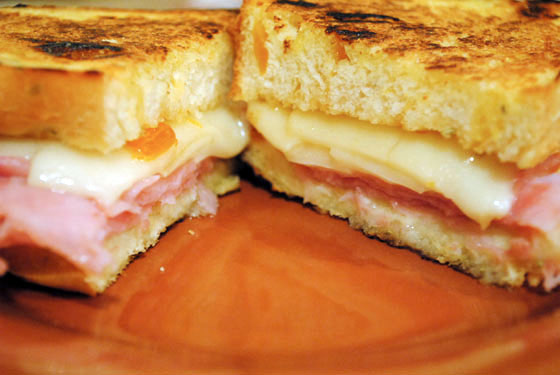 How do you eat this bread? It's great in the morning toasted with a schmear of butter or turn up the apricot volume and add apricot preserves. I also used this bread for a gourmet ham and swiss grilled cheese! I put a little mayo on one slice, a little apricot preserves on the other, and sandwiched thin sliced ham and creamy swiss inside. Grill like you would any other grilled cheese and ta da! Dishes that tease you with sweet and savory are among my favorites!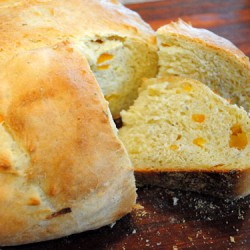 Rosemary Apricot Bread
Ingredients:
1 cup plus 1 tbsp. water
1 tbsp. butter, softened
3 cups bread flour
1 tbsp. sugar
1 1/2 tsp. salt
1 tsp. dried rosemary leaves
2 1/4 tsp. bread machine or quick active dry yeast
2/3 cup dried apricots, cut into fourths (or chopped finer if you prefer)
Cornmeal
Directions:
1. Measure carefully, placing all ingredients except apricots and cornmeal in bread machine pan in the order recommended by the manufacturer. Add apricots at the Raisin/Nut signal.*
2. Select Dough/Manual cycle. Do not use delay cycles.
3. Remove dough from pan, using lightly floured hands. cover and let rest 10 minutes on lightly floured surface.
4. Grease large cookie sheet; sprinkle with cornmeal. Shape dough into round loaf, about 5 inches in diameter and 3 inches high. Roll top of loaf on lightly floured surface; place floured side up on a cookie sheet. Cover and let rise in warm place 40 to 50 minutes or until about 7 1/2 inches in diameter.
5. Heat oven to 400F. Make slashes, 1/4 inch deep, in tic-tac-toe pattern on top of loaf, using sharp knife. Spray with water. Bake 10 minutes, spraying 3 times with water. Bake 20 to 25 minutes longer or until loaf is golden brown and sounds hollow when tapped. Remove from cookie sheet to wire rack; cool.
*Note: If your bread machine doesn't have a Raisin/Nut signal, add the apricots 5 to 10 minutes before the last kneading cycle ends. Check your bread machine's manual to find out how long the last cycle runs.