I've made this statement before many times on the blog, there is nothing better than the smell of bread baking in the oven. I don't make homemade bread as much as I should. It's incredibly easy and most times the final product can be frozen, so there's really no excuse to not bake it more often. A few weekends ago when Shannon from Bake.Frost.Repeat. was in town, we decided to tackle homemade bread. I've made dinner rolls before and I'm a big fan of cheating on a few steps with my bread machine. We wanted to make something fully from scratch, no bread machine help, and shape the bread ourselves. We decided on Pretzel Rolls and I couldn't be happier with the results! Salty and crunchy on the outside, and fluffy soft on the inside. These were great to munch on by themselves and would be perfect to jazz up sandwiches or burgers, plus they freeze very well.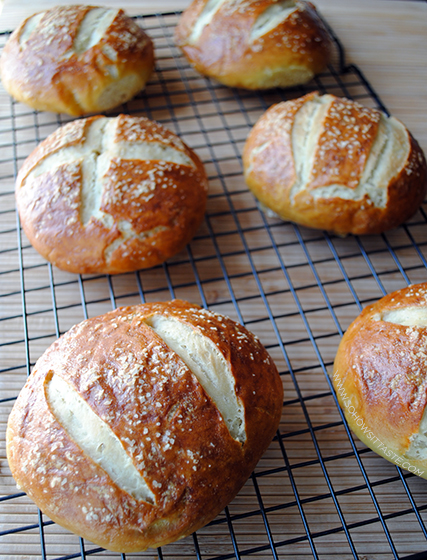 So, how's it taste?
They turned out great! They really do taste like soft pretzels. I'm not sure what the magic is to make them taste that way, seeing as the ingredients are nothing out of the ordinary for baking bread, but they are delicious! I'm sure it's something to do with the process of cooking the dough in water for a bit before baking them. It was kind of fun to shape the dough, dip it in a water bath, then bake it and watch it darken and come to life. We let these bake about 5 minutes longer than suggested until they got to the right shade of "pretzel." There's not a lot of kneading involved, so this is great recipe to try if you're new to baking bread from scratch. I loved the crunchy outside with the salt and then soft inside. I wanted to dip my roll in mustard just to make it official!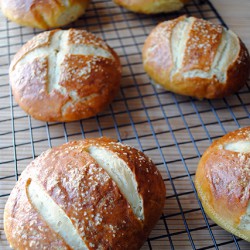 Yield: 8 rolls
Prep Time: 20 min (plus 1 1/2 hours rise time)
Cook Time: 15-20 min
Pretzel Rolls
Ingredients:
1 1/2 cup warm water (110°F)
2 1/4 tsp. (or 1 packet) active dry yeast (not instant rise yeast)
2 tsp. sugar
4 1/2 cups unbleached all-purpose flour
2 tsp. Kosher salt
4 tbsp. unsalted butter, melted
1/4 cup baking soda
1 egg, lightly beaten
Kosher salt, for sprinkling
Directions:
1. Using a stand mixer fitted with the dough hook attachment, add water, yeast, and sugar. Stir and let rest 5-10 minutes until slightly foamy.
2. Add flour, salt, and melted butter and mix using the dough hook until well combined. Cover with plastic wrap or a towel and allow to rise in a warm place for 1 hour or until doubled in size. Punch the dough down and turn it onto a lightly floured surface.
3. Line 1 large sheet pan with parchment paper and set aside. Cut the dough into 8 even pieces. Form the dough into a round, smooth ball by pulling the sides to the center and pinching to seal. Gently cup your hands around the dough ball, rotating in small circles and lightly rolling the ball around the palm of your hand.
4. Place the ball on the prepared baking sheet, pinched side down, with at least 1 inch between each roll. Cover with plastic wrap or a towel and allow to rest in a warm place for 30 minutes until they rise and double.
5. Preheat oven to 425F and place oven rack in the middle position. In a large saucepan, bring 2 quarts of water to a low boil. Remove from heat and slowly add the baking soda (sprinkle a little at a time so the water doesn't boil over). Place saucepan back on heat and lower to a simmer.
6. Place 2 to 3 rolls at a time into the poaching liquid, seam side down. Poach for 30 seconds and then carefully turn the rolls over and poach for another 30 seconds. Remove with a slotted spoon to the same prepared sheet pan, seam side down. Repeat with the remaining rolls.
7. Using a pastry brush, brush each roll with the beaten egg, making sure to coat all sides completely. Sprinkle each roll with a Kosher salt. Using a very sharp straight-edged knife, cut two slashes or an X shape in the top of each roll. Bake rolls for 15-20 minutes or until dark brown on top.