Last week I intended to make one recipe of cornbread. This Bacon-Scallion Cornbread to be exact. The smell while it was baking was so intoxicating that I decided to whip up another batch. But this time, I chose to make it's spicier cousin Cheddar-Jalapeno Cornbread. The base recipe is the same for both and it's, dare I say, the perfect cornbread. You could also leave out the mix-ins and have regular cornbread…but why would you do that when you can add cheese!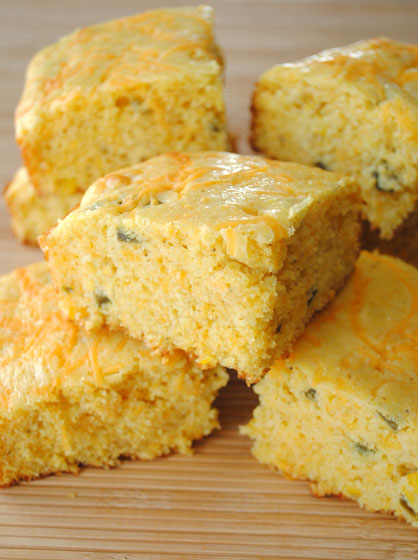 So, how's it taste?
I can't believe I'm going to say this, but this one was my favorite. Yep, I just picked something else over bacon. The good news is I don't have to pick. I've got both cornbreads in my freezer right now! This one is definitely spicier. The amount of jalapenos is just enough to give it a kick, but it won't blow your mouth up and make you regret choosing it. Sharp cheddar. I really can't say enough about sharp cheddar. Actually most cheeses. Like bacon, cheese makes everything better. Sharp cheddar is not only in the batter, but sprinkled on top. There's also corn in the batter! I just love the texture and specks of green and orange. The cornbread is slightly sweet, but it pairs so nicely with the jalapeno heat. All this cornbread is definitely fueling my craving for soups, but a big square is pretty fantastic by itself.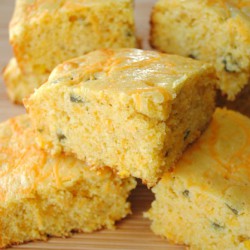 Cheddar-Jalapeno Cornbread
Ingredients:
1/2 cup (1 stick) unsalted butter, melted, plus more, room temperature for pan
1 1/2 cups yellow or white cornmeal
1 cup all-purpose flour (spooned and leveled)
6 tbsp. sugar
1 1/2 tsp. baking powder
1 tsp. fine salt
1/2 tsp. baking soda
1 cup buttermilk
3 large eggs
1 1/2 cups grated sharp cheddar
3/4 cup fresh or frozen corn kernels
1/3 cup chopped drained pickled jalapenos
Directions:
1. Preheat oven to 400 degrees. Butter an 8-inch square baking pan. In a large bowl, stir together cornmeal, flour, sugar, baking powder, salt, and baking soda. In a medium bowl, whisk together melted butter, buttermilk, and eggs. Add buttermilk mixture to flour mixture and stir just until combined (do not overmix). Stir 1 1/4 cups grated cheddar, corn kernels, and jalapenos into batter. Transfer batter to pan and smooth top. Top with 1/4 cup grated cheddar.
2. Bake until a toothpick inserted in center comes out clean, 20 to 25 minutes. Let cool in pan on a wire rack, 15 minutes, before serving.