Hi everyone! Hope you're enjoying your Saturday. I've got another tool in My Road to Getting Fit to share with you. It's The Workout Calendar! I use this calendar to keep track of my workouts and to make sure I'm getting a variety and not doing the same workout, which can lead to burnout. I'm a big fan of making lists and keeping calendars. I use Ziplist and good old-fashioned notebooks for my compulsive list-making. I use Google Calendar for work and events, a cute paper calendar for my house, and this awesome magnetic calendar for my workout calendar. Sure you could use an electronic version, but this was another way that I could make getting fit more fun. I'll walk you through how to set up your own, including the Word document template I created!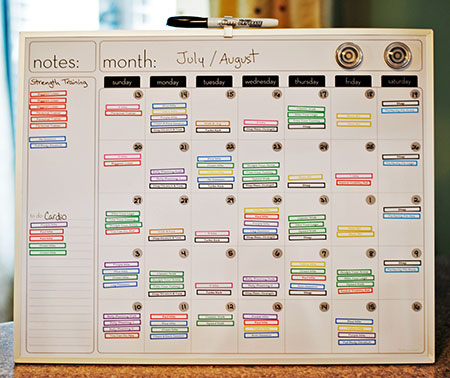 How to Make Your Own Workout Calendar
Dry-Erase Magnetic Calendar
I recommend this one from The Board Dudes. It's light-weight and a nice size. It comes with a dry-erase marker and two magnets. I also like that it has a space over to the left to store the magnets you aren't using. I use this side area to categorize my workouts into cardio or strength training.
Magnet Sheets

I used these Avery 8 1/2″ x 11″ Printable Magnet Sheets. There are five sheets in a pack, but I've printed a set of magnets three times now and still have plenty left to use. Just make sure to test your pages on paper before you print on the magnet sheets.
You'll also need a printer, scissors, and your list of workouts!
Color-Coding
In my first Road to Getting Fit post, I shared with you what workout DVDs I'm using. Still going strong with those! Most of the DVDs I use are by Leslie Sansone, but I have a few others, too. I color-coded my magnet strips depending on what DVD they came from. I also have some workouts on my calendar that are aerobic classes I take at the gym. A few of my workout DVDs are customizable, so here's where I can get really detailed and tailor my workouts. That's why on some days you'll see more magnets listed. I also do two-a-days most days, so you'll see a DVD workout and a class workout listed. Here's an example of how I color-coded a few of the workouts:
Black – aerobic classes at the gym (I go to the Vandy Rec so black for Black & Gold – Anchor Down!)
Green – different walks from the 5 Day Slim Down, green because the cover's green
Purple – workouts from the Belly Blasting Walk
, purple because the cover's purple (you see where I'm going with this)
Red – I used red for my miscellaneous workouts that mostly fall into my strength training category.
Hopefully that gives you an idea of how I color-coded. To take it a step further, you could buy those colored dot stickers and put them on your DVDs if you can't remember which color goes with which one.
Magnet Template
I couldn't find a pre-made Avery template for the magnet strips I needed, so I made my own using a table in Word. It's not super perfect, but it gets the job done. This template will fit the width of the space for the days in the calendar I mentioned above. If you use a different calendar, you'll need to double check that these strips will fit yours. If you don't break your workouts down as much as I do, you could use a smaller calendar. I'm not kidding when I say I compulsively organize! Select the image or the text below to download the template in Word.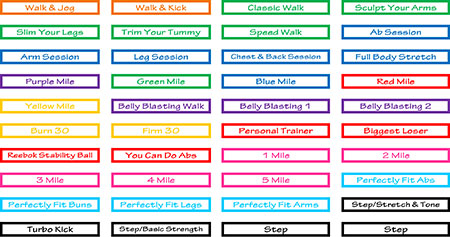 Download the Magnet Template in Word.
To add your own workouts, simply highlight the text in each cell and type over it with your workout name. You can also change the color and font like you normally would for text in Word.
Here's how I changed the border color for each cell to match the text. Highlight the text in the cell that you want to change the border color. Right-click and in the pop-up, select Borders and Shading. (There may be a quicker way to do this, but I don't work in Word often enough to know the shortcuts.)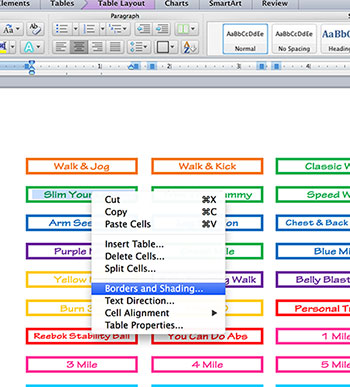 You'll get another pop-up like the one below. For Setting, use Box. For Style, I used the solid border. In the Color dropdown is where you'll change the color to match your text. For Width, all my borders are 3pt. Make sure Cell is selected in the Apply To dropdown so these changes will only apply to the cell you selected, instead of the entire table. Select OK and that's it!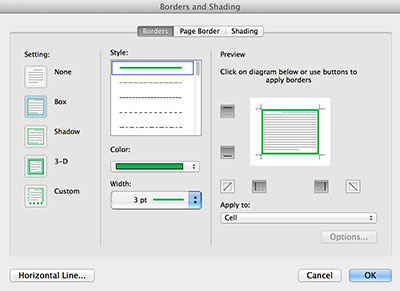 Once you've customized the template to your workouts, print a test page on regular paper. If everything's spelled correctly, longer workout names aren't cutting off, and everything looks good, print it on the magnet sheet. Use your scissors to cut out the strips. Stick them to your calendar in the right days and you're ready to workout!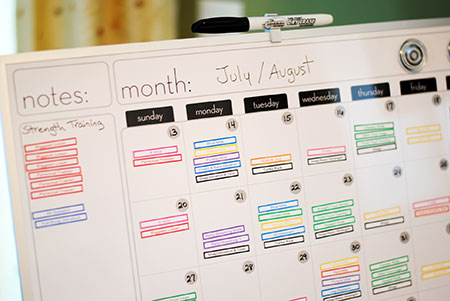 I hope you find this tutorial helpful and it motivates you to get excited about working out. Let's get moving!
Also check out: My Road to Getting Fit and My Road to Getting Fit: My Food Logs
Disclaimer: I'm not a doctor, nutritionist, trainer, or health professional. Please consult your own health professional before starting a new diet and/or exercise program. What works for me, may not work for you. I'm simply sharing the tools that have brought me success. I'm not associated with any of the products/services mentioned above, nor did I receive compensation for this post. All opinions are solely my own, as always. This post contains affiliate links.