Almost a month ago, I shared My Road to Getting Fit. I talked about what's been working for me to get moving, eat better, and measure my success. I'm happy to report that I'm still going strong. I'm down another three pounds and I can finally see a difference in my body. Three pounds isn't a stellar amount of weight to lose in an entire month, but I'll tell you why I'm happy with it.
First, losing weight slowly means that I'm more likely to keep it off.
Second, I started incorporating strength and weight training into my exercise routine (instead of just cardio!) and I'm building muscle. Muscle weighs more than fat. I take body measurements once a month, so that's when I can really see how my journey is coming along. I've lost a total of six inches since I started in March!
Third, I feel awesome. I haven't felt this good in years. I'm trying to make a lifestyle change, not a temporary fix. So the longer it takes me to accomplish my goal, the more these new, healthy habits are going to stick.
Last, there are foods I'm just not willing to cut out. I still have coffee with a little creamer every morning. I end my day with a few scoops of (lower calorie) ice cream almost every night. I'm not scared of butter or oil or anything with the word "cream" in it. I'm not going to deprive or starve myself just to lose weight faster.
I've received a few requests to see a sample of what I'm eating. I'm including a few screenshots of my day last Wednesday on LoseIt. I pretty much stick to the same few breakfasts and snacks, and vary my lunches and dinners. I cook some meals and use pre-packaged meals as well. It just depends on how much time I have!
My Food Logs
Breakfast
cereal (I try to stick to ones with no more than 120 calories per serving)
1/2 cup unsweetened almond milk
coffee
2 tsp. creamer
stevia
OR
bagel thin, toasted
1 oz. low-fat cream cheese
coffee
2 tsp. creamer
stevia
*Every Friday, instead of my normal coffee, I splurge on a grande iced caramel macchiato with non-fat milk from Starbucks. Only 190 calories!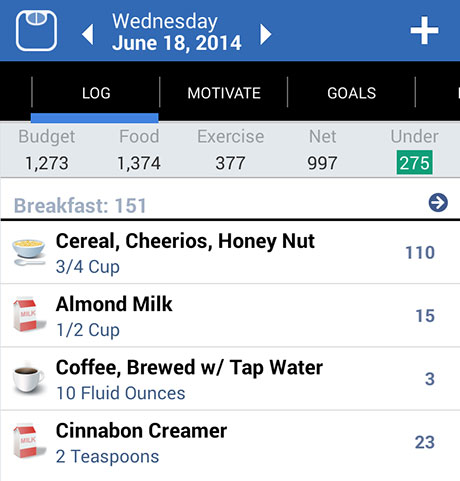 Lunch
Leftovers (from dishes in my Low Calorie category)
Amy's frozen entrees (Indian Mattar Paneer is my favorite!)
Blue Cheese Buffalo Veggie Chicken Sandwiches
MorningStar Farms Buffalo Chik Patty 180 calories
Healthy Life Original Wheat Sandwich Bun, toasted 80 calories
2 tsp. Hellmann's Low Fat Mayonnaise 10 calories
1 tbsp. reduced-fat blue cheese 20 calories
I like to add a piece of fruit like a small apple, small banana, or grapes. I also like Quaker Popped Rice Snacks. The Sweet Chili is my favorite.
*Every week I allow myself one splurge meal. It's almost always on Fridays for lunch with my coworkers!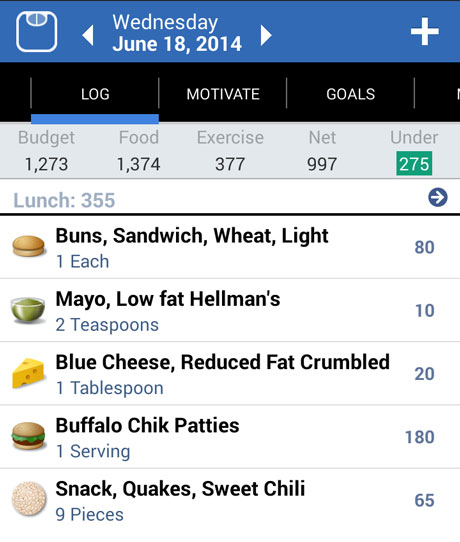 Dinner
I try to cook dinner most nights so I can take leftovers to work or have leftovers the next night for dinner. You'll find a lot of these meals in my Low Calorie category. Here's a list of my absolute favorites:
Chicken, Kale, and Mushroom Chimichangas
Cheeseburger Pie
Easy Stovetop Mac & Cheese
Cajun Shrimp and Grits
Spring Vegetable Pizza with Gremolata
Pizza Arrabbiata
Spicy Grilled Shrimp with Quinoa Salad
Stuffed Potatoes with Roasted Veggies
Chicken with Honey-Beer Sauce
Gorgonzola Linguine with Walnuts
Portuguese-Style Chicken Curry
Sweet Onion & Spinach Burgers
Chilaquiles
Tilapia with Chili Cream Sauce
When I don't have time to cook, I may whip up something simple like roasted veggies with rice or I'll just make a salad with whatever is in the fridge/pantry. I keep spinach and carrots on hand for salads and I'll add in dried cranberries, nuts, a bit of cheese, and a small amount of dressing. I'm not a vegetarian, but I do eat a lot of meatless meals.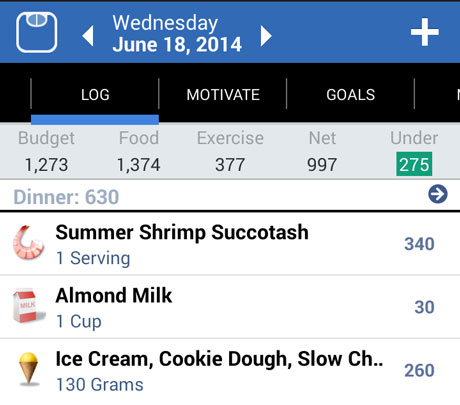 Snacks/Extras
1 cup unsweetened almond milk (usually drink this with dinner)
1 cup V8 (usually drink with breakfast or as a snack later in the day)
Slim Fast Rich Chocolate Royale Shake (I know these are supposed to be meals, but they are great before a workout so I have energy and don't get hungry.)
MorningStar Farms Original Veggie Sausage Patty
hard-boiled egg (I'll eat an egg with the veggie sausage patty before a workout, too!)
fun-size chocolate bars (they range from 80 to 95 calories each, for my sweet tooth!)
popsicles
Edy's Slow Churned Ice Cream (I'll have up to a cup depending on how my calorie count went for the day)
fresh fruit (apples, bananas, and grapes are favorites)
nuts
cottage cheese (low-fat)
Orville Redenbacher SmartPop Kettle Korn (my sweet/salty fix!)
Dannon Light & Fit Greek Yogurt (I prefer this brand because it tastes good and has a lot of protein at only 80 calories. It does contain sucralose.)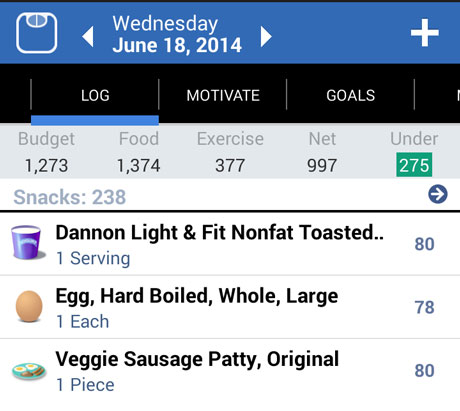 Hopefully that gives you an idea of what I'm eating. It's difficult to map it out exactly because it changes a lot. Some weeks I get to cook more than others and I'm constantly changing what I'm craving. I really do eat a lot of leftovers. I'm still working on incorporating more fresh fruits and veggies into my diet and reducing the amount of artificial sweetener I consume. Baby steps!
Disclaimer: I'm not a doctor, nutritionist, trainer, or health professional. Please consult your own health professional before starting a new diet and/or exercise program. What works for me, may not work for you. I'm simply sharing the tools that have brought me success. I'm not associated with any of the products/services mentioned above, nor did I receive compensation for this post. All opinions are solely my own, as always.

Orville Redenbacher's® SmartPop
Orville Redenbacher's® SmartPop