Yesterday my friend Meghan and I hosted a bridal shower for our friend Allison. Allison's getting married to Chris in one month! The colors of her wedding are different shades of purple, so we stuck with that theme and threw her a Lavender & Purple Bridal Shower. I tried to incorporate as much purple in to the menu as well, so on this special day, we could surround Allison in her favorite color. We also decorated with everything in purple and lavender. Balloons, tissue pom poms, even down to the games, we tried to cover the place in color!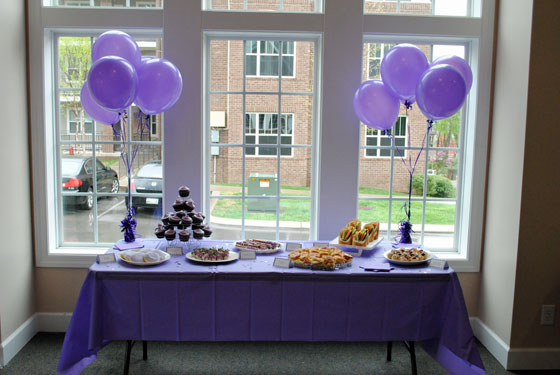 I wanted a few items sweet and a few items savory. I also wanted to have everything in grab and go sizes, so no one was holding up the line trying to scoop cheeseball onto a cracker.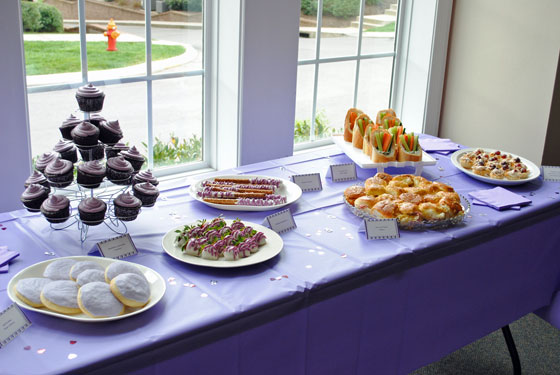 On the menu:
Sweet
Blackberry Chocolate Cupcakes
Soft Frosted Sugar Cookies
Dipped Pretzels
Dipped Strawberries
Savory
Ham & Swiss Sliders
Contessa Chicken Salad in Mini Fillo Shells
Spinach Dip with Veggies in Baguettes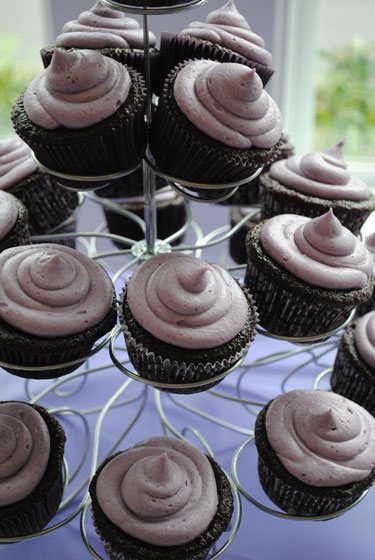 The Blackberry Chocolate Cupcakes were my favorite. A little different cupcake combination, but I figured if raspberries and chocolate went well together, then blackberries and chocolate just had to, too! It's a basic chocolate cupcake filled with blackberry preserves and topped with a blackberry buttercream. The blackberries helped color the buttercream a bit, but I also used violet food coloring to get that light shade of purple.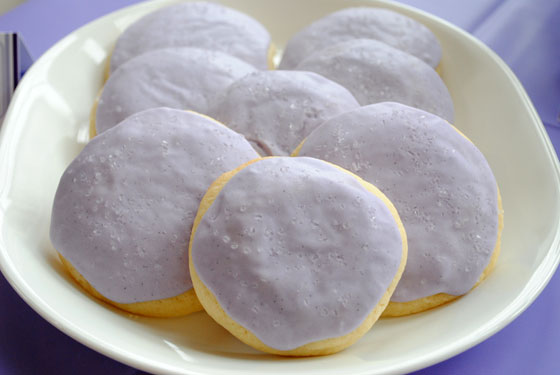 I've been wanting to make these Soft Frosted Sugar Cookies for a while and now I finally had a reason. I used the same violet food coloring to tint my icing and I thought they turned out a lovely shade of lavender. I made them sparkle just a bit with coarse white sugar sprinkled on top. The cookies turned out to be quite huge, but they were delicious. I have a weakness for soft, buttery cookies and these didn't disappoint.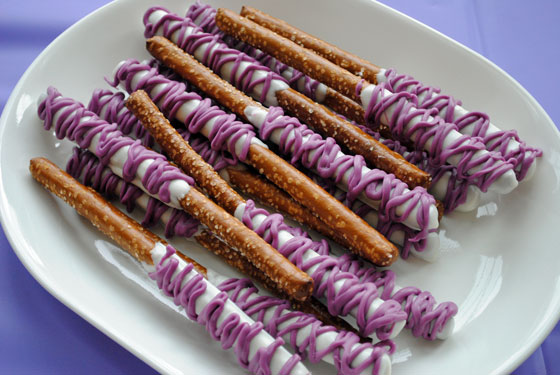 I've seen these Dipped Pretzels everywhere. Salty and sweet together, it's the perfect snack. I dipped the pretzel rods in white almond bark and once they were set, I melted lavender candy melts and drizzled it over the top.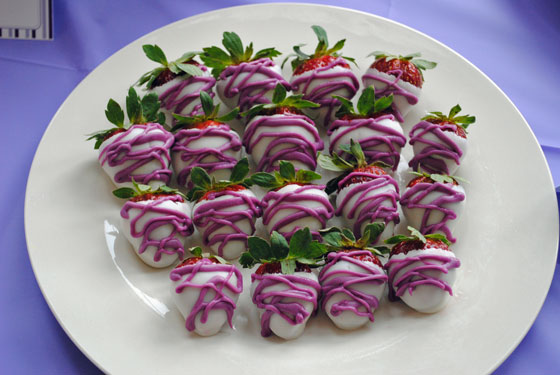 I'm a huge fan of Dipped Strawberries. Sweet and juicy strawberries underneath and a coating of candy on top. Take a bite and the candy crackles and gives in to the succulent strawberry. It's mostly fruit, so it's got to be healthy right? I dipped these in the same almond bark and lavender candy as the pretzels.
I forgot to take a picture of the Ham & Swiss Sliders. My friend Meghan made these from an earlier post on my blog. Let me tell you they were a hit. Meghan doesn't even like onions or Swiss cheese and she loves these little sandwiches. How's that for how good they are?!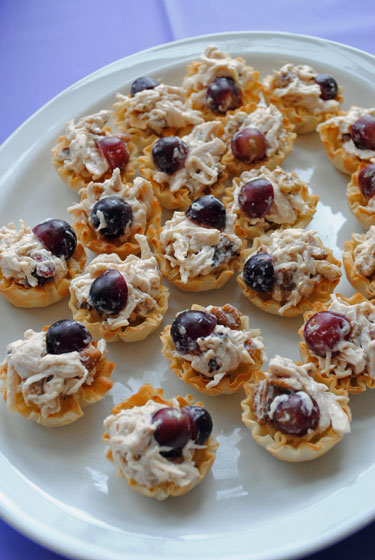 I consider myself to be a chicken salad connoisseur. My absolute favorite is from O'Carr's in Birmingham, Alabama. I've come close to finding a recipe that is pretty similar with the Barefoot Contessa's Chicken Salad. It has both pecans and walnuts and halves of purple grapes. See how I tied in the purple? I made them easy to handle and bite-sized by stuffing it into mini fillo shells.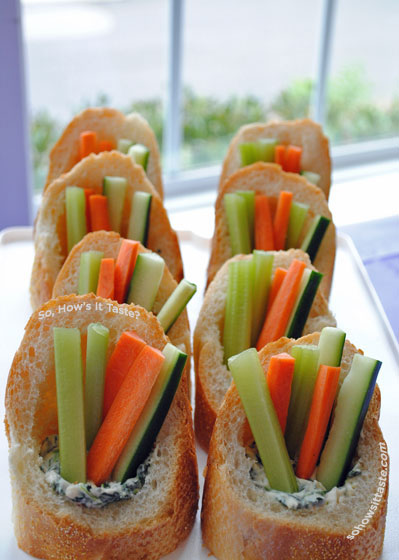 Here's another recipe I've been dying to make. Serving Spinach Dip with Veggies in a Baguette is so cute. It's the best of both worlds. Why decide between dipping veggies or bread? Have both!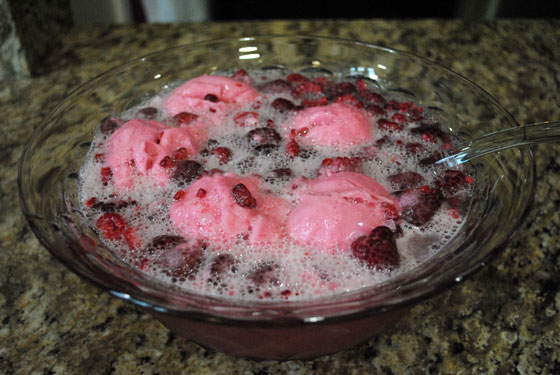 Allison's mom made this incredible Raspberry Sherbet Punch. It's simple to make with raspberry lemonade, ginger ale, scoops of raspberry sherbet, and frozen raspberries. It's perfect party punch and I wouldn't mind drinking this poolside with a splash of vodka! (It's fizzy in this picture because it's freshly stirred.)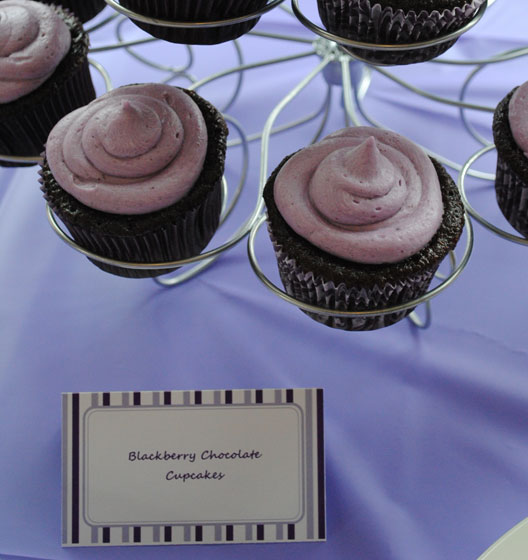 I wanted to make sure everyone knew what they were eating, so I made these cute food label cards. They're actually business cards from Avery. I found a purple striped template from their website and altered it to use as a label. The cards are two of the business cards, still attached, so they would stand up on the table.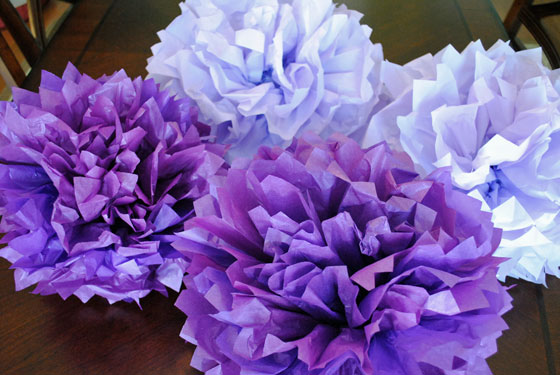 I kept my crafty hat on and made these tissue pom poms. I followed this tutorial from Martha Stewart, using purple tissue and lavender tissue. I think these would also be pretty using both colors in one pom pom. I chose the pointy cut ends instead of rounded.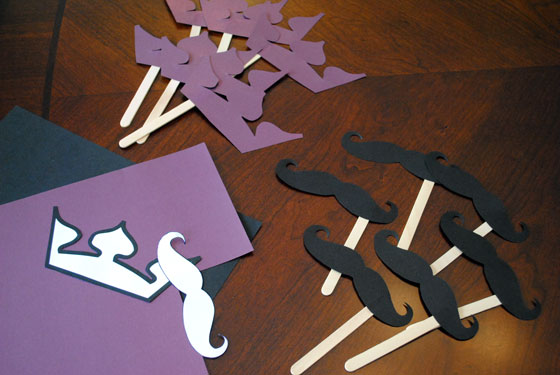 Hosting a bridal shower isn't all about the food. It's about the games! I found the Staches & Tiaras game on Craftaholics Anonymous. I made the tiaras out of sparkly purple scrapbook paper and the moustaches out of black textured scrapbook paper. I used a template to outline the shapes and glued craft sticks to the back.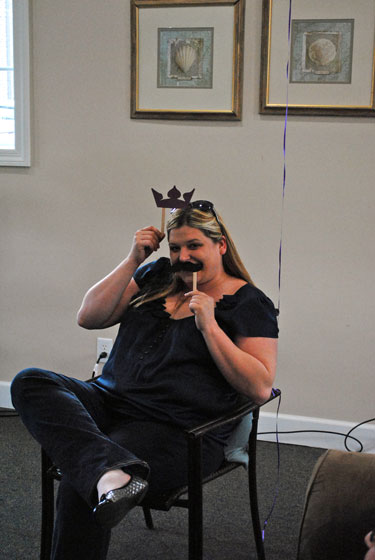 Guests had to guess who answered the questions I read out loud. Hold up the stache if you think it's Chris, hold up the tiara if you think it's Allison.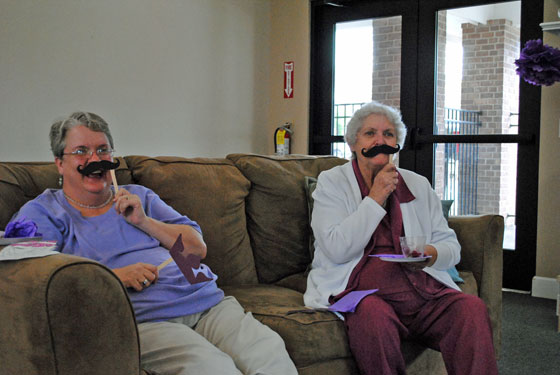 This game is hysterical!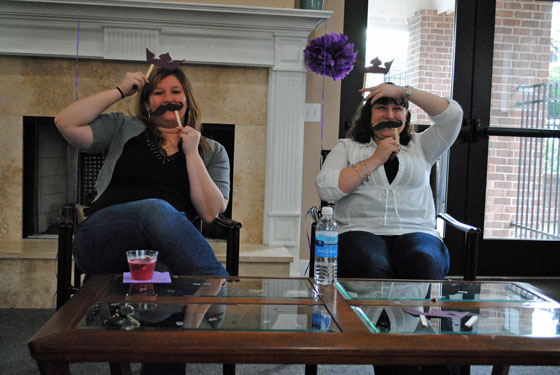 As you can see we had a lot of fun with this one!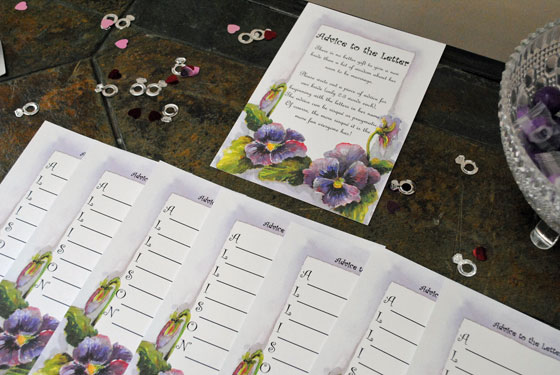 Another game was Advice to the Letter. Meghan made these cute cards that spelled A-L-L-I-S-O-N. Each guest had to write advice to the bride using each letter in the bride's name.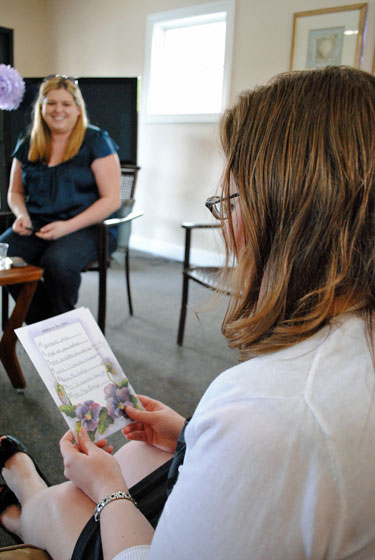 The cards are great keepsakes for the bride.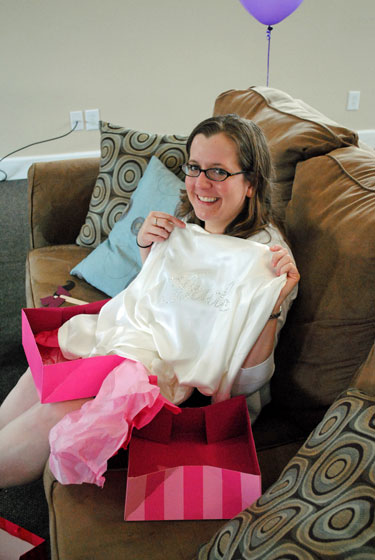 Let's not forget about the gifts! Here's the bride posing with her new robe that reads "Bride" on the back.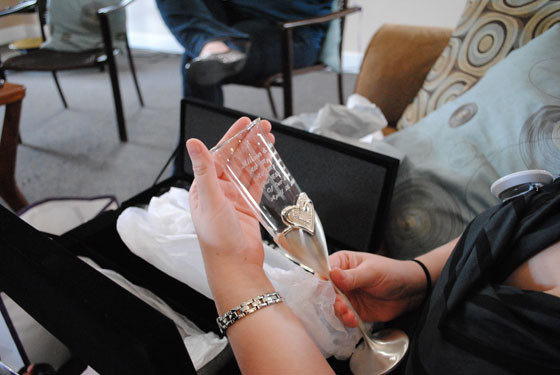 This was the last gift Allison opened. It's a knife and server set, a picture frame, and engraved flutes from her mom and dad. This got a lot of oohs and aahs and maybe a few teary eyes. Congratulations to Allison and Chris!
Upcoming posts will feature the recipes for Blackberry Chocolate Cupcakes, Soft Frosted Sugar Cookies, Contessa Chicken Salad, and Spinach Dip with Veggies in Baguettes. This blog post is featured in Foodbuzz's March 24×24. 24 unique meals all happening in a 24-hour period, hosted by 24 Foodbuzz featured publishers. A big thank you to Foodbuzz for selecting this Lavender & Purple Bridal Shower as one of the featured posts!