Oh gosh do I wish I had better picture of this Hot Bacon Potato Salad. I start to drool just thinking about how awesome it was. Warning though: You'll want to eat large amounts of this stuff and it is probably the most unfigure-friendly, artery clogging, potato-ey goodness ever. I really wanted nothing else on my plate but this potato salad. It goes great with anything from the grill, or if you're like me, just make this for dinner…and then plan to jog around your neighborhood a few trillion times to make up for it.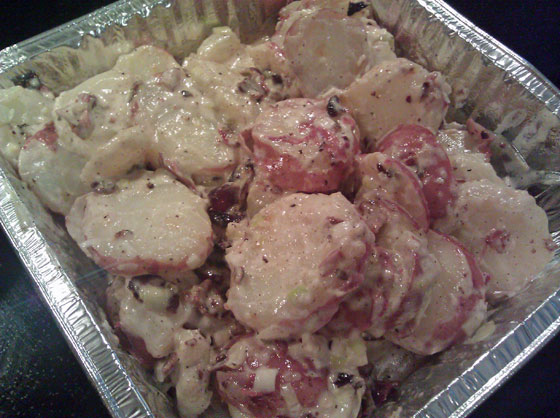 So, how's it taste?
Obviously I loved it. I like potato salad, but I don't usually go crazy over them. I went nuts over this one. The dressing is tangy and so perfect over warm potatoes. As much as I loved it, I will admit that it was a bit much using full fat mayo. Next time, I'd like to make it with reduced fat mayo and see if that tones down the heavy factor. The white vinegar really punches it up so it's not a creamy, thick dressing, but more on the thin side. The bacon, of course, makes it fantastic. I mean who doesn't want a little bacon grease with their mayo sauce?! I also liked the crunchy bites of green onion. It was almost like a baked potato with the works, all that's missing is some cheese!
I give this two thumbs up and I'll definitely be making it again!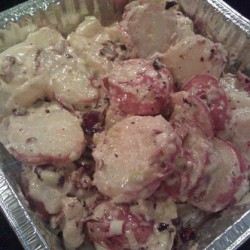 Hot Bacon Potato Salad
Ingredients:
5 unpeeled medium potatoes (about 1 1/2 lbs.)
8 slices bacon, crisply cooked & crumbled
3 green onions, finely chopped (3 tbsp.)
1/2 cup mayonnaise
1/4 cup white vinegar
2 tsp. sugar
1 tsp. salt
1 tsp. ground mustard (dry)
1/4 tsp. coarsely ground pepper
Directions:
1. Heat 1 inch water (salted if desired) to boiling in 3-quart saucepan. Add potatoes. Cover and heat to boiling; reduce heat to low. Simmer about 25 minutes or until almost tender; drain. Cut potatoes into 1/4-inch slices.
2. Heat oven to 350F degrees. Mix potatoes, bacon, and onions in a large bowl. Mix remaining ingredients; pour over potatoes and toss thoroughly.
3. Place mixture in aluminum foil pan; 8x8x2 inches (or baking dish). Cover with foil and bake 20 minutes, stirring once halfway.