Move over macaroni and cheese, there's a new side dish in town! I'm talking about Cheesy Baked Farro. It's like the sophisticated, grown-up version of everyone's favorite pasta and cheese. Only this version uses farro instead of pasta. What is farro? It's a grain, similar to barley and is absolutely delicious smothered in cheese.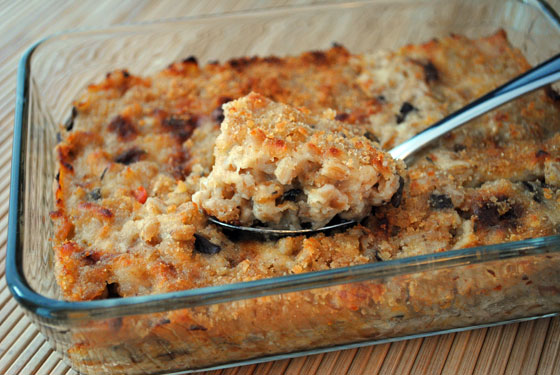 So, how's it taste?
I knew this recipe was going to be good from one glance at all the cheese in the ingredients list. Next to chocolate, I'm a cheese junkie. Four cups of cheese are in this dish. It's a dairy-lover's heaven. I had never cooked with farro before, but found it easy to work with. It's purchased dry, so there's a bit of soaking before it's cooked. Make sure to read your package directions before getting started with this recipe. It's also helpful to have all your cheese grated beforehand because the sauce doesn't take long to be ready.
The mushrooms really stand out in this recipe. Even with all that cheese, I could still taste the mushrooms and they were a great flavor addition. I also liked the freshness of the grape tomatoes compared to the richness of the rest of the dish. I sliced mine in half to make for better bite-sized pieces. If yours doesn't brown enough in the oven, put it under the broiler for a few minutes to achieve the proper crust. This is an absolute must side dish if you're a fan of macaroni and cheese. Change it up a bit and give farro a try!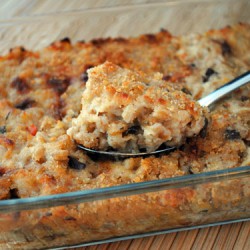 Cheesy Baked Farro
Ingredients:
Sauce
4 tbsp. (1/2 stick) unsalted butter
1/4 cup all-purpose flour
2 cups warm milk
Salt and freshly ground black pepper
Farro
6 cups (1 1/2 quarts) low-sodium chicken broth
2 cups farro, rinsed and drained
2 tbsp. olive oil, plus more for drizzling
2 cups assorted mushrooms, cleaned and sliced
Salt and freshly ground black pepper
3/4 cup halved cherry or grape tomatoes
2 1/2 cups freshly grated Parmesan
1 cup grated Gruyere
1/2 cup grated Fontina cheese
1 tsp. chopped fresh thyme leaves (or 1/2 tsp. dried thyme leaves)
1/2 cup plain dried bread crumbs
Directions:
1. Preheat the oven to 400F. Spray a 13 by 9-inch baking dish with cooking spray.
2. For the sauce, in a 2-quart saucepan, melt the butter over medium heat. Add the flour and whisk until smooth. Gradually add the warm milk, whisking constantly to prevent lumps. Simmer over medium heat, whisking constantly, until the sauce is thick and smooth, about 8 minutes (do not allow to boil). Remove from the heat and season with salt and pepper, to taste.
3. For the farro, in a large bowl, add the cheeses and stir to combine. Remove 1/2 cup of the mixture and reserve. In a large stock pot, add the chicken broth and bring to a boil over medium-high heat. Add the farro, reduce heat and simmer, stirring occasionally, until the farro is tender, about 25 minutes. Drain, if necessary.
4. In a large skillet, heat the oil over medium-high heat. Add the mushrooms and season with salt and pepper. Cook the mushrooms, stirring occasionally, for 8 minutes or until tender. Add the tomatoes to the pan and cook for 2 to 3 minutes, until tender.
5. Add the farro, thyme, sauce, and mushroom mixture to the bowl with the cheese. Stir until combined and season with salt and pepper, to taste. Pour the mixture into the prepared baking dish and top with the reserved 1/2 cup of cheese. Sprinkle the top with bread crumbs and drizzle with olive oil.
6. Bake until the top is golden brown and forms a crust, about 25 to 30 minutes. Remove from oven and let stand for 5 minutes before serving.