I'm definitely one of those people that loves ranch dressing. It's my number one salad dressing choice and I dip everything in it. Fries, pizza, veggies, you name it. Ever since I made homemade dressing for my Spring Dinner Party, I've been wanting to try other kinds. Buttermilk Ranch Dressing was a great choice. I don't mind the bottled stuff, but I wanted to see how much fresher it could taste without all those ingredients I can't pronounce. Plus it's a great way to start using the herbs I just planted!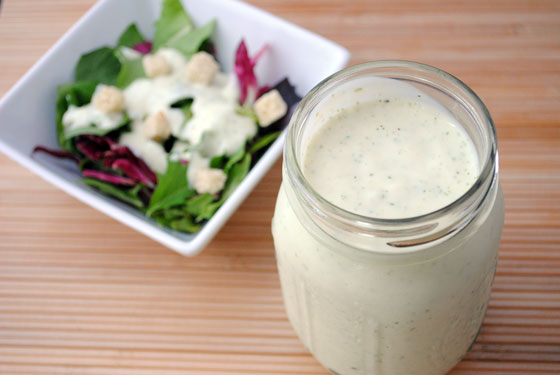 So, how's it taste?
I was pleasantly surprised how much I liked this dressing. The ingredients are so simple I was worried it would taste like mayonnaise and nothing else. Everything blends so beautifully that you can't identify just one ingredient and I love the specks of herbs and pepper. It doesn't quite taste like it's bottled counterpart, so I almost hesitate to call it ranch. It's more like a buttermilk herb dressing. I've seen a few versions with dill, thyme, and Worcestershire added, so I may experiment with those flavors in the future. I used it recently in my Three Bean and Cheese Salad and wow was it outstanding! It's definitely got a bright, fresh flavor compared to store-bought. Taste the herbs and seasonings as you go and add more to suit your liking. It should last in the refrigerator at least two weeks.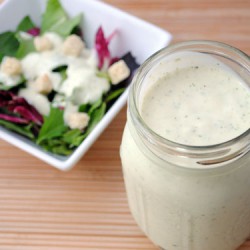 Buttermilk Ranch Dressing
Ingredients:
3/4 cup mayonnaise
3/4 cup sour cream
1 tbsp. olive oil
1 tbsp. lemon juice
1 cup buttermilk
1 small bunch of chives
1 small bunch of parsley
1 clove garlic
1/2 tsp. salt
1/4 tsp. freshly ground black pepper
Directions:
1. Combine all of the ingredients in a food processor and blend for 10 seconds. Adjust seasonings as necessary. Store in the refrigerator in an airtight container.