You know what I love the most about the weekend? Getting to sleep late and having all the time in the world to make breakfast. And I mean really make breakfast. None of that grab a granola bar or whatever's in my pantry and go business. I'm talking the still in my pajamas, iPod turned up loud kind of breakfast. Like these Banana Pancakes with Toffee Walnut Sauce. Cue Jack Johnson now.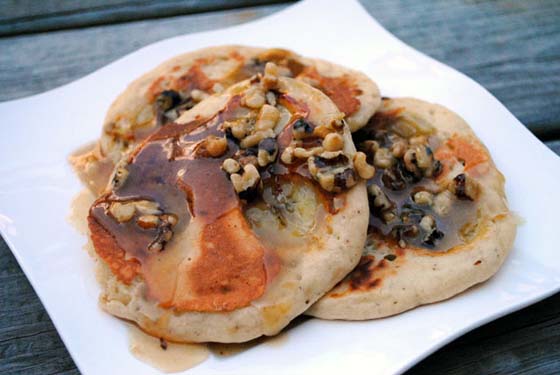 So, how's it taste?
Wowza, where to begin on these babies. It's Fall and just about every recipe I've made lately reflects it. These pancakes are no different. The batter has brown sugar and nutmeg to warm your belly and cause your nose to perk up. There's mashed bananas in there too that make the pancakes incredibly moist. The fun part is adding the sliced bananas on top. Your house starts to smell like baking banana bread and you know you're on to something fabulous. I do recommend pushing the slices down into the batter and covering them a bit. I found when I flipped them, they stuck to the griddle and burned a little.
Now to the part that will knock your socks off. You'll be thanking me for this post after you top the pancakes with this incredible toffee walnut sauce. And I mean incredible. I couldn't get enough of it. Butter, sugar, cream. It's sinful. Walnuts aren't your thing? Substitute any nut you like or leave them out altogether. The sauce is perfectly fine without them. Brace yourselves folks. This is what weekends are meant for.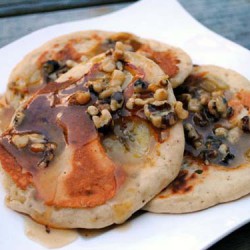 Banana Pancakes with Toffee Walnut Sauce
Ingredients:
Pancakes
1 cup all-purpose flour
1/3 cup ground rice or semolina
3 tbsp. firmly packed brown sugar
1/2 tsp. ground nutmeg
1 tbsp. baking powder
1/2 tsp. salt
1 egg
1/2 cup milk
1/2 cup plain yogurt
4 small ripe bananas: 2 mashed, 2 sliced

Toffee Walnut Sauce
7 tbsp. unsalted butter
1/3 cup firmly packed brown sugar
4 oz. light corn syrup
1/4 cup heavy cream
1 tbsp. unsalted butter
3 oz. walnuts, coarsely chopped
Directions:
1. Sift the flour, ground rice, sugar, nutmeg, baking powder, and salt into a large bowl. Put the egg, milk, and yogurt into another bowl, beat well, then add the 2 mashed bananas. Beat the flour mixture into the egg mixture. Should be lumpy.
2. Heat the prepared griddle or skillet over medium heat. Reduce the heat. Pour 2 tablespoons of batter into the pan and press 3 slices of banana onto the pancake (the sliced bananas seemed to stick to the griddle when flipped so I'd cover them with a bit of batter). Cook in batches of 3-4 for about 1 minute over low heat, or until small bubbles appear on the surface and the underside is golden brown. Turn the pancakes over and cook the other side for about 2-3 minutes. To make larger pancakes, use 1/4 cup each of batter.
3. For the toffee sauce, put the first 4 ingredients into a saucepan and heat gently, stirring constantly, until the sugar dissolves. Boil for 3 minutes. Melt the 1 tablespoon of butter in a skillet, add the nuts, and stir over high heat until they smell toasted and are lightly browned. Drain on paper towels. Mix into the toffee sauce. Serve immediately or let cool and store in an airtight container in the refrigerator for up to 1 week.