Yep, it's almost that time of year. Halloween is just around the corner. I can't believe we're already in the middle of October. I love all the cute, scary sweet treats you find this time of year, but I wanted something savory to throw in the mix. I found this Baked Eyeball Eggs casserole and thought it was hysterical, and maybe a little gross, too. I'm a big fan of breakfast and especially runny eggs, so I couldn't wait to make this one.
It was seriously tasty. Anything with potatoes, cheese, and sour cream gets me drooling. It's also calls for a can of condensed potato soup, but I substituted mushroom because I didn't want potato overkill. Yeah, so what if it's one of "those" casseroles. It's full of flavor, easy to make, the leftovers rocked, and it's so darn Halloweeny. If you aren't a fan of spice, definitely go for the ketchup over the Sriracha, but the nozzle on the Sriracha makes drawing the "veins" really easy.
I didn't end up with runny eggs since I overbaked it just a little. It's very tempting since the whites of the egg stay glossy and I was nervous about having uncooked egg whites. My yellow was soft, but not runny. Still just as good though. You can certainly cook them to your liking. I thought the eggs on top would be a problem for leftovers, but they worked out just fine. I nuked my leftovers in the microwave and had no trouble with it, although the egg does cook slightly. I liked it so much, I'll make this again for breakfast even when it's not Halloween. Maybe I can draw Sriracha hearts instead of veins for Valentine's Day!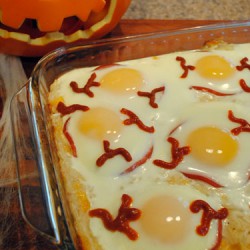 Baked Eyeball Eggs
Ingredients:
1 bag (30 oz.) frozen shredded hash brown potatoes, thawed
1 can (10 3/4 oz.) condensed cream of potato or cream of mushroom soup
1 (8 oz.) sour cream (about 1 cup)
1 1/2 cups shredded Cheddar cheese (6 oz.)
2 tsp. dried minced onion
1/2 tsp. salt
1/8 tsp. pepper
10 slices Canadian bacon (about 6 oz.)
10 eggs
Ketchup or Sriracha
Directions:
1. Heat oven to 350°F. In large bowl, mix potatoes, soup, sour cream, cheese, onion, salt, and pepper. Spoon mixture into ungreased 13x9-inch (3-quart) glass baking dish, spreading evenly.
2. Arrange bacon slices in pairs over top of potato mixture to resemble eyes. Press bacon into mixture to form deep cups (for eggs). Bake 40 minutes.
3. Remove baking dish from oven. If necessary, press bacon into mixture to reshape cups. Carefully break 1 egg into each bacon cup.
4. Bake 20 to 25 minutes longer or just until eggs are set. Decorate eggs with ketchup "veins" to resemble bloodshot eyeballs.
per serving: 350 calories, 18g fat, 30g carbs, 17g protein, 3g fiber