I'm so excited to share these cupcakes with you. They turned out absolutely amazing and are the perfect dessert for Fall. Last Friday was Shannon's birthday (you know her from Bake.Frost.Repeat.) and I asked her to send me her top choices for a birthday treat. The girl knows her desserts and I had a tough time picking just one! I finally decided on Apple Cider Cupcakes with Salted Caramel Buttercream. I think they may be the best cupcake ever…and there's no chocolate anywhere in it. What?!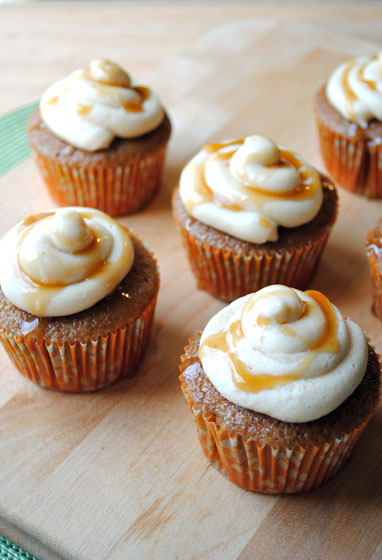 So, how's it taste?
I can't say it enough how awesome they were and I'm so thankful they turned out that great. I followed a different recipe first and they turned out horrible. Just horrible. Panic followed and then I thought "I can do this. I'm going to go rogue and make my own." Ok, so I cheated a little. The base is a spice cake mix. I'm not above using a cake mix because they always turn out awesome. Instead of water, I used apple cider. The batter smelled just like Fall and the apple cider flavor really came through even after the baking process. You could use a yellow cake mix instead, but I really liked the apple cider mixed with spice.
Salted caramel buttercream was the perfect topping. I had made this buttercream before to top my Chocolate Coconut Cupcakes and fell in love with it. It's so, so good. I decided to up the salt just a bit by an extra 1/4 teaspoon. You can slightly taste the salt at just 1 teaspoon, but I wanted it to come out a bit more without getting too salty. If you're not sure, start with 1 teaspoon and taste your buttercream. Add 1/8 teaspoon and taste again if you want more salt. I wouldn't add more than a total of 1 1/4 teaspoon. The caramel drizzle will help keep it sweet and makes the cupcakes more decadent with it flowing over.
I took these to work and received some really awesome compliments. These cupcakes are a winner! Happy Birthday, Shannon!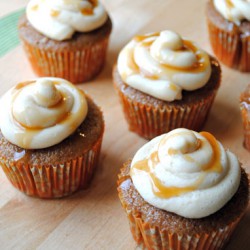 Apple Cider Cupcakes with Salted Caramel Buttercream
Ingredients:
Cupcakes
1 (18.25 oz.) box Spice Cake mix (I prefer Duncan Hines)
3 large eggs,
1 1/3 cups apple cider
1/3 cup vegetable oil
Buttercream
2 sticks unsalted butter, room temperature
2 tsp. pure vanilla extract
1 to 1 1/4 tsp. salt
1/3 cup caramel topping, plus more for drizzling
3 3/4 cups confectioners' sugar
Directions:
1. For the cupcakes, preheat oven to 350F. Line cupcake pans with cupcake liners.
2. Blend cake mix, eggs, cider, and oil in a large bowl at low speed until moistened. Beat at medium speed for 2 minutes. Add batter to cupcake pans.
3. Bake 18-21 minutes until a toothpick inserted in center of a cupcake comes out clean. Cool in pan on wire rack for 15 minutes. Remove cupcakes and cool completely on wire rack before frosting.
4. For the buttercream, cream the butter in the bowl of an electric or stand mixer. Add the vanilla extract, 1 teaspoon salt, and caramel syrup and combine well. Begin adding in the sugar and mixing thoroughly after each addition. After all of the sugar has been added and mixed thoroughly, give it a taste and decide if you want to add in more salt. 1 teaspoon of salt will give it a slight background taste of salt. Increasing to 1 1/4 teaspoon of salt will add a more distinct (but not salty) taste. I do not recommend adding more than 1 1/4 teaspoon total.
5. Frost the cooled cupcakes and drizzle with additional caramel topping.