This time of year, as I'm sure everyone else does, I crave comfort food. Delicious, slow-cooked, belly-warming comfort food. Fall just brings that out in me and nothing cures that craving better than a hearty bowl of chili. White Chicken Chili to be exact.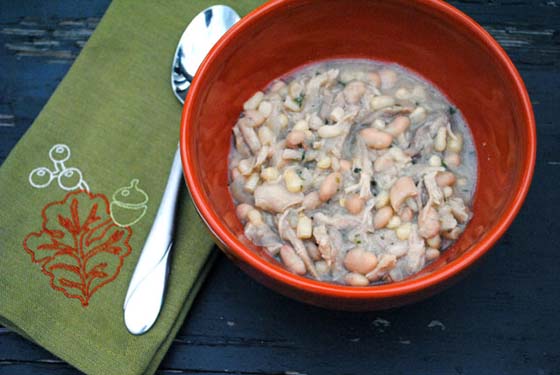 So, how's it taste?
Delicious. I curled up on the couch eating this chili and felt like I needed to be in a lodge somewhere next to a roaring fire. The cumin and red pepper sauce brought such a nice warmth to the dish and I loved the contrasting textures of the crunchy corn and creamy beans. I would forgo the red pepper sauce in the slow cooker and add it to your individual servings instead. Its heat and flavor get lost in the slow cooker and I had to add more in the end. Even if you don't like your chili spicy hot, I recommend adding in at least a drop or two for enhanced flavor. It really brightens up the dish. I also ate a few bowls topped with shredded sharp cheddar…phenomenal! If parsley is not your thing, you can leave it out or substitute cilantro.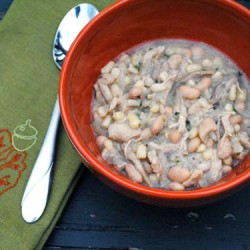 White Chicken Chili
Ingredients:
6 skinless chicken thighs (1 1/2 lb)
1 large onion, chopped (1 cup)
2 cloves garlic, finely chopped
1 3/4 cups chicken broth
1 tsp. ground cumin
1 tsp. dried oregano
1/2 tsp. salt
1/4 tsp. red pepper sauce
2 cans (15 to 16 oz each) great northern beans, drained, rinsed
1 can (11 oz) white shoepeg corn, drained
3 tbsp. lime juice
2 tbsp. chopped fresh parsley
Directions:
1. Remove excess fat from chicken. In 3 1/2- to 4-quart slow cooker, mix onion, garlic, broth, cumin, oregano, salt and pepper sauce. Add chicken.
2. Cover; cook on Low heat setting 4 to 5 hours.
3. Remove chicken from slow cooker. Let cool to easily handle. Use 2 forks (or your hands) to remove bones and shred chicken into pieces. Discard bones; return chicken to slow cooker. Stir in beans, corn, lime juice, and parsley. Cover; cook on low heat setting 15 to 20 minutes or until beans and corn are hot.