Here's a quick and delicious recipe for when you're craving something sweet this Fall. I happen to be a huge berry lover and couldn't pass on trying this Two-Berry Crisp with Pecan Streusel Topping. Warm blueberries and raspberries topped with crunchy pecans. The only regret I have is forgetting to buy vanilla ice cream to make this dessert even more delicious!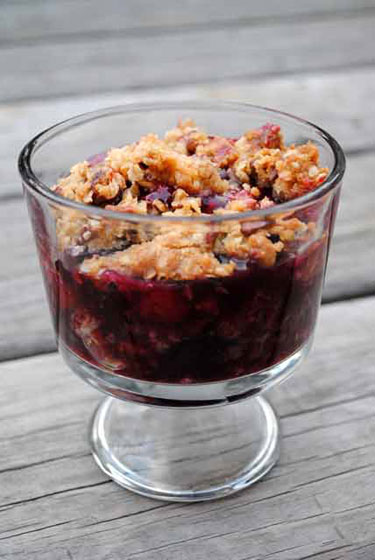 So, how's it taste?
Even though this recipe is cheating big time with store-bought blueberry pie filling, it's incredibly good. It's so simple to put together, but good enough to serve to company. The frozen raspberries add a tartness to the dish to really balance the super sweet pie filling. Mix together a few ingredients for the streusel topping and you're in business. Pecans, oats, and brown sugar. Now those three are the makings for a great crust! A big scoop of good vanilla ice cream would really be tasty as well. Can't you just picture it melting into the crust and berries? Mmm mmm!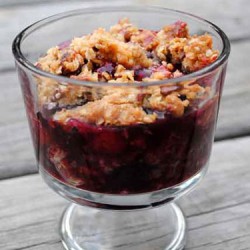 Two-Berry Crisp with Pecan Streusel Topping
Ingredients:
3/4 cup quick-cooking oats
1/2 cup all-purpose flour
1/2 cup packed brown sugar
1/2 cup butter, cut into pieces
1/4 cup chopped pecans
1-21 oz. can blueberry pie filling
2 cups frozen unsweetened raspberries
3 tbsp. sugar
1 tbsp. all-purpose flour
Directions:
1. Heat oven to 400 degrees. Spray 8-inch square (2 quart) baking dish with cooking spray. In large bowl, mix oats, 1/2 cup flour, and the brown sugar. Cut in butter until crumbly. Stir in pecans; set aside.
2. In large bowl, mix remaining ingredients. Spread in baking dish. Sprinkle oat mixture over top.
3. Bake 30 to 40 minutes or until fruit mixture is bubbly and topping is golden brown.