Hi! Welcome to So, How's It Taste! You may have found this post through Pinterest, so thanks for stopping by! If you're interested in caramels, please check out my posts for Chocolate Chip Caramels and Salted Caramels. Hope to see you back soon!
Tomorrow's St. Patrick's Day and here's my contribution…Salted Whiskey Caramels! I didn't use Irish whiskey, but it's whiskey nonetheless and that counts, right? The original recipe calls for honey-flavored whiskey, which I don't like, so I opted for good ol' straight Jack Daniel's and I already had it on hand. I couldn't wait to whip up a batch of homemade caramels, since I had such success with my first try, and find out what the added whiskey did for taste.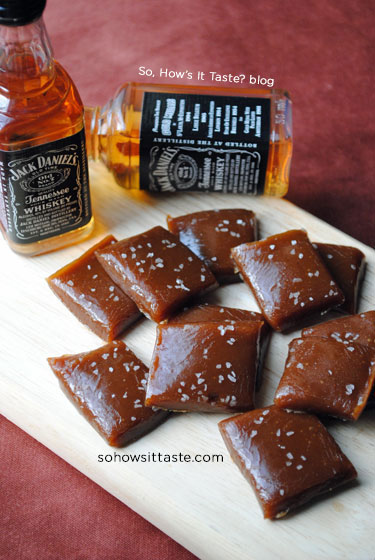 So, how's it taste?
Om nom nom! I was pretty happy with these, although I wish I had taken them off the heat about 1 second earlier. They're a teeny tiny tad bit darker than what I'd like, although they look as dark as the ones on Betty Crocker, and the ones I've done before. You really have to watch the sugar once it starts to change color, it goes fast! There's a slight difference in taste between these and the ones without whiskey. I'm not sure if it's a slight taste of burnt sugar from taking it off a bit late or if it's the whiskey. I can see how the honey-flavored whiskey might blend in better, but I happen to like the taste of whiskey, so I didn't mind. I really don't think you'd be able to tell there's whiskey in the caramels unless someone told you. They're still decadently rich and creamy, with a hint of saltiness to balance. I'd make these again in a heartbeat!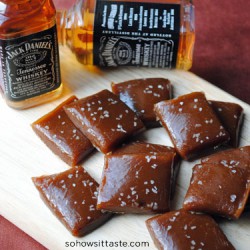 Salted Whiskey Caramels
barely adapted from Baked Bree via Betty Crocker
makes 64 thin caramels in a 9-inch square pan
per caramel: 44 calories, 2g fat, 6g carbs, 0g fiber, 0g protein
Ingredients:
5 tbsp. butter
1 cup heavy whipping cream
2 oz. (1/4 cup) whiskey (I used Jack Daniel's)
1 tsp. vanilla
1/4 tsp. kosher (coarse) salt
1 1/2 cups sugar
1/4 cup light corn syrup
1/4 cup water
up to 1 tbsp. kosher (coarse) salt, for sprinkling (you may not need the entire tablespoon)
Directions:
1. Line 9-inch square pan with parchment or wax paper, allowing the paper to drape over two sides; spray lightly with cooking spray.
2. In 1-quart saucepan, heat butter, heavy whipping cream, whiskey, vanilla, and 1/4 teaspoon salt to boiling, stirring frequently. Remove from heat; set aside.
3. In 3-quart saucepan, mix sugar, corn syrup, and water. Heat to boiling over medium-high heat. DO NOT STIR. Boil until sugar turns a warm golden brown.
4. When the sugar mixture is done, turn off the heat and slowly add the cream mixture to the sugar mixture. Be careful -- it will bubble up violently. Cook over medium-low heat for about 10 minutes, until the mixture reaches 248 degrees F (firm ball) on a candy thermometer. Pour caramel into pan; cool 10 minutes. Sprinkle with up to 1 tablespoon salt; cool completely.
5. Cut into squares; wrap individually in parchment paper.