I am years late to the podcast party, but certainly making up for lost time. My commute to and from work has gotten longer and longer over the years (sidenote: please stop moving to Nashville, we're full), and there's only so much of the same top 40 songs I can tolerate. Enter Serial (of course!). I heard all the buzz on this podcast when it first came out in 2014, but didn't get into it until later in 2015. Hooked!
Serial started my love of crime/mystery podcasts and I haven't looked back since, so you'll see most of the podcasts on this list are of that genre. What podcasts do you love? Please share in the comments!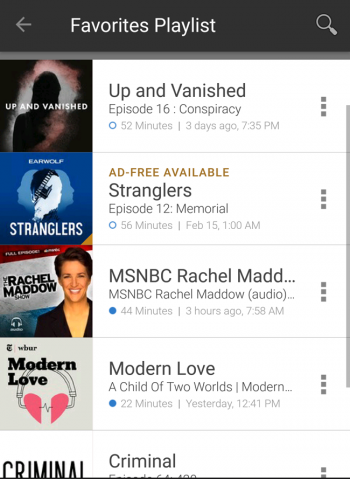 Crime / Mystery
Serial Season 1
A high school student disappears and is later found murdered. Her classmate and ex-boyfriend is accused.
(don't bother with season 2, it was awful; there's a season 3 on the way – yippee!)
Up and Vanished
An investigation into the disappearance of Tara Grinstead.
(this one is really good and ongoing…but it has a nice "solution" if you want a podcast that's more than theory)
Stranglers
A fresh look on the Boston Strangler.
(a lot of theory here and accounts from people who think they interacted with him)
Criminal
Criminal is a podcast about crime. Stories of people who've done wrong, been wronged, or gotten caught somewhere in the middle.
Accused
When Elizabeth Andes was found murdered in her Ohio apartment in 1978, police and prosecutors decided within hours it was an open-and-shut case. Two juries disagreed. The Cincinnati Enquirer investigates: Was the right guy charged, or did a killer walk free?
S-Town
John despises his Alabama town and decides to do something about it. He asks a reporter to investigate the son of a wealthy family who's allegedly been bragging that he got away with murder. But then someone else ends up dead, sparking a nasty feud, a hunt for hidden treasure, and an unearthing of the mysteries of one man's life.
(this is from the same people as Serial and it's fantastic; I put it in crime / mystery, but it's so much more!)
In the Dark
This one is about the abduction of Jacob Wetterling in 1989, how law enforcement mishandled the case, and how this led to the nation's sex-offender registries.
Lore
Lore exposes the darker side of history, exploring the creatures, people, and places of our wildest nightmares.
(I was really into this one for a long time and then I got tired of it; still a great podcast)
Food Blogging
The Food Blogger Pro Podcast – I can't say enough good things about this one; a must for food bloggers and most episodes apply to bloggers of any topic
The Chopped Podcast – I don't listen to every episode of this one, but it's got some great information; check out my buddy Southern Fatty's episode!
Political
MSNBC Rachel Maddow – Um, yeah, this administration has me paying attention to politics more than ever before. This podcast is available a few hours after the Rachel Maddow Show airs. I listen to this every single morning on my way to work. Great way to stay in the know and pay attention.
Sleep
Sleep with Me – I started listening to this podcast when I had major trouble sleeping. It's a nonsensical podcast that is designed to literally put you to sleep. It works! This was a lifesaver for me on many restless nights.
Language
Coffee Break Spanish – OBSESSED. The podcast is free, but I loved it so much I bought the premium version for season one to get the extras. I actually listen to a lesson every morning while I'm having coffee and again on my walk breaks throughout the day. ¡Ahora hablo un poco de español!
Coffee Break Series – they have other languages too!
Life
Modern Love – This features the New York Times column, Modern Love, and is read by celebrities.
That wraps it up on what I'm currently listening to and what I've enjoyed in past podcasts. Drop me a line and let me know what to check out next!