I hope you're as excited as I am that it's officially Spring! I know it doesn't feel like it everywhere, but we've had some really nice days here in Nashville. I've been acting like it's summer for a bit now and I've got a freezer full of ice cream to prove it. My latest addiction is Edy's Slow Churned Ice Cream. It's less fat than regular ice cream, but certainly doesn't taste like it.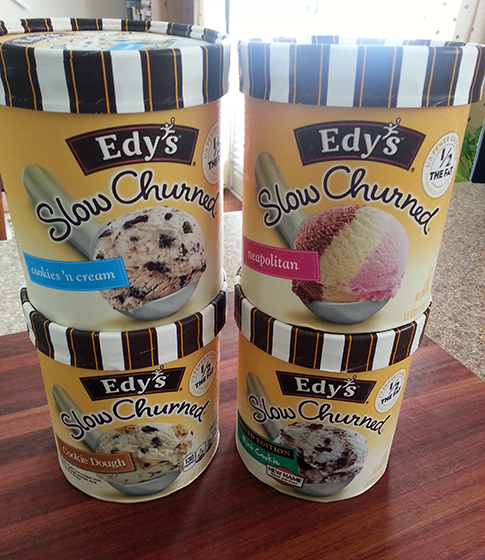 Recently Publix had buy one, get one free and I bought four! (The stuff isn't cheap.) My absolute favorite is the Neopolitan. It's 90 calories for 1/2 cup! My day is not complete until I wrap it up with ice cream. The Cookie Dough is really good, but very sweet. They have a Mint Cookie limited edition flavor that is uber minty, but could use a bit more of cookie chunks, in my opinion. Although that's not stopping me from eating it! I also bought Cookies 'n Cream, but haven't cracked it open yet…I do have some self control…well sort of.
Another thing I'm enjoying in my kitchen is this Threshold Wood Kitchen Tablet Holder from Target. My mom saw it on the shelf when we were shopping and I snatched up the last one. I've been looking for the perfect tablet holder for what seems like forever. I bought one several months ago (for $50 bucks!) and instantly had buyer's remorse. Way too pricey, only worked for Apple, and the two angles were off. I returned it two days later. I have the Google Nexus 7 tablet and this holder works great for it! It's got two angles to choose from, one that's perfect for using while cooking and reading a recipe. It looks pretty and it's under $10 bucks!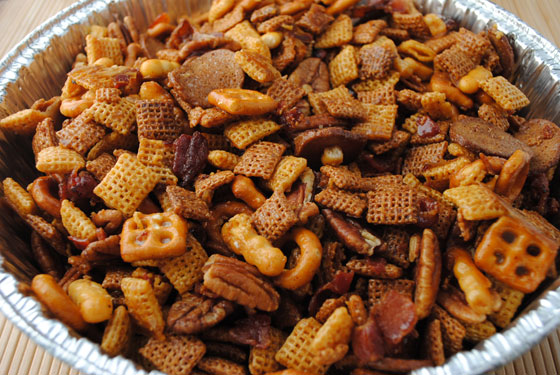 A few days ago, I was whipping up a batch of my Bourbon Bacon Chex Mix and burned my neck cooking the bacon. I was cooking a pound of it in batches and by the third batch, I had way too much grease in the skillet. Bacon grease popping everywhere! I have a huge red mark on my neck and little dots of red around it. It hurt so bad! I think it's a sign that I need to graduate to cooking bacon in the oven. What kind of pan do I use? Does the grease pop in the oven? I really don't want to clean the oven after cooking bacon if the grease goes everywhere. That's why I've still been cooking it in a skillet. Please leave a comment and give me your bacon in the oven know-how!
I'm going to leave you with another music discovery. Have you heard of HAIM? They're three sisters, hilarious, bad ass, super talented, and I'm obsessed with them. I had heard them on SNL, but didn't pay much attention. Then Target used their song "Forever" in a commercial and I had to have it. Their entire CD is incredible. I'm seriously wearing it out. They have several songs that are perfect for driving in this gorgeous Spring weather with the windows down and the speakers cranked!
Disclaimer: I am not affiliated with any of the products/brands mentioned above. I'm simply sharing my opinions based on personal experience.