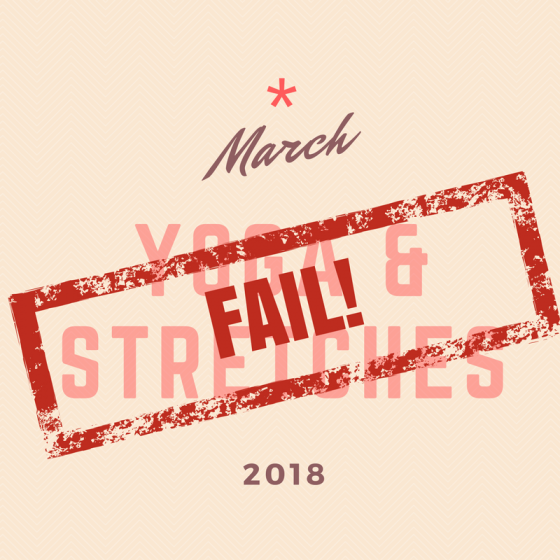 Welp, it was bound to happen eventually, but I'm surprised it was with this challenge. March's challenge was to practice yoga once a week and stretch everyday. Sounds easy enough, but I failed at it…miserably. What happened? Read on. To catch up, read this post on my Year of 30-Day Challenges.
The Failure
It is really hard to form new habits and really really hard to get rid of old ones. Leading up to March's challenge I had finally started going to a yoga class once a week. I really liked it for the most part, although I never got into the "set your intentions" hubbub. I also started taking Body Pump classes earlier this year and I've loved those classes so much that I go 2-3 times a week, so… in order to work that in my schedule, yoga had to move.
I promised myself I would do yoga at home on my off days from the gym. If you're an Amazon Prime member, there are a ton of yoga videos included in the subscription. I already had a yoga mat, bought a yoga blanket, and a cute tote to hold it all to motivate me. Nope. Didn't work. I just plain didn't do it.
Now the days I went to another class at the gym, I would stretch after, so I guess that somewhat counts, but other days I completely forgot about it. You'd think if I was going to fail at something it would've been low sugar January, but that one was easy to remember because you have to eat. But starting a new habit is tough!
Lesson Learned
Looking back, I think I would have benefitted from putting a time to stretch and do yoga in my calendar. Carving out that 30-minute or so block would have made me not only remember to do it, but actually make time for it.
Also, the more Body Pump I do, the more I need those yoga classes. My body is so stiff for a few days after Body Pump and it would be good to get in a good stretch. Even though the March challenge is over, I'm going to keep trying on this one. Later in the year I have morning routine and bedtime routine challenges, so perhaps I'll try to make stretching part of those. Wish me luck!
Did you do the challenge with me? If so, let me know how you did in the comments!
Up Next
Will you join me for April's challenge?