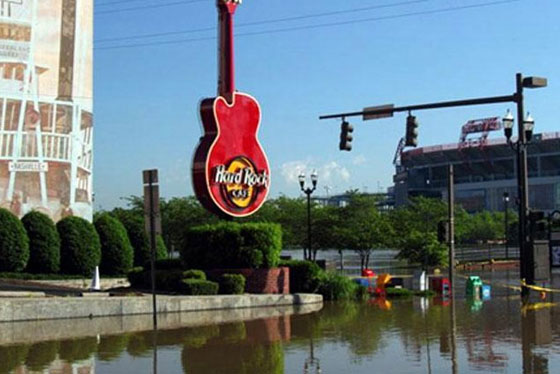 (Riverfront Park & Broadway, picture from wsmv.com)
We Are Nashville.
And we need your help. Some of you may not be aware that Nashville had its highest rainfall totals since records began. People lost their homes, their belongings, and some their lives. The media didn't give us much coverage, but we are carrying on. In the last few days, we have truly lived up to our name, the Volunteer State.
The videos and pictures of the flood are devastating. One video says it all with quotes from this awesome blog post. My old neighborhood was among those hit the hardest. This is where I learned to drive a car, this is where I got ready for prom, this is where I rode my bike, this is where I call home, and it's underwater.
Fortunately I was one of the lucky ones. This is my city and it's time to give. I hope you will consider doing the same. Here are ways you can help.
Donate to Nashville Flood Relief
http://www.cfmt.org/floodrelief/ (link no longer active)
Sign up to volunteer
http://www.hon.org/HomePage/index.php/home.html
Eat Out for Nashville – May 17th
http://www.nashvillescene.com/bites/archives/2010/05/06/eat-out-and-help-out-on-may-17
Buy a We Are Nashville t-shirt!
100% of proceeds go to Nashville's flood relief
http://store.coolpeoplecare.org/products/we-are-nashville-t-shirt