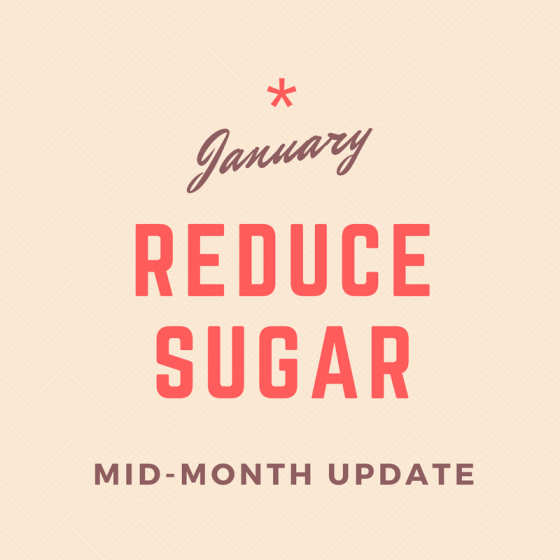 Hi there! We're about halfway through January, so I thought I'd give a mid-month update on how the reduce sugar 30-day challenge is going. Check out my Year of 30-Day Challenges post to see what I'm doing each month.
Overall, it hasn't been too bad! What's great about this plan is that it's up to me to decide what I'm going to eat when it comes to sugar. I'm definitely eating fruit, but I'm not eating added sugar, refined sugar, or artificial sugar. The hardest part has been giving up my morning coffee and evening tea. It's made me seriously think about quitting several times…but I'm pressing on!
I discovered I actually like my English Breakfast tea with milk and no sugar, so I drank that in the mornings with breakfast. About 12 days in though, I caved and started adding honey. Originally I wasn't going to eat honey or maple syrup, but I couldn't do another day of plain tea! I feel ok about it since I still haven't had white sugar, or the biggie for me, artificial sweetener.
Another discovery was Cashew Coffee! I still prefer coffee with cream and sugar, but this was a great find for those days I really want a cup of coffee.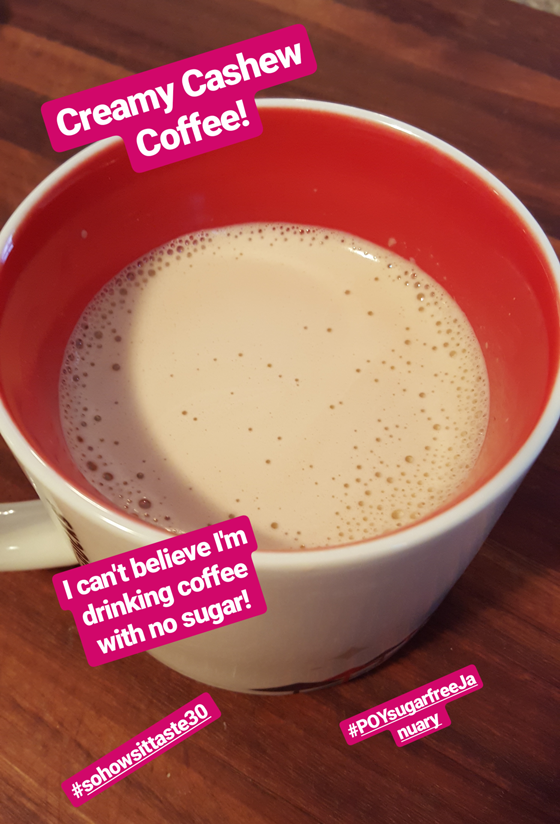 I've enjoyed some really yummy breakfasts, too. I gave up my granola in the morning, but traded that for savory and sweet toasts!
I'm a huge fan of avocado toast! I like to make it with runny eggs, scrambled eggs, and even sliced boiled eggs. The trick here was finding bread with no added sugar. I really like Ezekiel 4:9 and Ezekiel Genesis bread. I toast the bread, smash some avocado, add egg, and top with sriracha. I also like to sprinkle on Trader Joe's Everything But the Bagel Seasoning.
If you prefer breakfast on the sweeter side, try banana toast or blueberry toast! Top toast with natural peanut butter (no sugar!), blueberries or bananas (or both!), and cinnamon.
Both the sweet and savory toast options were really filling, too. I didn't need to eat a mid-morning snack before lunch.
For lunch and dinner, I've been trying some new recipes! It's surprising how much sugar is hiding in a lot of foods, so I committed to paying attention to added sugars and sticking to foods with 2 grams of sugar per serving or less.
This Golden Soup is what dreams are made of! I really looked forward to every single bowl and can't wait to make it again. I left out the extra 2-3 cups of water so it was so thick and creamy!
I took this Spicy Southwest Salad with Avocado Dressing to work and it was so easy! I loved how portable it was and super filling to get me through to dinner.
I love using my Inspiralizer, so it was easy to choose Spicy Sesame Zoodles with Crispy Tofu. I left out the sugar and it made it quite tangy, but still tasty! I didn't get my tofu as crisp as I would've liked, but it was still really good. I can't wait to make it again with the sugar! 😝
This Detox Moroccan-Spiced Chickpea Glow Bowl was another winner. However, I did cheat a little. I had couscous on hand and I technically wasn't going to eat regular pasta. Fortunately the couscous had no added sugar and was less than 2g per serving, so it was ok!
I really really loved this Simple Mushroom Penne with Walnut Pesto. It was so easy to make and just incredible. Since I'm concentrating on my sugar intake, I'm not worrying too much about calories right now, which is good because this meal is a bit high. It's got a lot of butter, but it's so decadent and makes up the simple sauce. I was also hesitant about whole wheat pasta because I haven't liked it in the past, but it was so, so good! The leftovers weren't as delicious, but I would definitely make this again.
The biggest thing I've learned so far is to pay attention to ingredients. Sugar is such an unnecessary addition in so many things, so I'm choosing those brands that leave it out. A good example of this is chicken broth. While I'll add sugar back to my diet once this is done (hello Starbucks Caramel Macchiato!), I'll continue to buy products that leave out the sugar when you don't need it.
Are you doing the reduced sugar challenge? If so, I'd love to hear how it's going for you. If you want more resources, check out this post from Pinch of Yum that started it all!