This side veggie dish was just one of several new recipes I tried this Thanksgiving. We almost never have the same dish year after year unless it's just spectacular and dubbed a "family favorite." The Peas and Corn with Thyme Butter, believe or not, was the dish that stole the show this year! I'm pretty sure while we were eating my mom said "this is a family favorite" about a hundred times. It shined over the stuffed pork chops, the buttermilk chive mashed potatoes, and even the chocolate silk pecan pie (all those recipes coming soon!). It's amazing how you can turn frozen veggies into something delicious!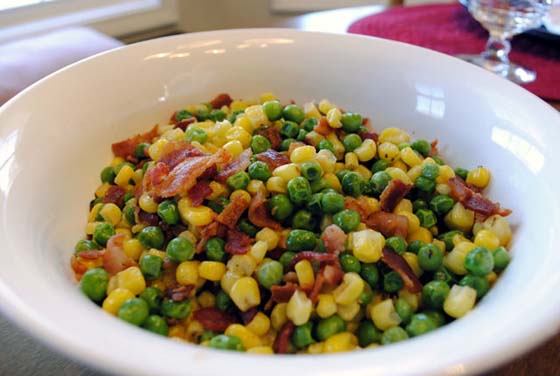 So, how's it taste?
Sweet peas and corn, cooked in bacon grease, then coated in butter! It tastes fan-tas-tic! The savory bacon is what turned it up a notch. Pairing bacon with sweet veggies is just a win-win. The thyme added that special touch that salt and pepper just can't do alone. The plus to this dish? It's super easy to make. I mostly chose this recipe because it was so quick and that would help with the other recipes I had going on that day. I never thought a bag of frozen corn and a bag of frozen peas would rock the Thanksgiving table. I also don't like to repeat dishes from Thanksgiving to Christmas, but I have a feeling mom won't be happy if these veggies don't make an appearance on December 25th! 😉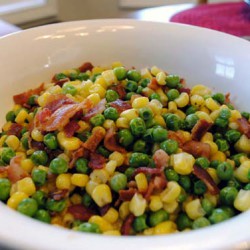 Peas and Corn with Thyme Butter
Ingredients:
3 slices bacon, cut into 1/2-inch pieces
2 cups frozen baby sweet peas
2 cups frozen whole kernel corn
2 tbsp. water
1/4 tsp. salt
1/4 to 1/2 tsp. dried thyme leaves
2 tbsp. butter
Directions:
1. In 12-inch nonstick skillet, cook bacon over medium heat, stirring frequently , until crisp. Remove bacon from skillet; drain on paper towel. Reserve 1 tablespoon drippings in skillet; discard any remaining drippings.
2. Add peas, corn, and water to skillet. Cover and cook over medium heat 6 to 8 minutes, stirring occasionally, until vegetables are tender and water has evaporated.
3. Stir in salt, thyme, and butter until vegetables are coated. Spoon into serving bowl. Sprinkle with bacon.