Happy Birthday to me! Ok, so not me, but this food blog. I can't believe it was one year ago today I started writing about food. I look back to that first entry (see Herbed Chicken and Broccoli Quiche) and I remember how exciting it was to have a post on my little blog. I'm glad to report that one year later, I still get that excited about food and about sharing it with you.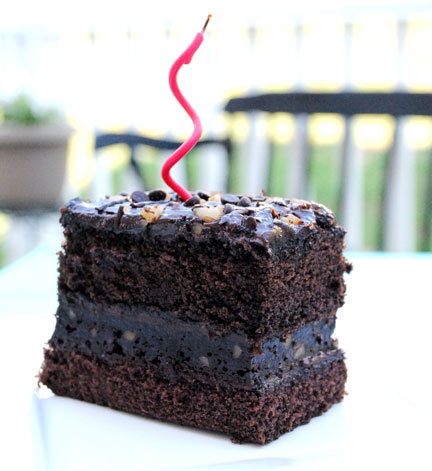 What better way to celebrate than with one of my favorites, chocolate of course! This slice of decadent goodness came from Publix. It's what they like to call Chocolate Overload and I can see how it gets its name! Two big pieces of moist chocolate cake sandwich a rich chocolate ganache filling with walnuts and chocolate chips. On top is a thin layer of chocolate frosting with chocolate chips, walnuts, and chocolate drizzle.
So, how's it taste?
Yep, you guessed it, pretty awesome! It comes refrigerated, but I recommend letting it warm up to room temperature before you dig in. Torture I know. I sliced off a bite last night because I couldn't wait and the ganache was too hard at the cooler temperature. So this morning I left the cake out a bit and then dug in! The cake has a light chocolate flavor matched perfectly with the super rich ganache. I love the crunch of the walnut and chocolate chips you get in every bite. It makes an excellent birthday breakfast with a glass of cold milk. That's right folks, this was breakfast. Would you expect any less from this chocoholic?
Now on to opening the birthday gift and I've decided to share it with you! I've got a treat for one lucky So, How's It Taste? reader! Going along with the chocolate theme, I'm giving away a copy of Mmmm…Chocolate. A cute little purple cookbook all about chocolate. Here's a teaser of some of the recipes inside: Chocolate Chunk Muffins, Chocolate Brownie Cake, Hot Chocolate Souffle, and White Chocolate Truffles. Yum!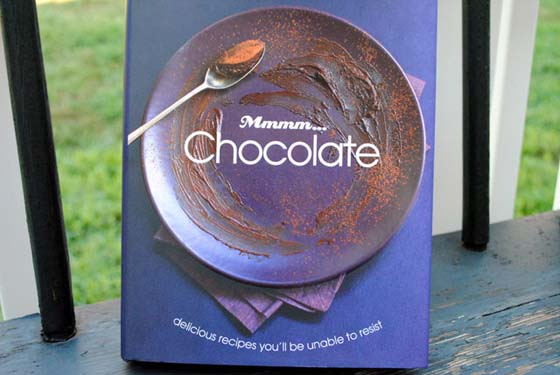 To enter, leave a comment on this post telling me your favorite way to eat chocolate. Is it cake? A truffle? Ice cream? Or just a bar of it?
For up to three additional entries (please leave a separate comment for any of these you do):
Tweet @SoHowsItTaste is giving away a chocolate cookbook! http://bit.ly/bPv1hW
Leave a comment on the wall of So, How's It Taste? on Facebook
Email your friends a link to this giveaway and cc me on the email (leah@leah-claire.com)
One winner will be chosen at random from all eligible comments. U.S. residents only please. Commenting closes at 7:00 a.m. CT on Wednesday, August 11. Entries that do not follow the entry requirements will not be considered. Good luck!
And the winner is…Kaye! Her favorite way to eat chocolate is homemade chocolate sauce over warm vanilla cake. And I agree with her that there isn't any bad way to eat chocolate!
A HUGE thank you to everyone who participated and helped me celebrate turning one! I think we should all go eat a piece of chocolate right now!