You've heard of Gooey Butter Cake, right? It's what it sounds like: ooey, gooey, and full o' butter! So naturally when I saw Gooey Butter Cookies, they made the Cookie Baking Day list. This cookie is a great one to have in the mix if you're like me and tend to bake a lot of chocolate cookies. (Yep, there are folks out there that don't prefer the chocolate ones, what?!) Funny thing is this cookie ended up being a very close second to my favorite of the ones we baked this year. It's really more like a little bite of cake than cookie and this girl loved it!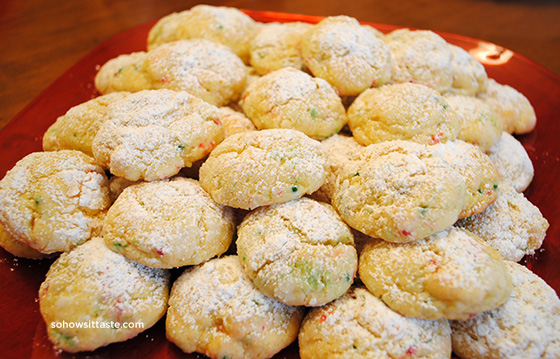 So, how's it taste?
It tastes exactly like a bite of yellow cake with a touch of powdered sugar. The name is a little deceiving because there's nothing really gooey or buttery about them. Quite different from Gooey Butter Cake that is dripping and oozing buttery goodness. I'm kind of glad these turned out the way they did. I jazzed them up with some festive red and green sprinkles for the holidays and they were perfect bites of cakey goodness. I can't even begin to describe to you how fantastic they are with a mug of coffee! Plus it's opened the door for me to imagine these with different kinds of cake mix. Lemon, strawberry, or orange during the summer…hello! Devil's Food Cake? Um, yes! You can really get festive with other colored sprinkles, too. Definitely keeping this recipe in my collection!
Other goodies from Cookie Baking Day 2013:
Cream Cheese Spritz Cookies
German Chocolate Cake Cookies
Milky Way Red Velvet Cake Cookies
Dark Chocolate Walnut Oatmeal Cookies
Vanilla Orange Cranberry Cookies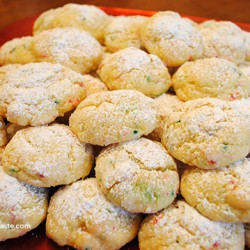 Gooey Butter Cookies
Ingredients:
1 box yellow cake mix (I use Duncan Hines)
1/2 cup butter
1/2 tsp. vanilla
8 oz. cream cheese, softened
1 egg
powdered sugar
1 tbsp. sprinkles (optional)
Directions:
1. Using a mixer, beat butter, vanilla, egg, and cream cheese until fluffy.
2. Add the cake mix.
3. Chill batter for 30 minutes.
4. Scoop dough into balls and dip in a bowl of powdered sugar.
5. Bake at 350 for 9-11 minutes. Cool on wire rack. Sift powdered sugar on top.