I've said many times before on this blog how I love "weird" combinations of food. If there's an odd ingredient in a dish, I want to make it. I'm fascinated by ingredients I would never think to put together and how they usually end up working in a dish. Luckily my friend Carol is this way too and when she flipped through my Food Network magazine, she was drawn to their Name This Dish recipe. It's popcorn with a savory twist mixed with pecans, cranberries, and apple chips. I've taken the liberty to name it Fall Harvest Popcorn, since I'm never as creative as the folks that win those naming contests. I'll keep you posted on the winning name. This snack combination is perfect since it's savory and sweet. No more vicious circles of snacking, just pure gluttony!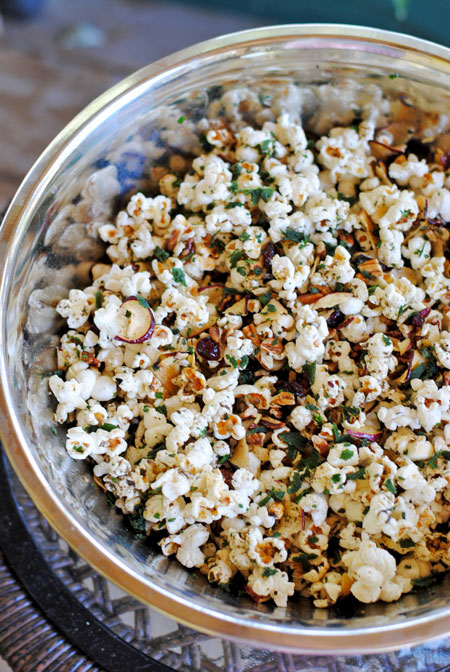 So, how's it taste?
Once I had mixed the dry ingredients together to add to the popcorn, I knew this snack was going to be a hit. It smelled so good even without the popcorn and butter. Apple chips and cranberries give it its sweetness and two different textures, crunchy and chewy. Throw in pecans (I can binge on them alone) and those savory fresh herbs; rosemary, thyme, and parsley. I can't tell you how much fresh herbs make this dish, so don't cheat and use dried! Next comes tossing in freshly popped popcorn and the entire bowl gets drizzled with butter that's been seasoned with poultry seasoning. One last touch of decadence is the crumbled, fried sage leaves. This was a first for us to fry sage leaves and I could see this being my new garnish on soups, too!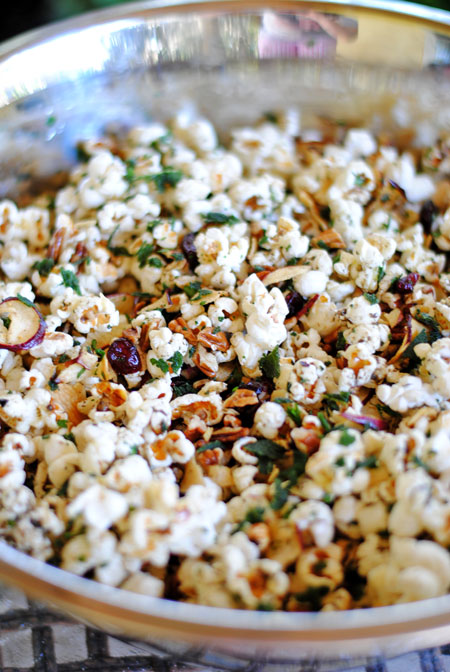 We both thought this popcorn was fantastic! It's savory, sweet, crunchy, chewy, and quite addictive. We also agreed it had too much butter. It was pretty greasy eating this, so I'd like to try with half the amount of butter and see if that helps. You need butter of course, but I'd like to see if I can keep the flavor and tone down the buttery fingers. This would be a really easy appetizer for any holiday parties coming up! It's festive with red from the cranberries and green herbs!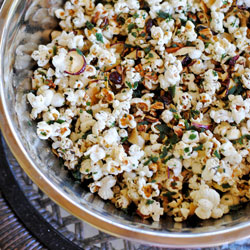 Yield: 16 cups
Prep Time: 15 min
Cook Time: 5 min
Fall Harvest Popcorn
Ingredients:
6 tbsp. vegetable oil, divided
1/2 cup popcorn kernels
12 sage leaves
Kosher salt
4 tbsp. unsalted butter
2 tsp. poultry seasoning
2 cups roughly chopped pecans
2 cups crushed apple chips
1 1/2 cups dried cranberries
1/4 cup finely chopped fresh parsley
1 tbsp. finely chopped fresh rosemary
1 tbsp. finely chopped fresh thyme
Directions:
1. Heat 3 tablespoons vegetable oil with a few popcorn kernels in a large pot or Dutch oven over medium heat until one kernel pops. Add the remaining kernels, cover with a tight-fitting lid and cook, shaking the pot occasionally, until the popping subsides, 3 to 5 minutes.
2. Meanwhile, heat the remaining 3 tablespoons vegetable oil in a small skillet over medium-high heat. Add half of the sage leaves and cook until crisp, about 3 seconds, then remove with a slotted spoon and drain on paper towels. Season with salt and repeat with the remaining sage.
3. Melt the butter in a small saucepan over medium heat and whisk in the poultry seasoning. Combine the popcorn, pecans, apple chips, dried cranberries, parsley, rosemary and thyme in a large bowl. Drizzle with the butter mixture, season with salt and toss. Crumble the fried sage on top.