Where have I been! I must be in the running for the #1 slacking blogger. It's been way too long since I've blogged, but luckily not as long since I've been eating! Seeing as it's snowing pretty heavily here in the south, and everything's closing, I thought it was time for me to revive my blog.
First up is a tasty find in Downtown Nashville, Wild Bill's Beignets and Bikes, located at 104 5th Avenue South. Strange name for a small cafe, but Wild Bill sure does like his bikes! I had heard about Wild Bill's in my local paper and since I've only had a plain beignet in my lifetime, I was long overdue in having one stuffed with delicious goodness. I placed my order to the cashier and didn't realize it was a cash only shop! They do have an ATM, but just my luck, my card wouldn't work (and no, it wasn't insufficient funds!). But lo and behold, who came to my rescue, but Wild Bill himself! He was the nicest guy and gave me my order of banana stuffed beignets covered with chocolate for free! He also topped it off with a free cup of their frozen cappuccino. Boy was I in for a treat!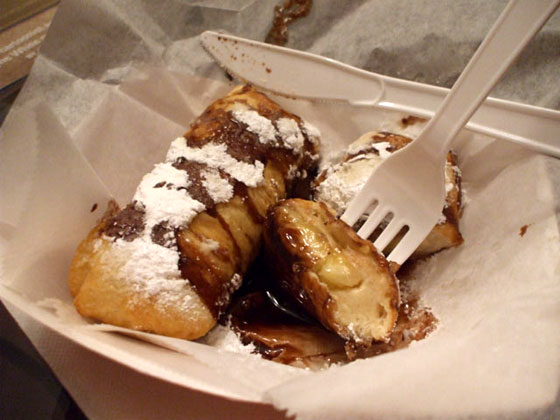 So, how's it taste?
Like fried, chocolate, banana heaven! I wasn't expecting them to be this good. My experience with a plain beignet was pretty boring. I'd much rather have a Krispy Kreme, but I was blown away by this stuffed one! Hot bananas didn't seem appealing to me at first, but top those babies off with chocolate and powdered sugar and we're in business. My only recommendation would be for Wild Bill to invest in some decent chocolate syrup. Hershey's is only good for chocolate milk. Up that a notch to some Ghirardelli, Godiva, or Scharffen Berger chocolate and you've got a whole new level of beignet!
Michigan must be so jealous of Nashville these days! My next find was Diana's Sweet Shoppe at 315 Broadway. This shop was built in 1926 and just recently moved to Nashville piece by piece! The original Michigan shop is now on Lower Broadway and man is it a sight! It's got a very antique, cozy feel when you walk in through the rows of candy and head to the back for a booth seat. Each booth has a machine where you can pop in a quarter and hear a violin and piano (although ours didn't work–boo!). The wait staff could not have been friendlier, and the food…even better!
So, how's it taste?
I ordered the club sandwich you see above with a side of their potato salad. The potato salad was good, but different. It had a lot of mayo in it and was lacking that mustard taste that I really like in southern potato salads. Not bad, but I wouldn't order it again. The club sandwich was delish, and enough for two meals! The ingredients were really fresh and the toasted wheat bread was a plus.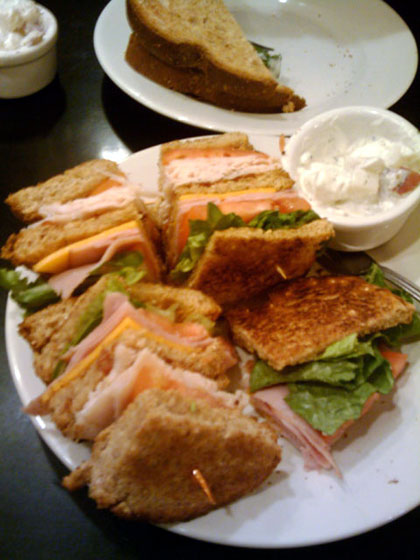 What about dessert you ask? You are at a sweet shoppe! Oh. My. Goodness. Seriously, this is the BEST chocolate milkshake I have ever had. They top it off with real whipped cream and chocolate chips. There's a ton of flavors to choose from, but I'll be trying the "Diana" on my next trip. Caramel, marshmallow, pecans, chocolate…ah, sigh, wish I were there now. As if the sandwich and shake weren't enough, the kind folks at Diana's offered us a sample of their fudge. Out of this world good! Where some fudge can be really grainy, Diana's was so creamy. My friend Denise exclaimed "I love you!" after eating her bite. This is a MUST on your places to eat in Nashville, and come hungry because you don't want to skip dessert!