I was so excited about making this Candy Corn Fudge. I thought it was the cutest idea to have the layers match candy corn and it seemed fairly easy to make, with no cooking involved like normal fudge. Plus it uses butterscotch chips and I love that flavor. While the final product looked pretty awesome and fun for Halloween, it won't be on my must-eat list anytime soon.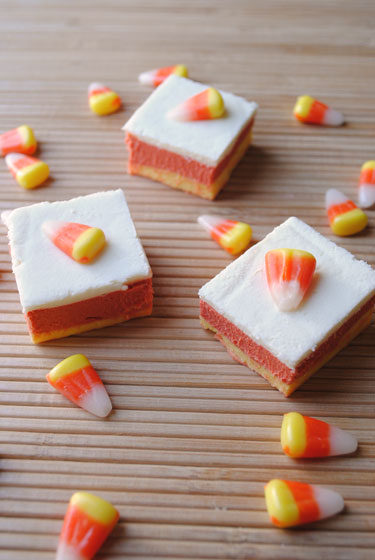 So, how's it taste?
Meh. I had high hopes for this one. I was really hoping the butterscotch flavor would be more prominent. I'm not a huge fan of regular candy corn, but I'll eat it. It's just a little boring (vanilla) to me. This "fudge" doesn't taste like the candy at all, but you can't taste anything else but the vanilla frosting. I know a lot of people stick their noses up to tub frosting…I happen to really like it, but more the chocolate variety. This fudge tastes exactly like you're eating straight from the vanilla tub. Even cut into 48 pieces, one little square was too much for me. Way too sweet. I think the chips are added to help it harden into shape, which isn't that hard at all, and not really close to fudge. It's very, very sticky and warms up fast once they're out of the fridge. But I still think they are super cute.
Instead of eating them as is, I've got plans for this candy. I hate to waste food, so I'm going to try turning them into another spooky sweet!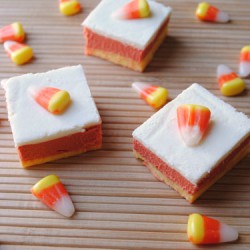 Candy Corn Fudge
Pillsbury
makes 48 candies
per candy: 160 calories, 7g fat, 23g carbs, 0g protein, 0g fiber
Ingredients:
1 bag (12 oz.) white vanilla baking chips (2 cups), melted
2 cans (16 oz. each) vanilla ready-to-spread frosting
1 bag (10 oz.) butterscotch chips (1 3/4 cups), melted
Yellow food color
Red food color
48 pieces candy corn
Directions:
1. Line 13x9-inch pan with foil; butter foil. In large bowl, mix melted vanilla baking chips and 1 can of the frosting until well blended. Spread 1/3 of mixture evenly in pan.
2. In another large bowl, mix melted butterscotch chips and second can of frosting until well blended. Stir in 1/2 teaspoon yellow and 1/2 teaspoon red food color until mixture is orange and well blended. Spread orange mixture over white layer in pan.
3. If remaining 2/3 of white mixture has set up, heat in microwavable bowl in microwave on medium-high for 1 minute until melted and smooth, stirring occasionally. Stir in 1/4 teaspoon yellow food color until mixture is bright yellow and well blended. Spread over orange layer in pan. Refrigerate until firm, about 1 hour.
4. Use foil to lift candy from pan. Turn white side up; peel off foil. Cut into 8 rows by 6 rows. Press 1 piece candy corn in center of each candy. Store in refrigerator.