My obsession with candied orange peel continues. I had a lot left over from making them myself and certainly didn't want them to go to waste. They're good to snack on by themselves, but how would they work in a scone? Introducing Candied Orange Peel Scones! I took my favorite scone recipe and swapped out a few ingredients and used my candied orange peel instead. I came close to adding some white chocolate chips or dried cranberries, but decided to keep it purely orange. I've confessed my love before for the orange scone at Panera, so I wanted to see how this version would stack up.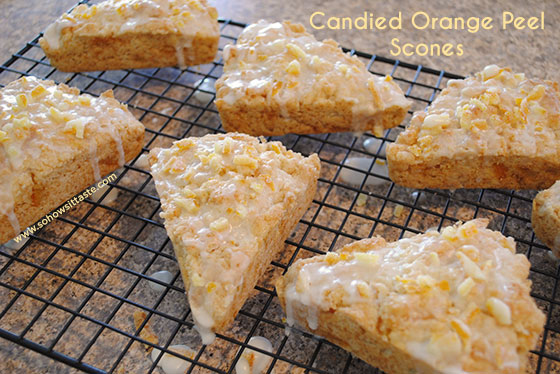 So, how's it taste?
OMG y'all, I've done it! This scone was pure orange perfection. It's different than the version at Panera, but it has stolen my heart. I inhaled TWO of these right after I glazed them. Zero self-control. They're soft and fluffy on the inside and have a nice crunch around the edge. I used a scone pan because I get frustrated trying to shape crumbly scone dough. The candied orange peel on the inside slightly comes back to life and it's softer but still has a bite to it. I like the sprinkling of candied orange peel on top since it's a contrast in texture to the peel inside.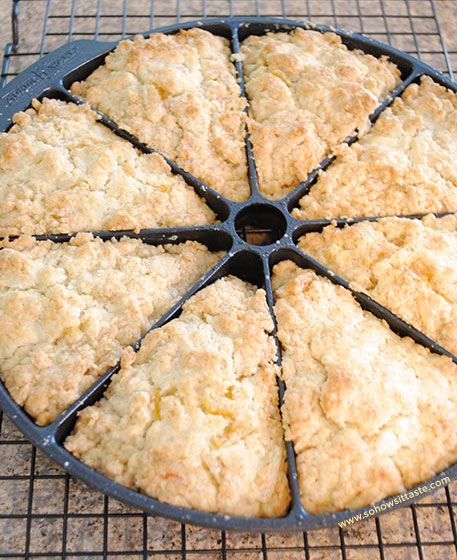 To infuse more orange flavor, I used the sugar that the peel was stored in. I didn't think about it until later, but you could also use orange juice instead of milk when making the glaze. These scones freeze very well, too. I wrapped them individually with plastic wrap and put them all in a gallon-sized freezer bag. I froze them to keep myself from devouring them all at once…that was sort of successful. 😉 I am just crazy about these scones!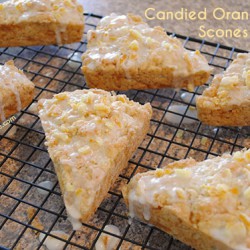 Candied Orange Peel Scones
Ingredients:
Scones
2 cups all-purpose flour
1/3 cup sugar*
1 tbsp. baking powder
1/2 tsp. salt
1/2 cup cold butter, cut into 1/2-inch cubes
1 cup whipping cream, divided
1 cup coarsely chopped candied orange peel
Glaze
1/2 cup powdered sugar
1 tbsp. milk or orange juice
Garnish
Candied orange peel
*Note: If you've stored your candied orange peel in sugar, use that! It'll infuse even more orange flavor.
Directions:
1. Preheat oven to 450°. Stir together first 4 ingredients in a large bowl. Cut butter into flour mixture with a pastry blender until crumbly and mixture resembles small peas. Add 3/4 cup plus 2 tablespoons cream and candied orange peel. Stir just until dry ingredients are moistened.
2. Turn dough out onto wax paper; gently press or pat dough into a 7-inch round (mixture will be crumbly). Cut round into 8 wedges. Place wedges 2 inches apart on a lightly greased baking sheet. (Alternatively you can use a scone pan like I did.) Brush tops of wedges with remaining 2 Tbsp. cream just until moistened.
3. Bake at 450° for 13 to 15 minutes or until golden. Cool on wire rack.
4. To make the glaze, mix the powdered sugar and milk (or orange juice) together until smooth. When scones are cool, use a brush to spread glaze over the top of each scone. Garnish with more candied orange peel.