Oh do I have a love of ugly food or what? Or maybe I just have a "talent" for crappy photography. I think it's a combination of both. I knew after the chicken curry that this Butter Chicken would probably turn out the same…tasty, but not going to win any beauty awards. I don't care. I first had this dish not too long ago when my neighbor's mom made the authentic version and it was love at first bite. While this one isn't quite the same as what Sumita's mom makes, I enjoyed it and will make it again for sure.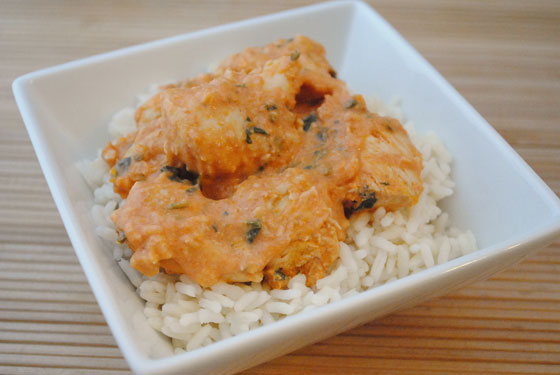 So, how's it taste?
I really enjoyed this dish. It was easy to make and filled my house with the most intoxicating aroma. I'm starting a love affair with coriander, it's so fragrant. I couldn't find the fenugreek it called for, so I left it out, but I'm determined to make it again once I find it. I usually skip cilantro in recipes, but for some reason didn't this time and I'm so happy I left it in. The fresh ginger, garlic, cilantro, coriander, and cumin were fantastic in the creamy sauce. The ginger really brightened up the dish and cayenne added a very subtle heat in the background. I couldn't believe I actually liked the cilantro. I think I've switched sides and am now on team cilantro!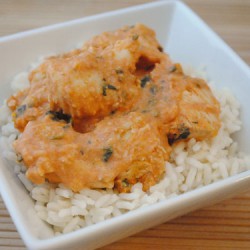 Butter Chicken
Ingredients:
1 lb. boneless, skinless chicken breast, cut crosswise into 1/2-inch strips
1/4 cup heavy whipping cream
2 tbsp. finely chopped gingerroot
5 medium garlic cloves, finely chopped
1 tbsp. finely chopped fresh cilantro
1 tsp. ground coriander
1/2 tsp. ground cumin
1/2 tsp. salt
1/4 tsp. cayenne
2 tbsp. butter
1/2 cup tomato sauce
1/4 cup finely chopped fresh or 2 tbsp. dried fenugreek
Rice, optional
Directions:
1. Mix all ingredients except butter, tomato sauce, and fenugreek in a medium bowl. Cover and refrigerate at least one hour, but no longer than 24.
2. Heat butter in a 10-inch skillet over medium heat. Add chicken mixture and tomato sauce. Cook about 5 minutes, stirring frequently, or until chicken is partially cooked.
3. Stir in fenugreek, reduce heat. Cover and simmer about 10 minutes or until chicken is no longer pink in the center. Serve over rice, if desired.