Yep, it's true. I could never be a vegetarian. Well, not for longer than a few weeks. I love cooking and eating vegetarian meals, and I recently went on a no-cooking-meat-at-home kick, which was great but… Sometimes I just want a big, cheesy, greasy, juicy burger! Boy, did I get my wish!
Last week I was in desperate need of a burger fix. Rounding up a few coworkers who were game for some greasy goodness, we found ourselves in Franklin, TN (just south of Nashville) at Burgers-N-Cream. I love these kind of burger joints for I am a condiment queen. It's like the naughty cousin of Subway where you can add pretty much any topping of your heart's desire and bonus! — they serve ice cream/milkshakes. I took their American Burger and added american cheese, A1 steak sauce, and mayo. There were so many selections that I completely forgot about lettuce and tomato (but that would have made it healthy, right?).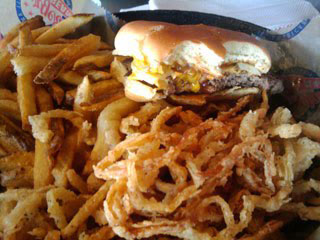 So, how's it taste?
Let's just say I've never felt more guilty after this no-where-near-low-cal meal! But in my book, that's a good thing. If I'm going to blow it up, I'm going big time. For those of you indecisive like me, you don't have to choose between fries and onion straws, just have 1/2 and 1/2! The burger was delicious. You can see how the condiments are spilling out and that's how I like it. It was grilled to order, which is a plus from those heat lamp burgers you get at other fast food joints. I liked the fries/onion straw option, but the onion straws were way too greasy. I know that's the point, but there was no onion flavor in these straws. I don't like thick onion rings, but I do like to taste the onion. The fries were right on point with the hamburger. Just your basic homestyle fries. I give this place a thumbs up and it's well worth the drive outside of Nashville. Next time I'll have to skip the sides and save room for the "cream" part!