Another month, another Birchbox! (Ok so this was from March…I'm a little behind.) I'm starting to get quite the collection of beauty samples, but I can't resist seeing what comes every month. Skincare, haircare, makeup, you never know. Life is like a box of Birchbox? Heh. Birchbox is a monthly service that sends hair, makeup, and skincare products in sample sizes for you try. Let's see what came in March's box!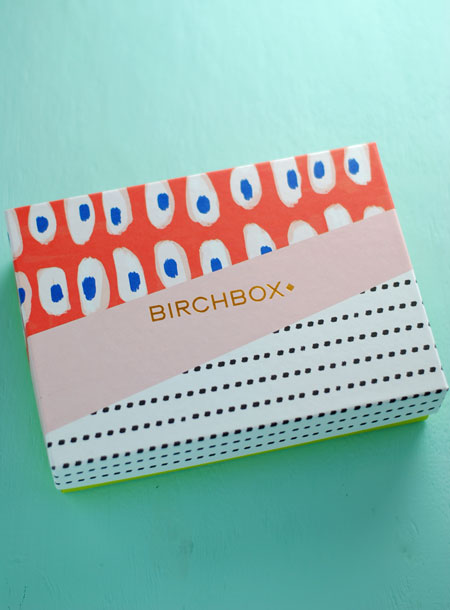 This box included one makeup item, two skincare items, and two haircare items. I was super pumped to get something from Amika. I've heard so much about that brand, but hadn't had a chance to try anything out.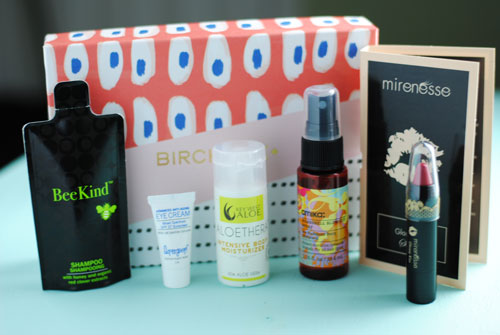 SO, WHAT'S IN THE BOX?
BeeKind™ Shampoo – This shampoo has all kinds of good-for-you ingredients and comes in recyclable packaging. It smells really nice, but I'm super demanding on shampoo and it didn't live up to what I need. This shampoo would work best for people who don't use many hair products and don't need a deep cleaning shampoo. On shampoo days where I have little to no product in my hair (which is rare), this stuff would be great. I wash my hair every three days and use dry shampoo and hairspray in between. This shampoo fell short of being enough to clean my hair. Nice concept, just doesn't work for my shampoo needs.
Supergoop!® Advanced SPF 37 Anti-Aging Eye Cream – Oh eye creams. How long do you have to use this stuff before you see results? My problem is I just can't remember to use it. I like the thickness of this eye cream, but it has sort of a glow after it's on. It's shiny and that's not really what I'm going for in my wrinkly crow's feet area.
Key West Aloe Aloethera Intensive Body Moisturizer – This stuff was awesome, but I hated the sample bottle. It was really hard to squeeze the lotion out and I didn't want to waste a drop since I liked it so much. It's on the thicker side and had a really pleasant scent, so my dry, crackly hands loved it!
amika Bombshell Blowout Spray – Super excited to finally try something from amika. I read a few beauty blogs and it seems like this brand is always mentioned. Meh. I'm not really sure blowout spray does anything for me, so I was disappointed in this. It didn't smell as wonderful as I wanted it to either, but not bad.
Mirenesse Glossy Kiss in Cheeky Kiss – This lip color is the biz-omb! Instant love. It goes on so smooth that I feel like it's more of a lip moisturizer. It also does double duty as a cheek stain, but I'm not really sure how to apply that and my lips are too selfish to share it with my cheeks anyway. It's a cross between a lipstick and lip gloss. I was worried I wasn't going to be able to wear it because I'm allergic to most lipsticks (they make my lips peel in a most disgusting manner), but this I could handle. It's not gummy and sticky like gloss either. It's like they took the best qualities from both and made a whole new thing. I want it in every color!
What beauty products are you loving lately?
Disclaimer: I am not affiliated with Birchbox nor was I compensated for this post. All opinions are solely my own, as always. The links in this post include a referral code where I will receive referral points towards future product purchases should you sign up for the Birchbox service.